the film
forum
library
tutorial
contact

Investment Firm in Talks with BPA for
Power Contract that Could Reopen Whatcom's Intalco

by Dave Gallagher
Bellingham Herald, January 28, 2022
---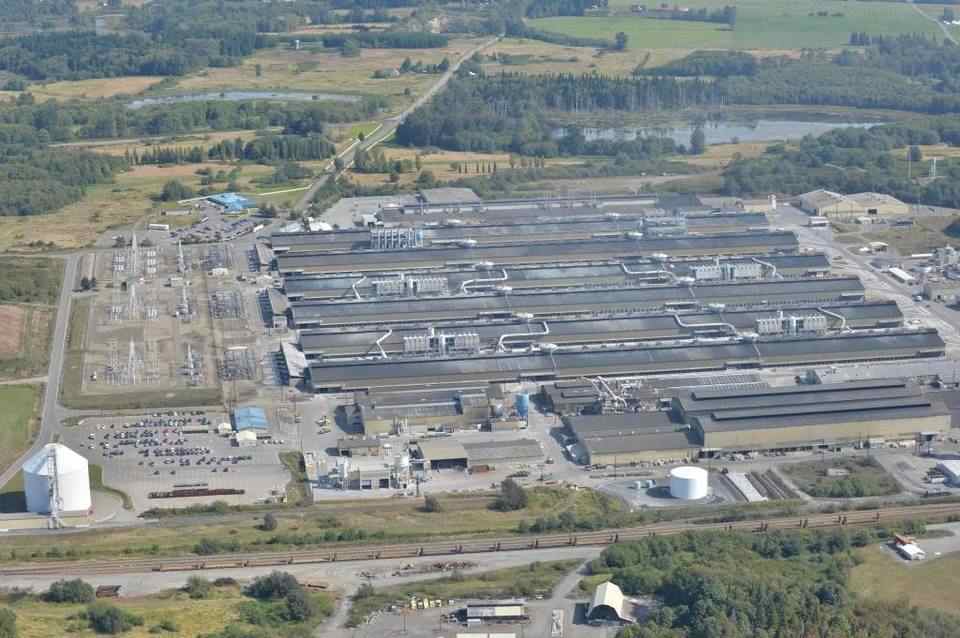 Discussions are taking place on power for the curtailed Intalco Works facility, but it is unclear yet whether an agreement can be reached that would reopen the facility.
The Bonneville Power Administration is in discussions with Blue Wolf Capital Partners LLC about supplying power to the aluminum smelter near Ferndale.
Doug Johnson, a senior spokesperson for BPA, confirmed that agency staff have talked with Blue Wolf representatives. Blue Wolf's interest in the Intalco facility was first reported in The Northern Light.
"We are continuing discussions, but BPA has made no decision regarding potential service, contract terms and conditions or BPA's involvement in electric service to the plant," Johnson said in an email to The Bellingham Herald.
Blue Wolf would need to work out a deal not only with BPA, but also with Alcoa in order to restart the facility, said Don Goldberg, director of economic development for the Port of Bellingham. Goldberg recently made a short presentation to the state legislature to voice approval for a proposal to provide state funding that would help bring in new equipment that would run the facility more efficiently and significantly cut carbon dioxide emissions.
Reopening the facility could bring back around 700 manufacturing jobs to Whatcom County. The facility closed in the summer of 2020 because of declining conditions in the aluminum market.
Blue Wolf did not immediately respond to a request for comment on Thursday, Jan. 27. The New York City-based company says on its website that it invests in different business situations and industries, including health care, oil and paper manufacturing.
CAN A POWER AGREEMENT BE REACHED?
Past power agreements between Alcoa and BPA were often contentious, with many deals being struck close to the deadline to avoid a shutdown of the smelter.
Aluminum smelters use a lot of power, so negotiating power price is key to profitability. In the last contract, BPA and Alcoa reached a 10-year agreement in 2012. An amendment was added to the contract in 2016 to keep the facility operating as the company dealt with an oversupply on the global market that led to a drop in aluminum prices.
With no power contract currently in place for the facility, Blue Wolf will be negotiating under a different circumstances. According to its website, BPA provides power to about 28% of the electrical power in Pacific Northwest, selling the power to cover its cost as a self-funded federal agency. It is unclear how much extra power it would be willing to sell and at what price.
Goldberg, who is not involved in the negotiations, doesn't have a sense of how the contract process is going.
"But I do believe Blue Wolf is very real and wants to move forward," Goldberg said. Last fall it was reported that there were two companies in the running to try and take over Intalco, the second being a steel mill proposal that focused on recycled material. Goldberg told The Northern Light newspaper that the steel company is not as far along as Blue Wolf in making a deal for the facility.
Related Pages:
Speakers Address National Security Risk of Closing Intalco by Brent Lindquist, Lynden Tribune, 4/23/20
New Ferndale Smelter Energy Deal Made to Benefit Both BPA, Alcoa by Dave Gallagher, Bellingham Herald, 4/13/16
Alcoa in Power Deal that may Keep Intalco Aluminum Plant Open by Josephine Mason, Reuters, 4/13/16
Intalco Aluminum Smelter in Ferndale may Stay Open by Dave Gallagher, Bellingham Herald, 4/12/16
Alcoa Hiring Temporary Employees for Ferndale Smelter Work by Dave Gallagher, Bellingham Herald, 2/28/16
---
Alcoa Intalco Works' timeline of 54 years in Whatcom County
Alcoa Corporation announced Wednesday, April 22, that it will close its Intalco Works aluminum smelter near Ferndale amid declining market conditions, laying off 700 employees. Legislators said they will do what they can to save the facility that has been in Whatcom County for 54 years.
May 1966: The Ferndale-area smelter begins operation as Intalco Aluminum Corp., owned by Alumax, Pechiney and Howmet.
1970: Intalco has 1,350 employees.
October 1983: Union workers approve three-year contract, ending a two-week strike.
1983: Intalco produces 8 percent of the nation's aluminum.
1984: Record set with 286,000 tons of aluminum shipped.
June 1998: Alcoa Inc. and Alumax merge, creating Alcoa Intalco Works.
May 2000: Alcoa executives consider building their own power plant to run Intalco, out of concern over rising energy rates.
May 2001: Unable to cope with high energy prices, Intalco temporarily closes the plant, keeps its employees, and sells its power back to Bonneville Power Administration to aid in the energy crisis. BPA pays for the wages and benefits of nearly all the workers, plus $1.75 million to cover Intalco's tax burden.
May 2002: After being shut down for six months, the smelter reopens two potlines.
October 2003: Alcoa shuts down a potline because of high energy costs, cutting 200 jobs and leaving only one of three potlines in use.
June 2006: Alcoa becomes full owner, buying out remaining partners.
August 2006: Alcoa signs five-year power contract with BPA, ensuring work for its 450 employees.
February 2007: The smelter restarts its second potline, boosting employment to 575.
October 2008: BPA proposes long-term contract to power Intalco.
October/November 2008: In response to the recession and less demand for aluminum, the smelter institutes budget cuts, including cutting about 100 jobs.
July 2009: BPA and Intalco reach tentative agreement for enough low-cost power to run the plant at or near two-thirds capacity for seven years, guaranteeing at least 528 jobs.
September 2009: After an August court ruling restricting BPA's authority to share power with Intalco, the July proposal appears to be in jeopardy.
December 2009: BPA approves a two-phase contract that guarantees enough power to keep 528 workers employed for 17 months. After that, BPA could offer five more years of power if courts approve and economic conditions permit.
October 2010: BPA agrees to short extension of its contract with Intalco, guaranteeing the smelter's power supply through late May 2012.
January 2011: Alcoa announces the hiring of 60 more employees and an increase in production.
October 2011: Union workers vote to strike, but stay on the job while talks continue. After two weeks, workers accept a revised contract offer.
December 2012: The plant signs a 10-year power contract with BPA.
2013: The plant is at 80 percent capacity, with two-and-a-half of three potlines operating, producing about 230,000 metric tons of aluminum a year.
September 2015: Alcoa announces it is splitting into two companies. Intalco Works focuses on upstream products, including aluminum, considered the weaker of the two companies.
October 2015: Union workers approve contract extension through March 2017.
November 2015: Alcoa announces it is idling smelter operations at its Ferndale and Wenatchee plants. The Ferndale shutdown affects more than 400 workers.
May 2016: Alcoa and BPA finalize a contract amendment that keeps Intalco operating. The amendment lasts through Feb. 14, 2018; the 10-year contract itself runs until September 2022.
Aug. 13, 2016: Alcoa Intalco Works celebrates 50 years in operation at its annual employee summer picnic.
Sept. 30, 2016: Alcoa splits into two companies, Alcoa and Arconic. Intalco remains with the Alcoa brand.
Aug. 5, 2019: Alcoa to put in new pollution equipment to reduce sulfur dioxide emissions. The $15 million project was scheduled to be completed in 2022.
March 25, 2020: An Intalco worker tests positive for COVID-19.
April 22, 2020: Alcoa announces it is closing the Intalco smelter in July, laying off around 700 workers.
Sources: Bellingham Herald files, Alcoa Intalco Works

---
Dave Gallagher has covered the Whatcom County business community since 1998. Retail, real estate, jobs and port redevelopment are among the topics he covers.
Investment Firm in Talks with BPA for Power Contract that Could reopen Whatcom's Intalco
Bellingham Herald, January 28, 2022
---
See what you can learn
learn more on topics covered in the film
see the video
read the script
learn the songs
discussion forum