---
Amount BPA estimates it would gain $5.3 million from Alcoa accepting the
proposed amendment rather than keeping with the current curtailment proposal.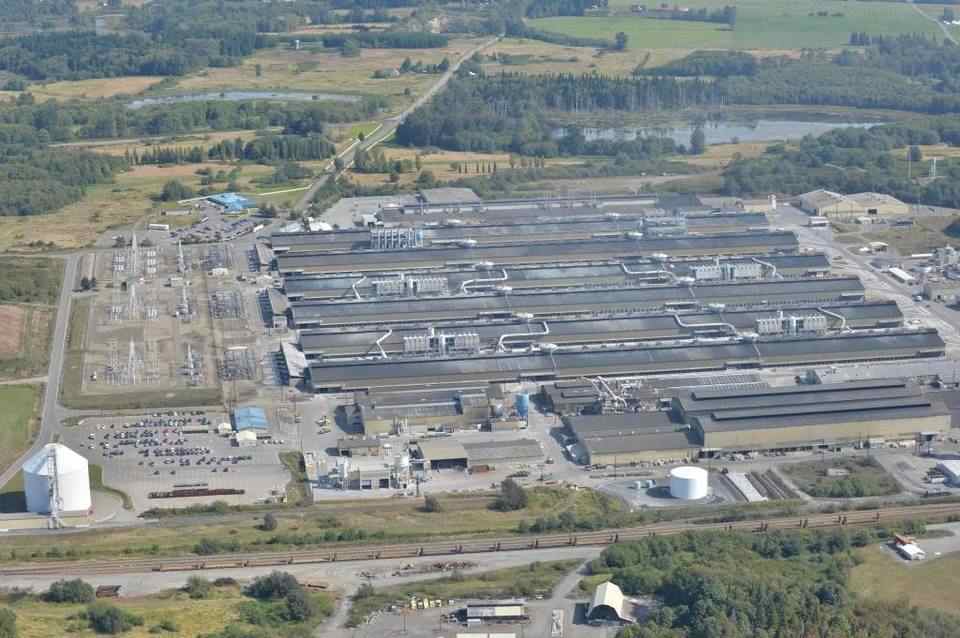 FERNDALE -- In trying to keep the Intalco aluminum smelter operating past June 30, the Bonneville Power Administration and Alcoa came up with a reworked energy deal that is expected benefit both.
The new power agreement proposal that was announced on Tuesday, April 12, could extend the smelter operations through at least Feb. 14, 2018, and possibly through the end of the energy contract in September 2022. The proposed amendment is currently going through a public comment period, which ends at noon Friday, April 22, after which BPA Administrator Elliot Mainzer will make a decision. If approved by the BPA, it then goes to Alcoa for a final approval.
Alcoa announced in November that it would curtail the smelter operations at the end of March 2016 to deal with the oversupply of aluminum on the global market, which led to a drop in prices that made running the smelter unprofitable. The curtailment deadline was later extended to the end of June. If a curtailment does happen, it would mean layoffs for about 465 workers.
While an amendment proposal is in place, Alcoa has not made a decision about the future of the Intalco operations that are currently set to curtail at the end of June, said Josh Wilund, spokesman for Alcoa.
"The amendment was posted for public comment by BPA , and a decision will be made based on the final amendment presented to Alcoa along with prevailing market conditions," Wilund said in an email.
If this new amendment is approved by both the BPA and Alcoa, talk of curtailment would essentially come to an end, because Alcoa has already used its right to purchase power at curtailment levels under the 10-year contract that goes through September 2022, said Mark Miller, a customer account executive for BPA handling the Alcoa account. Alcoa still has the option to completely shut down operations at Intalco but would have to pay fees to cancel the contract with BPA.
It's clear Alcoa wanted some changes to the energy deal in order to keep the smelter operating while global aluminum prices remain depressed, but BPA is also obligated by law to make sound business practices when it comes to energy deals, said Mike Hansen, a spokesman for BPA. The agency realized that a smelter curtailment was a very real possibility that would cost BPA a full-time customer. It's something they kept in mind as they entered negotiations.
With this proposed new amendment, BPA estimates the revenue it will receive is just under $8.6 million. If Alcoa moves forward with its curtailment plans, it is estimated the BPA revenue would be just under $3.3 million. The additional value of around $5.3 million by accepting the new proposal would provide greater immediate benefits for BPA, Hansen said.
What changes are being proposed with this new amendment? It's a complicated deal with many different parts, so here are some highlights:
Alcoa would make a cash payment of $1.5 million to BPA. In exchange, BPA would drop a requirement that Alcoa purchase 75 megawatts an hour through Feb. 14, 2018. This would allow Alcoa to buy more of its power from the spot market, which is currently less expensive than the industrial power rate Alcoa gets from BPA.

Alcoa would purchase some of BPA's surplus power that the agency would normally sell to the open market. From July 2016 through March 2017, Alcoa would purchase 25 megawatts an hour. Between April 2017 and June 2017 the surplus purchase would increase to 250 megawatts an hour. It would then go back down to 25 megawatts an hour between July 2017 and Feb. 14, 2018. Alcoa benefits because the surplus power is less expensive than the industrial power rate.

This purchase of surplus power also would benefit BPA, Miller said. BPA would get a little bit more money by selling the surplus energy to Alcoa, and it would save money in transmission costs. The jump in power purchases in the spring months also would help BPA because spring is a period when the agency has a lot of surplus power. Not only is there low demand for energy because air conditioners and heaters are not in as much use, but the spring runoff means a lot more energy coming from the hydro facilities.

Alcoa would continue to purchase 10 megawatts per hour from BPA at the industrial power rate. Between the 10 megawatts per hour and the surplus 25 megawatts per hour in the non-spring months, Alcoa would purchase around 315 megawatts per hour on the less expensive open market to operate the 2 1/2 potlines, assuming it needs 350 megawatts an hour. During the spring months, that open market purchase would drop to 90 megawatts per hour.
---
Aluminum commodity historical prices 1990 to mid 2016

Aluminum is a lightweight, corrosion resistant metal used mainly in aerospace applications, as a construction material, in packaging, automobiles and railroad cars. Resources of bauxites, the raw material for aluminum are only located in seven areas: Western and Central Africa (mostly, Guinea), South America (Brazil, Venezuela, Suriname), the Caribbean (Jamaica), Oceania and Southern Asia (Australia, India), China, the Mediterranean (Greece, Turkey) and the Urals (Russia). Aluminum futures and options contracts provide price transparency to the U.S. aluminum market, valued at about $35 billion per year in products and exports.
---
Dave Gallagher
New Ferndale Smelter Energy Deal Made to Benefit Both BPA, Alcoa
Bellingham Herald, April 12, 2016
---
See what you can learn
learn more on topics covered in the film
see the video
read the script
learn the songs
discussion forum