---
Alcoa, BPA reach new deal on power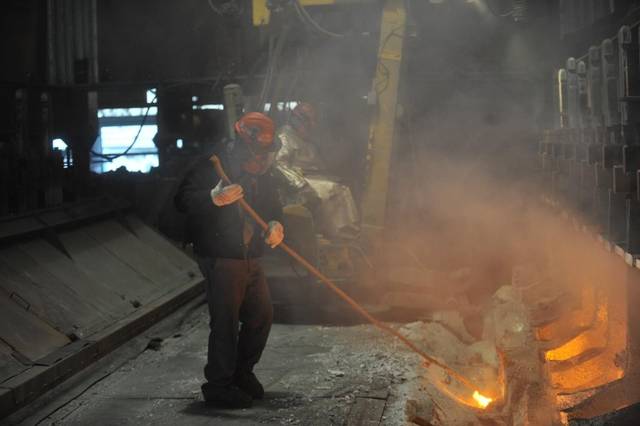 FERNDALE -- With dozens of employees opting for early retirement or finding other work, Alcoa is hiring temporary workers for the Intalco aluminum smelter to get through the end of June.
Approximately 40 temporary workers are being hired to help ensure the facility is adequately staffed through June 30, the time when the smelter's curtailment is scheduled to begin, said Josh Wilund, a spokesman for Alcoa. The company announced in November that it was curtailing the smelter because of a global glut of aluminum that led to low prices. The curtailment would mean layoffs for around 465 workers.
Most of the temporary workers will be handling basic duties on the potlines, said Glenn Farmer, business representative for International Association of Machinists Local 2379 District 160. If the smelter were to remain open beyond June 30, the temporary workers could be hired on full time.
The hiring of temporary workers is one of three developments taking place with Intalco as the June 30 curtailment date draws closer:
Earlier this month, Alcoa and the Bonneville Power Administration reached a short-term agreement where Alcoa would purchase 300 megawatts an hour through June 30 at near the market rate. That means Alcoa wouldn't have to go out and buy the power elsewhere, something it had been doing recently to cut costs.

Union workers are organizing a trip to Olympia in the hopes of restoring some funding for training, which they believe could play a role in keeping the smelter open longer.
The hiring of temporary workers comes at a key time for the smelter. Monday, Feb. 29, was the last day workers could announce they were taking Alcoa's offer of an early retirement package. Farmer noted the smelter has had an attrition rate at about what he expected. The type of work the temporary workers will be doing doesn't require extensive training but does fill a need.

"Right now we are dealing with some high OT (overtime) rates," Farmer said.

At this point, Alcoa is planning to go ahead with the June 30 curtailment, keeping the casthouse open and employing about 100 people. For the workers and families holding out hope of avoiding a curtailment, there are some positive signs. Low aluminum prices were considered a factor in Alcoa's decision to curtail some of its U.S. smelters; those prices have risen recently. According to the London Metal Exchange, the price for a metric ton of aluminum was $1,587.50 on Monday, up from $1,475 a metric ton at the time of the November curtailment announcement.

NEW POWER AMENDMENT

With Alcoa announcing its curtailment last fall, the company worked out a deal with BPA to reduce the amount of power it purchased from the agency to 75 megawatts an hour, then 10 megawatts an hour after the curtailment to power casthouse operations. The reduction in its power purchase from BPA allowed the company to buy power on the spot market for a lower price while it continues normal operations through June.

This new amendment, which came together Feb. 10, allows BPA to continue selling the full 300 megawatts an hour that was expected in the original 10-year contract, which is set to expire in 2022. This will provide benefits to both Alcoa and BPA, said Mike Hansen, a spokesman for BPA.

While there's been no indication from Alcoa that it would delay or scrap the impending curtailment, Hansen said this amendment shows a willingness by the BPA to be flexible to try to help keep the smelter open.

"We have a long, mutually beneficial relationship with Alcoa," Hansen said.

WORKERS ORGANIZING OLYMPIA LOBBY

Meanwhile, workers are organizing a Wednesday, March 2, trip to Olympia to try to persuade legislators to keep some funding in place that provides workforce training at Intalco.

Farmer said that the $3 million in funding could be cut to $750,000, which could hurt the chances of the smelter reopening. According to the union's Facebook page, they want to get at least 50 volunteers to ride a bus down to Olympia for the all-day event.

Related Pages:
Alcoa official: Cheap Power Could Keep Ferndale Smelter Open by Dave Gallagher, Bellingham Herald, 1/25/16
Alcoa Delays Curtailment of Intalco Smelter Until End of Second Quarter by Rukmangadhan & Patnaik, Reuters, 1/19/16
---
Aluminum commodity historical prices 1990 to mid 2016

Aluminum is a lightweight, corrosion resistant metal used mainly in aerospace applications, as a construction material, in packaging, automobiles and railroad cars. Resources of bauxites, the raw material for aluminum are only located in seven areas: Western and Central Africa (mostly, Guinea), South America (Brazil, Venezuela, Suriname), the Caribbean (Jamaica), Oceania and Southern Asia (Australia, India), China, the Mediterranean (Greece, Turkey) and the Urals (Russia). Aluminum futures and options contracts provide price transparency to the U.S. aluminum market, valued at about $35 billion per year in products and exports.
---
Dave Gallagher
Alcoa Hiring Temporary Employees for Ferndale Smelter Work
Bellingham Herald, April 12, 2016
---
See what you can learn
learn more on topics covered in the film
see the video
read the script
learn the songs
discussion forum