---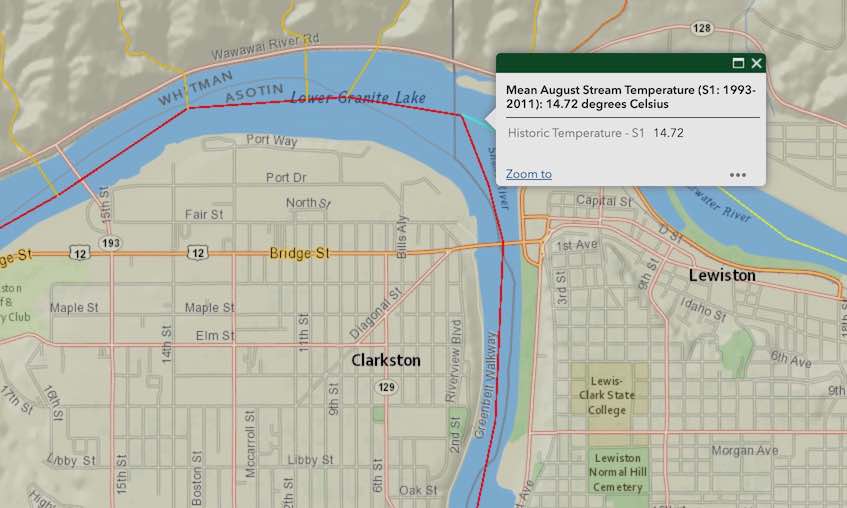 This is in regard to Lewiston Tribune writer Eric Barker's article published on the Panorama page in the U-B on Sunday.
Barker wrote that 55 scientists agreed that breaching the lower Snake River dams would lower water temperatures and save the salmon. Several facts may have been overlooked.
There are two types of reservoirs, run-of-river reservoirs and storage reservoirs. In storage reservoirs, water is saved through the winter and spring to be release in the summer and fall, usually for irrigation. Most of the reservoirs in Idaho and Eastern Oregon are storage reservoirs. Due to summer warming and heat from the sun, waters in storage reservoirs do get substantially warmer near the surface and they become stratified with cooler water under the warm layer.
Run-of-river reservoirs receive water and pass it on downstream with little increase in temperature. The lower Snake River reservoirs are run-of-river reservoirs.
Water coming into Lower Granite Reservoir from Hells Canyon measured at the Anatone gage is typically up to 78 degrees. It includes Snake River waters from southern Idaho, from the Salmon River, the Grande Ronde in Washington, the Imnaha in Oregon, and lesser tributaries. In the 1990s, infrared photography revealed that the Grande Ronde and Imnaha without dams were contributing plumes of hot water to the Snake. At the Orofino gage on the Clearwater River, summer temperature exceeds 75 degrees.
Before Ice Harbor Dam was completed in 1962, water temperatures at the mouth of the Snake reached 83 degrees. After the four dams were completed, temperatures up to 77 degrees were measured at Ice Harbor.
Since the early 1990s, cool water has been released from Dworshak Dam keeping the temperature at in the lower Snake below 70 degrees. Seventy-eight-degree water still comes out of the Snake River, but cooler Clearwater flows go under the warmer water down to Lower Granite where they are mixed by the generators or spill. As Parker mentioned, the Corps has taken measures to combat this problem. The cool water passes downstream through the other three dams.
The 2015 sockeye loss occurred in the Columbia River downstream. While water temperatures in the low 70s were noted, it is significant to note that at the same time, salmon were dying by the thousands in the Fraser River in Canada. It was due to a Northwest-wide temperature problem.
How to reduce water temperatures must look releasing cool water from the storage...
(bluefish notes: Dworshak Dam, a federally owned and operated storage dam, releases cold water from its depths thereby cooling the Lower Snake River at their confluence. Upstream of the confluence, the Snake River is warm as McKern reports, after it has flown through the Idaho desert all the way from Jackson Hole, Wyoming. See GIS map above.)">
Related Pages:
River Temperatures Prompt Scientists' Call for Removal of Snake Dams by K.C. Mehaffey, Wallowa County Chieftain, 11/7/19
Scientists Assert Only Breaching Dams Can Cool Northwest Waterways by Eric Barker. Idaho State Journal, 11/3/19
Watch Scientists Warn of Salmon Extinction If Snake River Dams Stay by Simone Del Rosario, Q13 Fox, 10/23/19
Ending Super-Saturation Will Help Salmon by John McKern, Walla Walla Union-Bulletin, 4/14/19
Supersaturation is Real Trouble for Salmon by John McKern, Walla Walla Union-Bulletin, 12/27/18
Breaching Dams Won't Cool River Water by John McKern, Walla Walla Union Bulletin, 11/8/18
Blaming Snake River Dams for Orca Woes a Hoax by John McKern, Walla Walla Union-Bulletin, 8/14/18
Judge, Court of Appeals Ignored Fish Facts by John McKern, Walla Walla Union-Bulletin, 4/8/18
Ending Super-Saturation Will Help Salmon by John McKern, Walla Walla Union-Bulletin, 10/18/17
View from Idaho on Dam Protection by John McKern, Walla Walla Union-Bulletin, 8/1/17
Yes, Consider All Facts on Dam Breaching by John McKern, Walla Walla Union-Bulletin, 6/30/17
McKern Letter: Salmon Runs by John McKern, Idaho Statesman, 1/2/16
Adult Salmon Survival Past Dams is 99 Percent by John McKern, Walla Walla Union-Bulletin, 3/25/15
Hydropower Not Been Replaced by Wind Power by John McKern, Walla Walla Union-Bulletin, 3/6/15
Environmentalists Try to Muddy Waters About Dredging by John McKern, Walla Walla Union-Bulletin, 12/30/14
Talk of Breaching Snake River Dams a Red Herring by John McKern, Walla Walla Union-Bulletin, 3/21/14
Blaming Dams for Fish Loss is a Hoax by John McKern, Walla Walla Union-Bulletin, 8/23/13
Judge Redden's Replacement Can't Be Worse by John McKern, Walla Walla Union Bulletin, 12/5/11
Science Does Not Support Dam Breaching by John McKern, Walla Walla Union Bulletin, 12/19/11

---
John McKern, Walla Walla, Washington
Facts on Dam Breaching Are Being Overlooked
Walla Walla Union-Bulletin, November 7, 2019
---
See what you can learn
learn more on topics covered in the film
see the video
read the script
learn the songs
discussion forum