---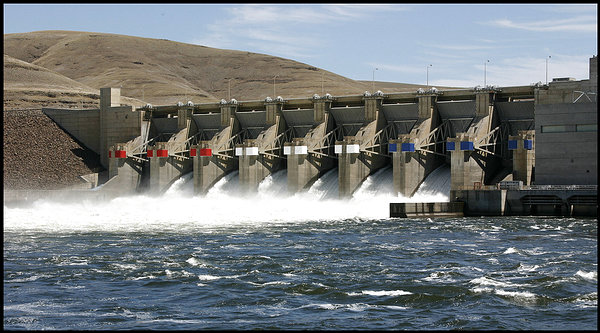 A Seattle Times article and an editorial by the U-B lauded the agreement the environmentalists, fishery agencies, and federal dam operators and power marketers to increase spill at the Columbia/Snake River dams to increase juvenile salmon survival.
I went to work for the U.S. Army Corps of Engineers in 1971, and the first major fish survival problem my boss passed to me was how to decrease gas supersaturation and increase juvenile salmon survival. Two more lower Snake River dams had just been completed, and Lower Granite Dam was under construction. The series of seven dams was an extreme threat to the salmon runs according to the National Marine Fisheries researchers, and it was predicted that eight dams would cause the runs to become extinct.
All out efforts over the next few decades brought the gas supersaturation problem down. The Corps installed flow deflectors in the spillways to reduce the amount of air forced into solution, installed more to pass water without infusing air and to increase power generation, and a dissolved gas monitoring system was installed throughout the Columbia Basin.
Then environmentalists and some fisheries groups decided that spill was the safest way to get juvenile fish past the dams. It is not.
As I explained in the past, excessive spill exposes fish to higher dissolved gas, and fish passing through unmodified spill bays are subjected to rapid pressure decreases as they shoot out from under the spill gates.
Earlier, there was a smaller article in the U-B that said Idaho and Oregon had reached a compromise on fish passage at the Hells Canyon dams. They block salmon passage to two-thirds of the historic spring Chinook habitat and 85 percent of the historic fall Chinook habitat in the Snake River Basin. Idaho said the water quality was too poor in mid- and southern Idaho to support salmon. Also, numerous dams constructed before the lower Snake River dams had blocked access to most spawning areas. Build more hatcheries.
Another article reported loss of 6.2 million juvenile salmon at a Puget Sound hatchery that were intended for food for the Southern Resident Pod of killer whales.
Clearly there is a lot of focus on saving the orcas. The effect of increasing spill must be closely monitored, and it will be because the Corps has state fishery agency biologists at each dam monitoring fish condition. If gas bubble disease increases, spill will be cut back.
Related Pages:
Blaming Dams for Fish Loss is a Hoax by John McKern, Walla Walla Union-Bulletin, 8/23/13

---
John McKern
Supersaturation is Real Trouble for Salmon
Walla Walla Union-Bulletin, December 27, 2018
---
See what you can learn
learn more on topics covered in the film
see the video
read the script
learn the songs
discussion forum