---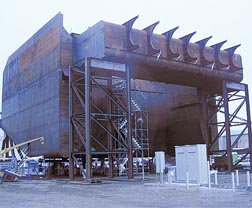 John Twa and I have two things in common. First is our name, John. Second is our concern for the Snake River salmon and steelhead. Beyond that, he seems to disregard the facts and the truth.
In his recent letter to the editor he is blaming the poor steelhead runs in 2017 on the Lower Snake River dams, while the fisheries scientists blame warm ocean conditions when the juvenile steelhead and salmon entered the ocean in 2015.
In fact, the steelhead decline will be felt from California to Alaska because of warm ocean conditions NOAA Fisheries has dubbed "the Blob." Because of the warm ocean, more predators are awaiting the out-migrating juvenile salmon and steelhead, and food sources are diminished. These factors have combined to decrease ocean survival resulting in closed fisheries in Oregon and Washington.
Twa said I suggest spending $15 million to $20 million more per dam for surface spillway weirs. Apparently he missed the fact that Lower Granite, Little Goose, Lower Monumental, Ice Harbor, McNary, John Day and Bonneville dams have already been equipped with surface spillway weirs. He blames the surface spillway weirs for passing hot water downstream.
First, the hot water comes from Idaho -- the upper Snake River and Salmon River, and from Oregon -- the Imnaha and Grande Ronde rivers. The hot water from Hells Canyon flows over the cold water released from Dworshak Reservoir on the North Fork of the Clearwater River all the way to Lower Granite Dam.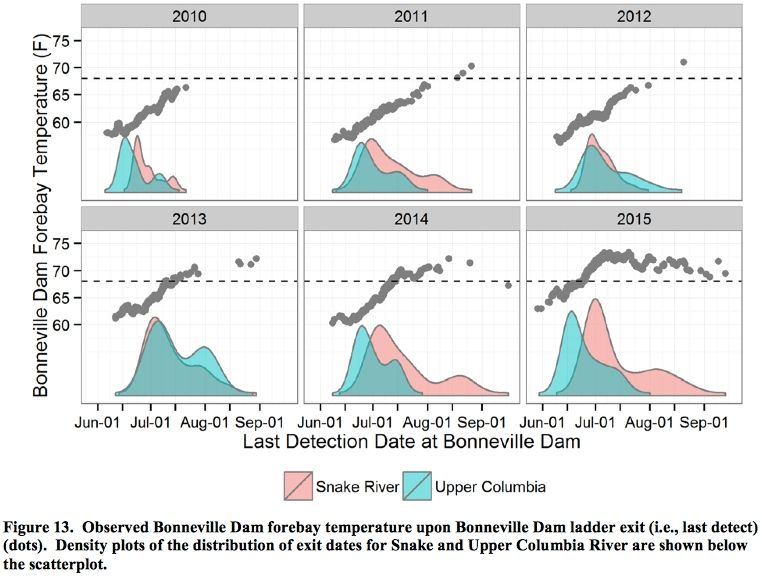 (bluefish notes: Let's see what the scientists say, "faulty data from temperature stations lead to less cool water being released (from Dworshak) over the July 4 weekend." from Columbia and Snake Sockeye Decimated by 2015's Warm Rivers. Also see Riverkeeper: No Sustained Hot Water Temps if Lower Snake Dams Go to learn the effects of slow moving water in 140-miles of Lower Snake reservoirs during the heat wave of 2015.)
Second, Judge James Redden's court ordered spill requires spill under seven spill gates far surpassing the overflow spill over one spill gate at Lower Granite, Little Goose and Lower Monumental dams.

Ice Harbor has 10 spill gates and one overflow spill gate that passes 7,000 cubic feet per second. With 100,000 cfs flow, 93,000 cfs passes under nine spillway gates at a depth of about 50 feet, mixing cool water with the surface spill. Through careful flow regulation, the Corps keeps the Lower Snake River below 70 degrees.
(bluefish points: the reader to the graphic at right -->)
While steelhead and salmon runs will be low for several years because of poor ocean conditions, fall chinook anglers can catch up to six marked adults, and as many jacks as they can catch in the Snake River including from Lewiston to Hells Canyon Dam.

Remember, too, that two-thirds of the salmon and steelhead habitat (85 percent for fall chinook) was lost due to dams above Hells Canyon in Idaho and Oregon.

Related Pages:
Do We Value Lower Electricity Rates and Salmon? by John Twa, Walla Walla Union-Bulletin, 10/13/17
Yes, Let's Look at 'Facts' on Dams by Gene Spangrude, Walla Walla Union-Bulletin, 8/13/17
View from Idaho on Dam Protection by John McKern, Walla Walla Union-Bulletin, 8/1/17
Yes, Consider All Facts on Dam Breaching by John McKern, Walla Walla Union-Bulletin, 6/30/17
Congressional Effort to Blunt Dam Breaching Effort is Sound by Jacob Schmidt, Walla Walla Union Bulletin, 7/7/17




---
John McKern, Walla Walla, Washington
Let's Look at Some Facts About Snake River Dams
Walla Walla Union-Bulletin, October 13, 2017
---
See what you can learn
learn more on topics covered in the film
see the video
read the script
learn the songs
discussion forum