---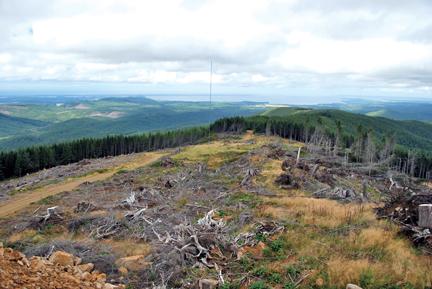 Before spending more money on studying the environmental effects of putting 32 wind towers on a ridge near Naselle, public utility districts want assurances from a federal agency that they aren't tilting at windmills.
Public-power developer Energy Northwest and four PUDs in Pacific, Grays Harbor, Mason and Clallam counties plan to erect the 262-foot-tall towers on state-owned Radar Ridge, the site of a Cold War-era military radar station in Pacific County.
The wind farm would be the largest in Western Washington and capable of supplying electricity to 18,000 homes.
The PUDs are worried, however, that after they spend millions of dollars on studies the U.S. Fish and Wildlife Service will nix the project to protect marbled murrelets, threatened birds that nest near the ridge and fly over it.
Energy Northwest agreed last week to an extensive environmental review, which will help push up pre-construction costs from an initial estimate of about $3 million to more than $5 million. PUDs must decide whether to commit to the expense, or stop a project that's been three years in the planning.
"It's coming to a head now because there are decisions that need to be made," said Matt Samuelson, assistant power supply manager for Mason County PUD No. 3 and chairman of a committee overseeing the project.
Energy Northwest Vice President for Energy and Business Services Jack Baker said Wednesday that Grays Harbor PUD commissioners asked legitimate questions Monday when they held off committing the utility to shelling out another $1.3 million to pick up its share of the extra cost.
If Grays Harbor, the single largest investor in the project, pulls out, it would be up to Energy Northwest and the remaining utilities to decide whether to go ahead with the project, he said.
To build the wind farm, the utilities will need a permit from the wildlife service to "accidentally take" a threatened species.
Although the utilities haven't submitted an application yet, they began discussing the project with the wildlife service in 2008.
Some environmental groups oppose the project, and state lawmakers who support the wind farm accuse the federal agency of siding with the opponents from the beginning. "I'm not convinced U.S. Fish and Wildlife will give the project a fair shake," said Rep. Brian Blake, D-Aberdeen. "They've been in 'hell-no' mode from the start. That's my perception."
The manager of the wildlife service's Washington office, Ken Berg, said the wind farm's proposed location will require a close look, but his agency hasn't prejudged the project. "I'm sorry people have gotten that impression," he said.
Samuleson said the PUDs are confident further study will confirm their assertion that the chances of a marbled murrelet being struck by a rotating blade would be less than fifty-fifty in a given year. But the PUDs want assurances now that they can get a permit by the end of 2011 at the latest to take advantage of $122 million in zero-interest financing made available to the utilities in last year's federal Recovery Act.
"We are certain we can achieve permitting, but we'd like to do it a more timely fashion," Samuelson said.
The wildlife service has agreed to make a decision before the end of 2011, but it can't guarantee the outcome, Berg said.
"I don't know how we can give assurances for a permit that hasn't been applied for yet," he said.
Sen. Brian Hatfield, D-Raymond, said he hopes PUDs won't back away from the project, which he said would generate jobs as well as energy that could help utilities meet voter-imposed mandates to invest in renewable power.
"It's just frustrating when you're trying to get an area out of double-digit unemployment," he said. "It's been kind of the name of the game. The opponents drag it out, and the people who have to make the decisions don't want to throw good money after bad."
Related Pages:
Negative Effect Negated by Data by Doug Miller, The Columbian, 8/27/9
No 'Winner' Needed by Editorial Board, The Columbian, 8/5/9
Wildlife Hinders Wind Farm Strategy by Kathie Durbin, The Columbian, 8/1/9
Proposed Wind Project Could Imperil Murrelet by Kathie Durbin, The Columbian, 7/27/9
Murrelet May Be In Way of Pacific Co. Wind Farm by Associated Press, The Daily News, 7/27/9

---
Don Jenkins
PUDs Worry Bird Will Stop Wind Farm in Tracks
The Daily News, May 13, 2010
---
See what you can learn
learn more on topics covered in the film
see the video
read the script
learn the songs
discussion forum