---
When it comes to wind turbines and birds, the interests of both can be protected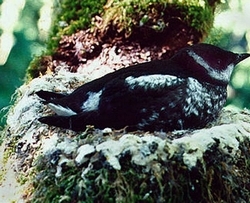 With frequent ferocity, The Columbian has expressed editorial support for both:
-- Wind energy as an alternative energy source.
-- The Endangered Species Act.
But what happens when those two advocacies collide, when wind turbines kill birds, especially birds of a threatened species? The answer: We remain staunchly supportive of both the wind and the creatures that ride it. One interest does not have to "win," and certainly not at the other's expense.
If forced into a corner of mandatory choice, we suspect the proper view would be to support the ESA and the birds, for one simple reason: Extinction is precisely that, irreversible. Protecting habitat is an intensely specialized endeavor. By contrast, the gargantuan turbines can be erected in many areas where wind speeds are sufficient to achieve production goals.
As Kathie Durbin reported in Sunday's Columbian, the state Department of Natural Resources oversees two dozen wind-power leases that are in various stages of negotiations and development; 65 turbines whirl on state trust land, yielding $650,000 annually for the DNR to direct toward school construction. The five wind farms are all in Eastern Washington.
But in Southwest Washington -- in Pacific County near Willapa Bay -- a proposed wind farm has been met with criticism from scientists who want to protect nearby habitat of the marbled murrelet. The small bird for 17 years has been listed by the ESA as a threatened species. It nests high in coastal conifers such as those found in the proposed Radar Ridge project known as the Nemah Block.
Durbin quoted Clay Sprague, DNR deputy supervisor for uplands: "We support alternative energy development, but we are trying to figure out how we can site it," in environmentally sensitive ways.
"We want to get ahead of the curve," Sprague added.
Although it is troubling that DNR officials are not already ahead of the curve, it is encouraging that they have recognized the challenge and are committed to further studies to protect critical habitat while still allowing wind farms in other areas. Durbin reported that the DNR only recently established an inventory of murrelet habitat. Scientists in one report ranked the Nemah Block as the No. 1 habitat for murrelet protection.
Part of the DNR's strengthened commitment to preserve murrelet habitat might be traced to the 2008 election in which Democratic newcomer Peter Goldmark defeated Republican incumbent Doug Sutherland for state land commissioner.
Sutherland did a reasonably good job. In fact, we endorsed him. But this looming collision of murrelet and wind-farm interests does not need to be politicized, and we are glad Goldmark is directing his department toward a greater understanding of the murrelet and its habitat.
Further study of the Radar Ridge project is needed by independent, objective DNR scientists. If that examination concludes the murrelet would be endangered by the Radar Ridge project, then developers could be forced to go elsewhere. That no doubt will aggravate them; already they've invested $1.7 million in the project. Kudos to project developer Energy Northwest for hiring what it says is the region's top murrelet biologist to study the impact of Radar Ridge.
Still, however, Ken Berg, manager of the U.S. Fish and Wildlife Service's Washington Fish and Wildlife Office, said: "Energy Northwest didn't come in to talk to us before they selected this site with DNR. We would like to work together to give prospective developers good advice." Certainly, that's the best approach.
We still believe in both turbines and birds. We also believe scientists will find ways to harness the wind while protecting threatened species. Let hard science prevail.
---
Editorial Board
No 'Winner' Needed
The Columbian, August 5, 2009
---
See what you can learn
learn more on topics covered in the film
see the video
read the script
learn the songs
discussion forum