---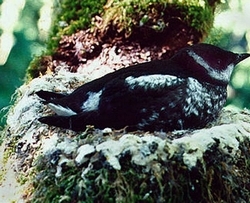 A proposal by an Eastern Washington utility consortium to build the state's first coastal wind farm by 2011 has run smack up against the habitat requirements of a threatened seabird.
Energy Northwest, based in the Tri-Cities, has signed a lease with the Washington Department of Natural Resources to build a wind farm on 3,359 acres of state trust land near Naselle, in Pacific County.
But the site of the proposed Radar Ridge project, a ridge once used for a radar installation, is surrounded by the most valuable nesting habitat for murrelets remaining in all of Southwest Washington, according to the DNR's own recommendations for conserving the bird's habitat.
The 13,748-acre Nemah Block is between Willapa Bay and the Columbia River. A total of 89 occupied murrelet sites have been identified on DNR land within 30 miles of the project.
The murrelet, listed as a threatened species in 1992, nests in old-growth forests within 50 miles of the sea and forages in marine waters and near the mouths of rivers.
A new scientific review commissioned by DNR predicts that wind turbine blades at the Radar Ridge project could kill or injure up to 87 murrelets annually, or 2,625 murrelets over the 30-year life of the project.
"Installation and operation of a wind energy facility will put marbled murrelets at risk of collision with turbines," the scientists wrote. "Collision is expected to result in injury or mortality."
Nesting birds would be at increased risk because they would have to fly through the project area several times a day to bring food to their young, the scientists said. "The death of an adult murrelet provisioning a nest would likely cause the nestling to die of starvation."
But Energy Northwest project manager David Kobus said the new scientific review is based on faulty analysis of data gathered by the company's own consultant. The company has nearly three years' worth of radar survey data that indicate low use of the site by birds, he said.
"What we found is, the vast majority fly too high to be in the area of risk," Kobus said. "From our perspective, the impact is so low at this site that we feel we are being very responsible environmental stewards."
The DNR operates under a habitat conservation plan that protects federally listed species across 2.1 million acres of state trust land. But that plan does not cover development of wind power projects.
And the Radar Ridge site is the worst possible site for a wind farm in Southwest Washington, said Ken Berg, manager of the U.S. Fish and Wildlife Service's Washington Fish and Wildlife Office.
"We have expressed our concerns from the very first meeting we had with Energy Northwest and DNR about the potential for this project to have a significant impact on murrelets," Berg said.
At that meeting, Energy Northwest "told us they have a lot of money behind the project and they're going for broke," Berg said.
Energy Northwest hopes to install up to 32 wind turbines along the logged-over ridge to produce up to 82 megawatts of energy. Public utilities in Pacific, Grays Harbor, Clallam and Mason counties are sharing in development costs that total nearly $1.7 million so far.
Supporters, including local legislators, say the project would create jobs and help utilities meet state renewable energy requirements.
"That wind farm is a great idea," Rep. Dean Takko, D-Longview, told the Longview Daily News. "It's got all the good things going for it, except for that little bird."
Kobus said Energy Northwest will apply for a federal permit under the Endangered Species Act that would allow it to "take" or harm a threatened species, and will prepare a habitat conservation plan outlining how it would minimize and mitigate harm to murrelets.
"Once we put the document together and put it on the desk for the Fish and Wildlife Service to review, we think it will be a compelling story," he said.
---
Kathie Durbin
The Associated Press contributed to this report Proposed Wind Project Could Imperil Murrelet
The Columbian, July 27, 2009
---
See what you can learn
learn more on topics covered in the film
see the video
read the script
learn the songs
discussion forum