---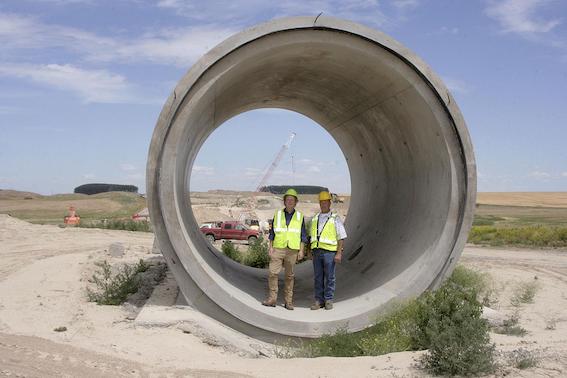 The U.S. Bureau of Reclamation and the East Columbia Basin Irrigation District have reached an agreement that will ultimately allow landowners to replace their declining irrigation wells with water from the Columbia River.
The irrigation district board signed the master water service contract this week. The bureau is expected to sign it the week of Oct. 7.
Contract negotiations lasted "eight days short of four years," said Craig Simpson, secretary-manager of the irrigation district in Othello, Wash.
"It's phenomenal, it's a huge occasion for us to get there," Simpson said. "This is substantial. It's a really large accomplishment to get to this point."
Simpson attributes the length of negotiations to the bureaucracy involved.
"It was more process-oriented than disagreement-oriented," he said.
About 150 landowners on 102,000 acres in the Odessa Subarea are losing access to groundwater due to declining aquifers and are eligible to participate in the effort to obtain Columbia River water.
The contract covers 90,000 acres, 78% of which were included in the original Odessa Subarea Special Study.
About 80,000 acres are for groundwater replacement, Simpson said. The remaining 10,000 acres can be for land not necessarily connected to groundwater replacement.
That allows the district to offer water supplies to landowners whose property is impacted by a delivery system route.
Conservation projects will generate the water supplies for 20,000 acres of these new deliveries.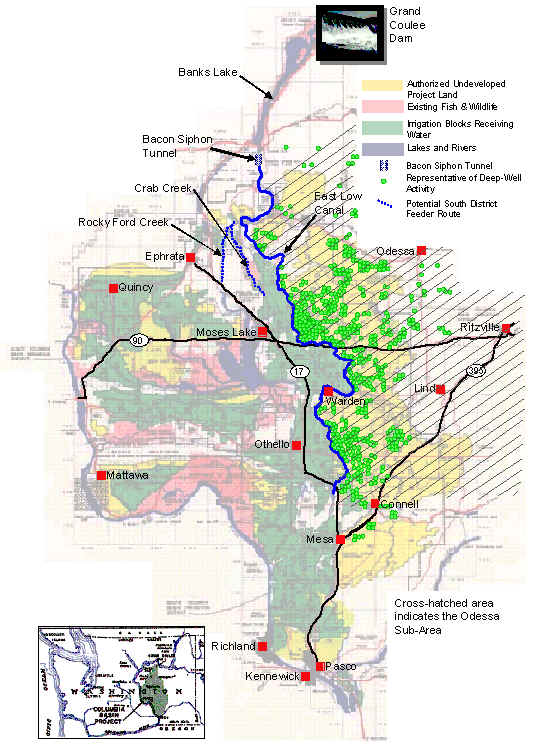 Farmers can "finally" begin firming up acreage to receive water, because now the water will be allocated, said Clark Kagele, a farmer in Odessa, Wash.
"It wasn't before, it was just theoretically allocated," he said.
Kagele is on the 22.1 delivery system on the East Low Canal. Landowners on that system formed an LLC to work as a group. With the new contract in place, they can begin designing the distribution system, he said.
Without a "thinking outside the box" approach to financing, some acres could be lost, he said.
"You take a look at what the new system is going to cost, and take a look at your costs per acre under deep-well irrigation, that's going to tell you whether you can afford the system or not," he said.
The board previously set a cap on construction costs for landowners of $190 per acre per year for 30 years. Simpson said that cap remains in place. Those costs don't include yearly water fees.
Total cost of the project is estimated at roughly $465 million, including interest on bonds that will be issued, with $293 million in construction costs. Federal and state grants or low-interest loans should bring costs down, Simpson said.
If everything goes well, design of the delivery systems should take a year and construction another year, Simpson said.
"But that's not how things have been working," he said, noting it's a voluntary process driven by individual landowner groups, depending on their funding.
"If they're still waiting for outside financing or funds to come from (state or federal) appropriations, you're in multiple-year delays," he said.
Meanwhile, the cost of the project continues to go up, he said.
"If they're going to ask for money, they need to ask for big chunks, because little chunks don't even make up for inflation," he said.
Related Pages:
Columbia Basin Development League
Related Pages:
Odessa Subarea Seeks More Funding for Water Expansion by Matthew Weaver, Capital Press, 11/4/16
Irrigation District, Development League Continue Work, Seek Funding by Matthew Weaver, Capital Press, 10/30/16
League Seeks Funding to Reduce Odessa Irrigation Water Costs by Matthew Weaver, Capital Press, 10/24/16
Another Step Taken Toward Bringing Water to Odessa Subarea by Matthew Weaver, Capital Press 9/14/15
Irrigators Seek Support in Olympia for Stalled Project by Don Jenkins, Capital Press, 12/9/14
Funding to Finish East Low Canal a 'Rough Pull' by Matthew Weaver, Capital Press, 11/11/14
Funding to Finish East Low Canal a 'Rough Pull' by Matthew Weaver, Capital Press, 11/14/14
Columbia-Snake Irrigators Push Plea for Water to the Top by Don Jenkins, Capital Press, 3/3/15

---
Matthew Weaver
Master Water Service Contract Reached for Odessa Farms
Capital Press, October 4, 2019
---
See what you can learn
learn more on topics covered in the film
see the video
read the script
learn the songs
discussion forum