I
---
Work continues on the East Low Canal to bring Columbia River water to farmland in the Odessa Subarea.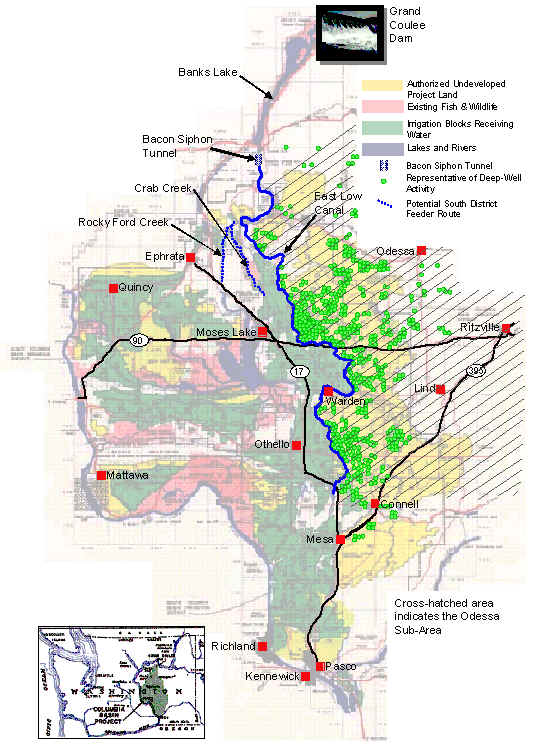 The East Columbia Basin Irrigation District and Columbia Basin Development League are continuing to seek funding to help farmers replace water from a declining aquifer with Columbia River water.
Infrastructure improvements will continue through at least next May with current funding, said Levi Johnson, development coordinator for the irrigation district. Those activities include earthwork and installation of radial gates to improve existing check structures and construction of concrete siphon barrels.
The irrigation district plans to construct seven systems to deliver water to landowners. The district is handling improvements to its delivery system, including work on the East Low Canal. Landowners are expected to pay for their part of the system.
The irrigation district is using a $26 million state grant for current work on the canal. Once that funding is spent, $20 million in improvements will remain.
The systems will deliver water to roughly 70,000 acres of farmland. The entire system is estimated to cost $290 million, Johnson said.
"The district is working hard to get that number as low as possible," said Mike Schwisow, director of government relations for the league.
The irrigation district is working on a $20 million financing plan to allow continued construction of the first system and improvements on the East Low Canal.
Landowner meetings are planned in November for the remaining six systems to provide an update and financing information.
The district has provided landowners with draft contracts.
"A lot of these folks have not purchased or used federal water supplies, so there's a little bit of a learning curve there," Johnson said.
Farmers are interested in what it will cost them. The district's board of directors wants to identify the potential cost on the bond market, using "fairly conservative" estimates for capital, contingencies, inflation and interest rates, Johnson said.
Johnson said he welcomes feedback from landowners.
The board is pursuing additional sources of state or federal funding, he said.
"That would be a huge burden off of our landowners, but right now we are trying to put together financing scenarios that would be able to survive on their own in the event that doesn't happen," he said.
A lawsuit brought against the irrigation district by the Columbia-Snake River Irrigators Association is not impacting progress on the project, Johnson said.
"Especially, it's not impacting how we go about engaging these landowners," he said. "We are not excluding any one or any ground from these systems."
Related Pages:
Another Step Taken Toward Bringing Water to Odessa Subarea by Matthew Weaver, Capital Press 9/14/15
Funding to Finish East Low Canal a 'Rough Pull' by Matthew Weaver, Capital Press, 11/14/14
Columbia-Snake Irrigators Push Plea for Water to the Top by Don Jenkins, Capital Press, 3/3/15

---
Matthew Weaver
Irrigation District, Development League Continue Work, Seek Funding
Capital Press, October 30, 2016
---
See what you can learn
learn more on topics covered in the film
see the video
read the script
learn the songs
discussion forum