---
The East Columbia Basin Irrigation District has approved a 40-year renewal of its master water service contract.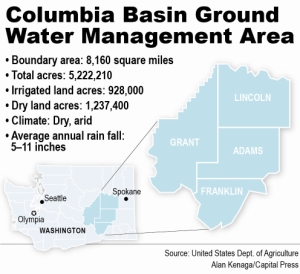 The East Columbia Basin Irrigation District board has taken another step toward bringing Columbia River water to farms in the Odessa Subarea that are running out of groundwater used for irrigation.
The district board has approved a 40-year renewal of its master water service contract with the U.S. Bureau of Reclamation, clearing the way for issuing 30-year revenue bonds to pay for the infrastructure, said Levi Johnson, development coordinator for the irrigation district.
The contract covers coordinated conservation water and water from the Lake Roosevelt incremental releases program, he said. These water supplies are authorized for groundwater replacement in the Odessa Subarea.
The district board has entered into water service contracts with landowners on 7,000 acres. Roughly 10,000 acres are slated to get water via the 47.5 distribution system on the East Low Canal, so named for its location 47.5 miles along the canal system.
Before the end of the year, the district plans to issue tax-exempt municipal revenue bonds for financing the distribution system. The district will take on the bonded indebtedness and service it through annual charges to the landowners who receive the water, Johnson said.
The charges help cover the debt the district is taking on to build the delivery system, including pressurized pipelines and pump plants, and pay for the remaining East Low Canal improvements.
Without the certainty provided by the contract renewal, bonds would likely have needed higher interest rates, Johnson said.
The lower interest rates will benefit the farmers, said Mike Schwisow, director of government relations for the Columbia Basin Development League.
The league supports completion of the Columbia Basin Project.
The district board will next begin negotiations with the Bureau of Reclamation to gain contractual authority to deliver water to 70,000 acres covered under the Odessa Subarea Special Study.
Water will be provided to those acres through six additional delivery systems, Johnson said. More revenue bonds will be issued to finance construction of those systems.
Revenue bonds are loans that are repaid with the money received from the people who benefit from the specific projects that are financed.
The irrigation district hopes to complete the designs in 2016, Johnson said.
The initial bond offering is expected to be between $18 million and $20 million, Schwisow said. The total estimated cost of all the distribution systems is roughly $239.9 million.
Schwisow said renewal of the master contract was an important step to move the process along.
"It's a series of boxes you have to check -- this is a big box that had to be checked," he said. "We're really pleased the district and Reclamation worked so hard to get this done in a timely manner."
Related Sites:
Columbia Basin Development League
Columbia Basin Project
Odessa Sub-area Special Study
Related Pages:
Washington Keeps Up 8-year Pursuit of More Water by Don Jenkins, Capital Press, 10/22/14
Retired Economists Find Holes in Odessa Plan by Matthew Weaver, Capital Press, 4/25/14
Irrigators Weigh Costs of Surface Water by Matthew Weaver, Capital Press, 11/11/13
Odessa Water Plan Passes Major Milestone by Matthew Weaver, Capital Press, 9/7/12
Odessa Water Study Released by Wes Nelson, Capital Press, 10/19/7
Odessa Aquifer Water Relinquishment Program by Staff, Wheat Life, 10/6

---
Matthew Weaver
Farmers Lose Out During Harvest with Portland Containers Service Gone
Capital Press, September 14, 2015
---
See what you can learn
learn more on topics covered in the film
see the video
read the script
learn the songs
discussion forum