---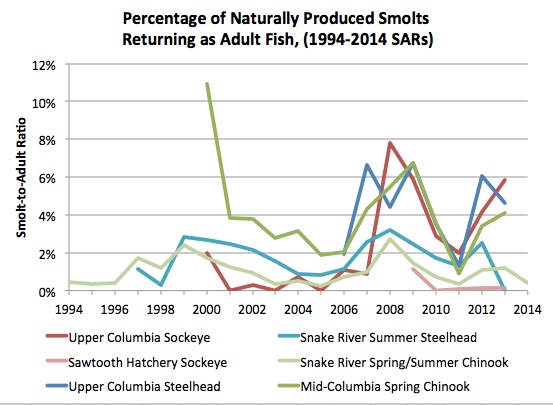 Northwest River Partners continues to mislead the public with Terry Flores at the helm. Her latest rebuttal (Aug. 19) continues her pattern of overstating the benefits of the lower Snake River dams.
Terry's argument aptly defends large hydropower projects like Grand Coulee or Chief Joseph dams that truly "keep the lights on," but the four lower Snake dams are not nearly as important as she would have us all believe.
Notably, Terry is unable to cite any report or study that supports her claims. To the contrary, the recently released Seventh Power Plan from the NW Power and Conservation Council modeled hundreds of water supply scenarios and found that exporting less surplus power would be the preferred, "Least Cost Resource Strategy," if the four dams were to be removed.
Moreover, the Seventh Power Plan shows us that energy conservation programs sponsored by utilities effectively replaces one dam each year. Experts assure us that without the dams, rolling blackouts would not occur. Undeterred, Terry Flores would have us believe otherwise.
Next time Terry submits an opinion piece, please ask her to support her arguments. Providing her the platform to mislead us further is not in the public interest.
Related Pages:
Bill Keeps Current Salmon Protection in Place by Terry Flores, The Register-Guard, 7/20/17
Snake River Dams Vital to Renewable Energy Future by Terry Flores, Spokesman-Review, 5/28/16
Why Pro-salmon Ruling on Dams Could Be Bad for the Environment by Terry Flores, The Oregonian, 5/16/16
Additional Hydropower Could Cut Carbon Emissions by Ciocci & Flores, The Oregonian, 5/22/15
Northwest Must Preserve Salmon and Hydro Dams, by Terry Flores, The Oregonian, 10/14/14
Environmentalists Refuse to See Success of Salmon Efforts, by Terry Flores, Capital Press, 6/26/14
Support Balance Between Fish and Economy, by Terry Flores, The News Tribune, 10/3/13
Statesman's Pro-Breaching Stand is Unrealistic, by Terry Flores, Idaho Statesman, 12/11/12
Salmon Protection Plan isn't Broken, So Stop Trying so Hard to 'Fix' It, by Terry Flores, Idaho Statesman, 8/28/11
Federal Salmon Plan Stands Strong, by Terry Flores, Sustainable Business Oregon, 12/12/11
Arguments for Removal of Snake River Dams are Laughable, Absurd, by Terry Flores, Seattle Times, 8/23/11
Judge's Ruling on NW Salmon Plan Asks for Clarity, by Terry Flores, Seattle Times, 8/19/11
The Salmon Plan Gets a Solid "Yes, No, Maybe" from the Judge, by Terry Flores, The Oregonian, 8/13/11
Snake River is a Model of Environmental & Economic Sustainability, by Terry Flores, The Oregonian, 1/27/11
If Only It Were that Simple, by Terry Flores, Idaho Statesman, 1/2/11
Science and Salmon Returns, by Terry Flores, The Oregonian, 8/19/10
Environmental Issues: Salmon Runs, by Terry Flores, Spokesman Review, 1/27/10
The Real Costs of Removing Four Lower Snake River Dams, by Terry Flores, The Oregonian, 3/14/10
The Administration Joins the Majority on Salmon Plan, by Terry Flores, Idaho Statesman, 9/20/9
The Biggest Threats to Salmon Aren't Dams, by Terry Flores, Idaho Statesman, 2/21/9
Statesman Recycles Breaching Argument, by Terry Flores, Idaho Statesman, 7/30/8
The Salmon Problem, by Terry Flores, New York Times, 4/22/8
Hydro is Not the Only H in FisH Recovery, by Terry Flores, NW Public Power Bulletin, 6/1/7
Dam Removal Not the Answer, by Terry Flores,nSpokesman Review, 5/23/7
Removing LSR Dams a Colossal Breach of Logic, by Terry Flores, The Register-Guard, 12/11/6

---
Scott Levy, Ketchum
Levy Letter:
Dams, Salmon
Idaho Statesman, September 7, 2017
---
See what you can learn
learn more on topics covered in the film
see the video
read the script
learn the songs
discussion forum