---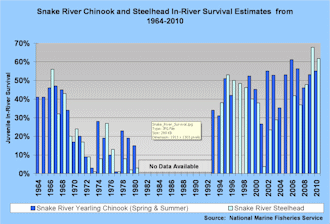 I agree with The Oregonian's editorial characterization of Judge James Redden's long-awaited ruling on the federal salmon plan as a "yes, no, maybe" ("Show him the salmon," Aug. 4), but I believe it applies to the entire opinion -- not just the judge's views on habitat restoration. Here's why:
The Judge "remanded" or returned the plan back to the federal agencies to be revised, while also directing them to continue to implement it ("the yes"). He urged the federal agencies to look at "more aggressive" changes to the hydro system, but rejected the litigants' injunction to do so ("the no"). He ordered the federal agencies to come back to him with a revised plan that includes more specificity in the habitat analysis and benefits; then he'll decide where to go from there ("the maybe").
But more telling than what he ordered was what he did not do in his ruling:
He did not accept the litigants' arguments over what the law requires to protect species, the so called jeopardy/recovery standard at the heart of the case.
He did not question the plan's overall science or scientific framework endorsed by the Obama Administration and independent scientists. His "science" concerns were limited to the way habitat benefits were analyzed in the plan.
He did not agree to change hydro operations any further. He maintained his court-ordered water flows the federal agencies have been implementing the past few years.
So where are we now? Despite some parties' claims of "victory", they didn't get one. We all got, well, more of the same - implementing the salmon plan for the next several years. And, we'll see what happens, if anything, with legal appeals surrounding the Judge's ruling in the next two months.
One thing is crystal clear: Judge Redden will retain jurisdiction over the case while the agencies, states and tribes work collaboratively to implement the plan. They likely will be pressured to "do more" by the Judge and others, as that has been the tactic since the first plan was first rejected a decade ago.
Everyone needs to resist taking on any more and focus all their time and energy into implementing the current plan. It's the product of unprecedented collaboration, the best science was brought to bear, and is a massive financial investment by Northwest citizens in salmon. Simply throwing more money at the plan is not a solution, and is a sure fire way to put a lot of ratepayer money at risk of being wasted, with little or nothing to show for salmon.
And, there is no "maybe" about this: the Northwest's hardworking families and businesses will continue to foot this plan's bill through their electric rates to the tune of hundreds of millions of dollars each year. It's just not clear when the court will give them the recognition and certainty they deserve for that investment and all that it is accomplishing for the salmon.
Related Pages:
Judge Redden Ruling Debate over the supplemental 2010 BiOp by Paul Fish, NW Fishletter, 5/12/11
Related Sites:
Keynote Speech by Don Chapman, February 2011
Resolution on the Role of Dams and Conservation of Snake River Salmon, Steelhead, Pacific Lamprey, and White Sturgeon Western Division of the American Fisheries Society, June 2011
---
Terry Flores, executive director of Northwest River Partners.
The Salmon Plan Gets a Solid "Yes, No, Maybe" from the Judge
The Oregonian, August 13, 2011
---
See what you can learn
learn more on topics covered in the film
see the video
read the script
learn the songs
discussion forum