the film
forum
library
tutorial
contact

Fall Chinook Run Downgraded Again: Commercial
Gillnets Reach Limit, Tribes Continue to Fish

by Staff
Columbia Basin Bulletin, October 14, 2016
---
"Given the current run size forecast, we've maxed out on non-treaty gillnet fishing," he told the Compact.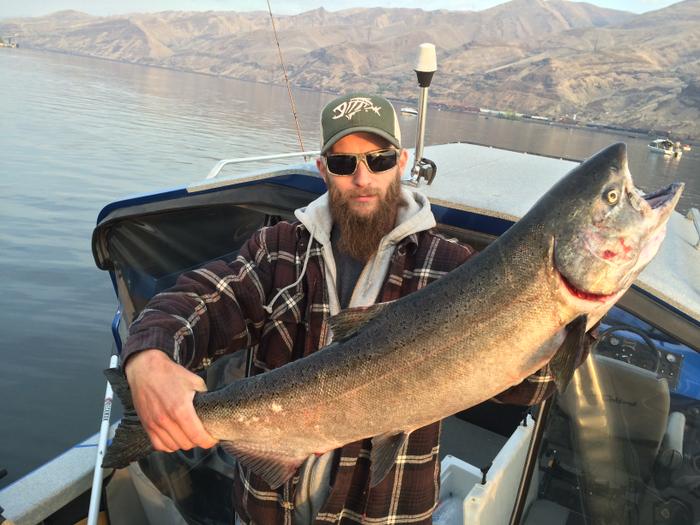 For the fifth time since a relatively high pre-season forecast, river managers downgraded their estimate of the size of the fall chinook run this week.
The pre-season forecast of 960,000 fall chinook expected to enter the Columbia River this year was downgraded for the third time September 26 to 729,200 fish and again October 3 to 713,100 fish.
Meeting Tuesday, just prior to a two-state Columbia River Compact hearing that approved Tribal Treaty gillnetting for a ninth week upstream of Bonneville Dam, the U.S. v Oregon Technical Advisory Committee, which forecasts fish runs that are used to determine allowed harvest in the Columbia River, further downgraded its estimate to 707,600 adult chinook of both lower and upriver stocks. That's about 73 percent of the preseason forecast and more than 270,000 fewer fish.
The newly-calculated run size includes 418,400 upriver bright chinook and 45,200 Bonneville Pool Hatchery fish, according to TAC, which did not revise its steelhead estimates, leaving the estimate at 171,200 fish to Bonneville Dam, including 129,200 Group A steelhead (31,900 wild) and 42,000 Group B steelhead (6,400 wild). The Group A forecast is below the preseason forecast, while the Group B forecast is higher.
The Compact met to decide whether, given the declining run size, Tribes would be able to continue gillnetting in the river. They determined that the Tribes have yet to reach their allowed harvest of 125,520 upriver bright chinook and 8,400 Group B steelhead, both adjusted to the new forecast, and extended gillnetting in Zone 6 (upriver of Bonneville Dam) through October 21. The Compact will meet again next Wednesday to determine if there is room to fish one week beyond that.
However, according to Jeff Whisler of the Oregon Department of Fish and Wildlife and chair of TAC, there will be no additional non-treaty commercial gillnetting.
"Given the current run size forecast, we've maxed out on non-treaty gillnet fishing," he told the Compact.
The Tribes in Fall Fact Sheet No. 11 predicted harvest by the end of this week would be 96,474 upriver brights (total chinook harvest for the Tribes is 138,197 fish). They predicted an additional harvest, with 220 boats fishing, of 953 upriver brights (1,205 chinook overall) and 844 Group B steelhead (1,333 steelhead overall) for the week October 10 – 14.
The additional week of harvest, through October 21, would harvest the same number of fish the Tribes predict will be harvested by the end of this week and would bring the total fish harvested by Tribal fishers to 97,427 upriver brights (139,402 chinook overall) and 5,469 Group B steelhead (14,106 steelhead overall).
TAC is also predicting a smaller run of upriver coho salmon.
According to the Fact Sheet, the "early run (prior to October) coho run size at Bonneville Dam was 29,908 adults, substantially less than the pre-season prediction of 47,200. The late run forecast to Bonneville is 37,100 adult fish. October counts will need to be much higher than the observed counts in the first few days of October in order for the run to reach the forecast run size."
Most coho returning to areas upstream of The Dalles Dam tend to pass Bonneville in September, the Fact Sheet said. Klickitat coho tend to be later. The late stock coho run at the dam, according to Whisler, is typically 50 percent complete by October 15.
Recreational fishing will continue for fall chinook from Buoy 10 at the Columbia River mouth to the Oregon/Washington border upstream of McNary Dam. Retention of both marked and unmarked chinook is allowed through December 31. About 98 percent of the fall chinook run and about 94 percent of the steelhead run are already over Bonneville dam, according to Whisler.
Salmon angling has slowed as most of the fish are moving into spawning grounds in the tributaries, according to a report by the Washington Department of Fish and Wildlife. The best fishing is near the mouths of tributaries, upstream of Bonneville Dam and in the Columbia River Gorge. Bonneville pool boat anglers are averaging 0.88 fall chinook and 0.15 coho per trip, while Gorge boat anglers are averaging 0.89 chinook and 0.11 coho per trip. Anglers from Portland to Tongue Point near Astoria over the weekend caught just 13 chinook adults, two chinook jacks and eight coho adults, plus two coho adults released for 38 boats and 87 anglers (see the WDFW report for more information).
Passage of fall chinook at Bonneville Dam since August 1 is 434,195 adult fall chinook through yesterday, October 13, below the 10-year average of 493,234. Some 52,243 jacks have passed the dam, also below the 10-year average of 81,232. Last year on that date, 925,215adult and 79,502 jack fall chinook had passed the dam.
Some 184,010 upriver summer steelhead had passed the dam as of yesterday. Some 50,966 are wild. That's far below the 10-year average of 341,457 steelhead overall, with 112,223 wild fish. Last year, 260,530 steelhead had passed on this date. Some 94,665 were wild.
Some 34,793 adult and 4,859 jack coho had passed the dam as of yesterday. The 10-year average is 103,668 adults and 6,543 jack coho. Last year on the same date, 29,728 adults and 4,132 jacks had passed.
Related Pages:
Chinook Forecast Decline, Low Steelhead, Coho Return: Recreational Fishing Shut Down On Mainstem by Staff, Columbia Basin Bulletin 10/21/16
Fall Chinook Run Size Downgraded For Fourth Straight Week; Early Run Coho Far Below Average by Staff, Columbia Basin Bulletin 10/7/16
Columbia River Fall Chinook Return Downgraded; Wild Steelhead Past Bonneville Dam Below Average by Staff, Columbia Basin Bulletin 9/23/16
Fall Chinook Run Downgraded But Catch Rates Allow Extended Fishing; Steelhead Numbers Way Down by Staff, Columbia Basin Bulletin 9/16/16
States Extend Buoy 10 Fishing, Snake River Fishing Opens; Coho, Steelhead Passage Slow by Staff, Columbia Basin Bulletin 9/9/16
Fall Chinook, Coho Fishing Open For All In Most Areas Of Columbia River by Staff, Columbia Basin Bulletin 8/12/16

Related Sites:
Higher Than Average Fall Chinook Run On The Way; Coho, Steelhead To Be Lower Than 10-Year Average by Staff, Columbia Basin Bulletin 8/5/16

---
Staff
Fall Chinook Run Downgraded Again: Commercial Gillnets Reach Limit, Tribes Continue to Fish
Columbia Basin Bulletin, October 14, 2016
---
See what you can learn
learn more on topics covered in the film
see the video
read the script
learn the songs
discussion forum