the film
forum
library
tutorial
contact

Fall Chinook Run Downgraded But Catch Rates
Allow Extended Fishing; Steelhead Numbers Way Down

by Staff
Columbia Basin Bulletin, September 16, 2016
---
"That relationship is why the tribes will always fight for healthy salmon runs and to ensure
that sustainable fish returns will continue to bless the Columbia River basin and its residents,"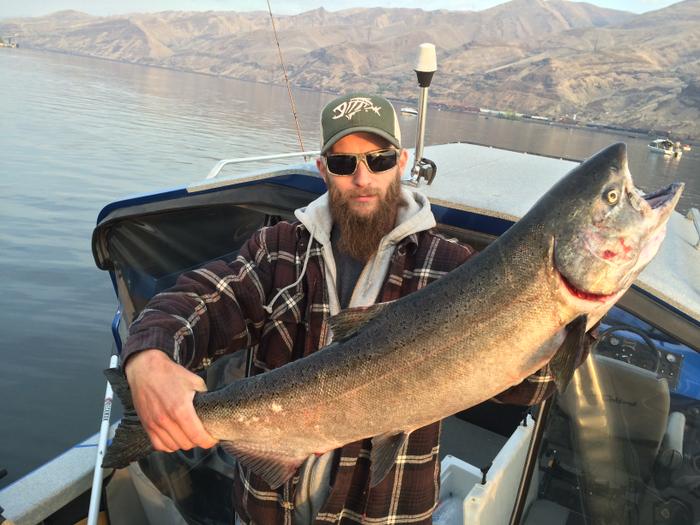 The forecasted run of fall chinook salmon into the Columbia River was downgraded 10 percent, but with lower than anticipated catch rates among recreational anglers, the two-state Columbia River Compact Wednesday extended angling for fall chinook from Warrior Rock at St. Helens, Oregon to Buoy 10 at the river's mouth.
The extended fishing -- September 15 to 22 -- is for hatchery marked chinook only. All wild fish must be released unharmed.
The Compact, made up of representatives from Oregon and Washington fisheries agencies, also extended commercial tribal and non-Indian gillnetting periods.
See Columbia River Fishery Notice, September 14, 2016, for the Compact's decision on commercial and recreational angling at www.dfw.state.or.us/fish/OSCRP/CRM/CAN/16/160914_notice.pdf.
The U.S. v Oregon Technical Advisory Committee, which forecasts fish runs that are used to determine allowed harvest in the Columbia River, now estimates a fall chinook run of 860,300 fish, 90 percent of TAC's preseason forecast of 960,200 chinook.
According to Jeff Whisler, of the Oregon Department of Fish and Wildlife and chair of TAC, the new forecast includes 527,100 (579,600 preseason forecast) upriver bright chinook and 60,000 Bonneville pool hatchery tule chinook (100,700 preseason forecast).
Passage of fall chinook over Bonneville Dam as of Wednesday was 331,499 adults and 37,742 jacks. Last year's passage on this date was 562,383 adults and 42,460 jacks. The 10-year average for that date is 334,940 adults and 45,461 jacks.
Passage of upriver summer steelhead at Bonneville Dam July 1 to September 14 is 141,957 fish, including 42,134 wild fish, and has been tracking behind expectations. Last year's count on this day was 226,920, including 85,238 wild. The 10-year average is 304,720, including 103,405 wild.
TAC currently estimates a total steelhead run of about 149,200 fish to Bonneville Dam, which is less than the preseason forecast of 256,200 fish.
The forecast includes 123,400 Group A stock, (preseason forecast of 230,400 fish) and 25,800 Group B stock. The Group B steelhead is still at the preseason forecast level and will remain there until passage at Bonneville Dam is estimated to be more than 50 percent complete.
TAC may change its forecast for Group B steelhead at its next meeting on Monday, Whisler said.
Still, sport fishing advocates David Moscowitz and Rick Stillwater expressed concerns about allowing continued fishing for salmon and steelhead when the steelhead run is so far behind the 10-year average.
Whisler also said that TAC downgraded the upriver coho salmon preseason forecast from 47,000 to 35,000. As of Wednesday, 22,556 adults and 2,938 jacks had passed Bonneville. Last year the count was 18,695 adults and 2,372 jacks. The 10-year average is 53,174 adults and 2,967 jacks.
According to the Compact Staff's Fall Fact Sheet #6a, catch at Buoy 10 is 17,645 chinook and 8,420 coho from 89,838 angler trips through September 11. Chinook retention is allowed through September 22 and re-opens October 1 for the remainder of the year. The total season catch estimates are for 20,900 chinook.
Catch for the lower Columbia River recreational fishery downstream of Warrior Rock is 10,989 chinook, 975 steelhead, and 293 coho from 62,209 angler trips. Season total catch is estimated at 11,300 chinook.
Catch for the lower Columbia River recreational fishery from Warrior Rock upstream to Bonneville Dam is 4,879 chinook, 293 steelhead, and 112 coho from 26,776 angler trips. This fishery will remain open for chinook through December. Season total catch is estimated to be 15,900 chinook.
The Compact staff expects that the Buoy 10 and lower Columbia River recreational fisheries will take less fish than modeled preseason, although the run size is 10 percent lower. Still, the catch estimate for the proposed fishery out to September 22 is 800 chinook, bringing the season total to 21,220 for Buoy 10 and 27,695 for the lower Columbia River mainstem fishery. These fisheries typically reach peak catch rates in early September.
The recreational fishery from Bonneville Dam upstream to the Highway 395 will remain open through December 31. The total catch expectation for this fishery is 7,400 Chinook.
Select area commercial gillnetting in the lower Columbia River is ongoing with a harvest so far of 10,147 chinook and 16,047 coho, a total that is lower than average.
The early fall mainstem commercial gillnetting fishery has had 11 fishing periods in Zone 4-5 August 7-31. Catch has been 46,615 chinook and 427 coho.
The experimental seine fisheries in the lower Columbia River will continue through September 28. Landings through September 12 are 774 adult chinook (29 percent of the 2,700 chinook set aside for seine fisheries) and 265 adult coho. Just four boats are seine fishing: two are purse seining and two are beach seining, but beach seining has had a late start, according to John North, ODFW, so most of the fish have been caught by the purse seiners. Seiners have caught and released 143 clipped and unclipped steelhead, according to Robin Ehlke of WDFW.
The Compact approved three late fall mainstem commercial gillnet fishery periods: Sunday, September 18, 8 pm to Monday, September 19, 5 am (catch estimate 7,000 to 9,000 chinook) and Thursday, September 22, 8 pm to Friday, September 23, 6 am (catch estimate 5,000 to 6,000 chinook) in zones 4 and 5; and Wednesday, September 28, 8 pm to Thursday, September 29, 6 am in zones 1 -- 5 (catch estimate 2,500 to 3,500 chinook).
More commercial gillnetting periods are planned for October
The Compact also extended treaty Indian fishing in areas above Bonneville Dam from 6 am Monday, September 19 to Friday, 6 pm, September 23. The Compact will revisit tribal catches in a hearing next week.
By the conclusion of the tribal commercial gillnetting period next week, the tribes are forecasting a catch of 148,757 adult chinook of which 131,639 are upriver brights, and 8,748 steelhead of which 2,187 are Group B steelhead. They are allowed 158,130 upriver bright chinook and 3,870 Group B steelhead.
See Tribal Fall Fact Sheet #6b is at www.dfw.state.or.us/fish/OSCRP/CRM/FS/16/16_09_14ff6b.pdf.
Related Pages:
Chinook Forecast Decline, Low Steelhead, Coho Return: Recreational Fishing Shut Down On Mainstem by Staff, Columbia Basin Bulletin 10/21/16
Fall Chinook Run Size Downgraded For Fourth Straight Week; Early Run Coho Far Below Average by Staff, Columbia Basin Bulletin 10/7/16
Columbia River Fall Chinook Return Downgraded; Wild Steelhead Past Bonneville Dam Below Average by Staff, Columbia Basin Bulletin 9/23/16
States Extend Buoy 10 Fishing, Snake River Fishing Opens; Coho, Steelhead Passage Slow by Staff, Columbia Basin Bulletin 9/9/16
Fall Chinook, Coho Fishing Open For All In Most Areas Of Columbia River by Staff, Columbia Basin Bulletin 8/12/16
Oregon 'Re-Adopts' Lower Columbia Commercial Gill-Net Ban by Staff, Columbia Basin Bulletin, 6/7/13

Related Sites:
Higher Than Average Fall Chinook Run On The Way; Coho, Steelhead To Be Lower Than 10-Year Average by Staff, Columbia Basin Bulletin 8/5/16
Oregon Commission Hears Review Of Fishing Reforms Banning Lower Columbia Gillnetters From Mainstem by Staff, Columbia Basin Bulletin 4/22/16
Oregon Appeals Court Halts Implementation Of Lower Columbia Gill-Net Ban, Will Hear Legal Arguments by Staff, Columbia Basin Bulletin 2/22/16

---
Staff
Fall Chinook Run Downgraded But Catch Rates Allow Extended Fishing; Steelhead Numbers Way Down
Columbia Basin Bulletin, September 16, 2016
---
See what you can learn
learn more on topics covered in the film
see the video
read the script
learn the songs
discussion forum