---
Early Run Coho Far Below Average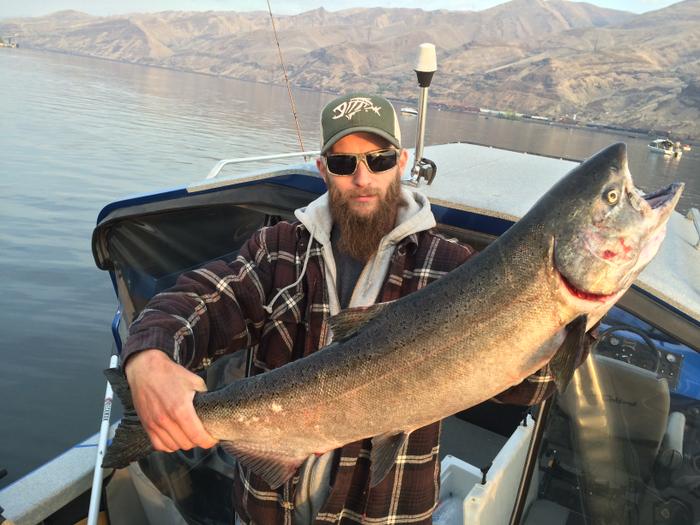 River managers downgraded on September 26 their estimate of the fall chinook salmon run size for the third consecutive week, and added a fourth downgrade this week.
The run size estimate September 26 was 729,200 adult fish returning to the Columbia River, down for the third time from the preseason forecast of 960,000 fish. Last week's forecast brought the total down to about 76 percent of the preseason forecast.
However, the U.S. v Oregon Technical Advisory Committee, which forecasts fish runs that are used to determine allowed harvest in the Columbia River, met Monday, October 3, and further downgraded its estimate to 713,100 adult chinook of both lower and upriver stocks, or 74 percent of the preseason forecast and nearly a quarter million fewer fish than TAC's preseason forecast.
That includes 421,600 upriver bright chinook and 45,700 Bonneville Pool Hatchery tule chinook. TAC expects 434,100 upriver fish to reach Bonneville Dam.
Because of the forecast update, last week the two-state Columbia River Compact rescinded a previous decision to allow commercial gillnetting in the Columbia River downstream of Bonneville Dam, mostly due to the decline in upriver bright chinook abundance. The gillnetting catch so far is 11,622 chinook.
See the Compact Fact Sheet #10.
While non-Indian commercial gillnetting was rescinded for the remainder of September, commercial gillnetting was extended this week for tribal treaty fishers through October 14. Tribal gillnetters have caught 139,132 fall chinook. Some 87,183 of those are upriver brights. They have also caught 14,165 steelhead of which 4,801 are B-run steelhead.
With the new run size forecast, some 126,480 upriver bright chinook and 8,400 B-run steelhead are allotted to tribal fishers.
Passage at Bonneville Dam since August 1 is 426,043 adult fall chinook through Tuesday, October 4, below the 10-year average of 477,578. Some 51,722 jacks have passed the dam, also below the 10-year average of 77,507.
Some 164,561 upriver summer steelhead have passed the dam as of October 4. TAC currently estimates a steelhead run of 171,200 fish to Bonneville Dam, which is slightly improved over last week's projection. The current forecast includes 129,200 Group A stock (31,900 wild), and 42,000 Group B stock (6,400 wild). Still, according to Compact staff, all components of the return are less than preseason forecasts except for the Group B hatchery return, which is greater than forecasted.
The early (fish that reach the dam by October) coho run size at Bonneville Dam was 29,908 adults, substantially less than the pre-season prediction of 47,200. The late run forecast to Bonneville is 37,100 adult fish.
As of October 4, 28,829 coho had passed Bonneville Dam, far below the 10-year average of 87,103.
"October counts will need to be much higher than the observed counts in the first few days of October in order for the run to reach the forecast run size," according to the Compact Fact Sheet. "Based on previous year's PIT tag data, most coho returning to areas upstream of The Dalles Dam tend to pass Bonneville in September. Klickitat coho tend to be later timed."
Related Pages:
Columbia River Fall Chinook Return Downgraded; Wild Steelhead Past Bonneville Dam Below Average by Staff, Columbia Basin Bulletin 9/23/16
Fall Chinook Run Downgraded But Catch Rates Allow Extended Fishing; Steelhead Numbers Way Down by Staff, Columbia Basin Bulletin 9/16/16
States Extend Buoy 10 Fishing, Snake River Fishing Opens; Coho, Steelhead Passage Slow by Staff, Columbia Basin Bulletin 9/9/16
Fall Chinook, Coho Fishing Open For All In Most Areas Of Columbia River by Staff, Columbia Basin Bulletin 8/12/16

Related Sites:
Chinook Forecast Decline, Low Steelhead, Coho Return: Recreational Fishing Shut Down On Mainstem by Staff, Columbia Basin Bulletin 10/21/16
Higher Than Average Fall Chinook Run On The Way; Coho, Steelhead To Be Lower Than 10-Year Average by Staff, Columbia Basin Bulletin 8/5/16

---
Staff
Fall Chinook Run Size Downgraded for Fourth Straight Week
Columbia Basin Bulletin, October 7, 2016
---
See what you can learn
learn more on topics covered in the film
see the video
read the script
learn the songs
discussion forum