---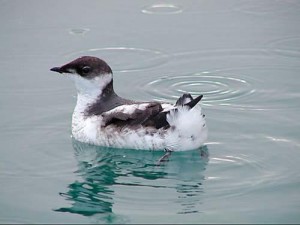 NASELLE - The U.S. Fish and Wildlife Service hosted two Radar Ridge Wind Project "scoping" meetings last week in Lacey and Naselle, reviewing both the promise and objections to the alternative energy development.
USFWS, the lead agency, along with its partners - Bonneville Power Administration, the cooperating agency; Washington Department of Natural Resources, owner of the subject property; and Energy Northwest, the project developer - has initiated a 30-day public scoping period for the preparation of an environmental impact statement for the proposed Radar Ridge Wind Project near Naselle.
Comments from the public must be sent to Mark Ostwald, USFWS, 510 Desmond Drive S.E., Ste. 102, Lacey, WA 98503 or radarridgewindproject@fws.gov by June 28.
Also attending the meeting last week were state legislators Dean Takko, Brian Blake and Brian Hatfield; Pacific County Commissioner Clay Harwood, Pacific County PUD Commissioner Diana Thompson and a representative of Grays Harbor PUD.
Pacific County Commissioners on Tuesday approved sending a letter to USFWS in support of the project as part of the agency's scoping process. "We're big supporters," commission chair Jon Kaino said.
Representatives from the agencies explained the proposed project, which would place as many as 32 wind turbines atop the ridge which overlooks the Columbia River. About 82 megawatts of electricity would be generated by the turbines and would be transmitted to the existing BPA sub-stations in Naselle and the Nemah area.
According to a press release from the USFWS, "Radar Ridge LLC intends to prepare a habitat conservation plan and apply for an incidental take permit for the marbled murrelet, a bird under the protection of the Endangered Species Act. If granted, this permit would authorize the incidental take of marbled murrelet for the construction, operation, maintenance and decommissioning of the Radar Ridge Wind Project."
Endangered species begins
"We're just beginning the EIS process," USFWS representative Mark Ostwald said at the meeting. "It will take a few months."
Peter Harrison, a DNR wildlife biologist, explained during the meeting that the murrelet is common along 6,500 miles of the West Coast, from Alaska to Central California, with Alaska having a population of about 860,000, and 2 to 3 percent of the total population in the Pacific Northwest with 17,000 to 27,000.
The birds, "bigger than a robin and smaller than a pigeon, spend most of their lives at sea," Harrison said. "They have no habitat within the footprint of the (Radar Ridge) project." Murrelets were listed as threatened in 1992 in Washington, Oregon and California, because of loss of nesting habitat.
A representative of DNR, Commissioner Peter Goldmark said Tuesday that the agency's position is "that the commissioner and the department are avid supporters of clean and renewable energy and are looking for ways to better deliver it to the population centers. The challenge is to be pragmatic."
Arron Toso said. "We want to move forward in a way that isn't detrimental to species that are endangered. That has been Commissioner Goldmark's position since he took office in January 2009. We're actively working with our federal partners to apply the best science and make sure we don't have any detrimental impacts."
Ostwald said very few of the birds are reproducing right now. "It could be a combination of things," he said. "It could be there's not a lot of ocean productivity for them and they've lost a lot of habitat. It's a cumulative effect. You can't say it's just one thing. There are also a lot of predators. Ravens are known to prey on baby murrelets. When you add it all up, it can affect the population." In addition, the windstorms of 2006-07 destroyed a lot of the birds' habitat on DNR land in Pacific County.
Because of the uncertainty of the outcome of the permitting process, Grays Harbor County Public Utility District commissioners voted recently to formally end their participation in the wind energy project this summer but will still spend another $125,000 to continue studying how to win environmental approval for the wind turbines, according to the Aberdeen Daily World. That leaves Energy Northwest and the PUDs in Clallam, Pacific and Mason counties to decide how to proceed with the project.
Radar Ridge has met with major opposition among the 27 Audubon Society chapters in the state with lawsuits threatened. Ostwald said no lawsuit can move forward until the EIS is approved.
PUD commissioners frustrated
Pacific County PUD Commissioner Diana Thompson said she's "frustrated" by the opposition. "Everything costs on some level. There are good people doing the studies. The impact will be minimal. We want to do the best we can at the lowest cost and consequences."
Thompson's fellow PUD Commissioner Mike Swanson agreed. "This is a good project and a way to develop a west side source of green energy" which he said was mandated by the voters when I-937 was approved in 2006 with the Energy Independence Act. The act requires larger utilities to provide 15 percent of their power from green energy by 2020. "Hydro power isn't considered green," he said. "Most people don't realize that. California just mandated that 33 percent of their power must be from green energy. They'll be in the market to buy surplus power from other sources. It's hoped that Radar Ridge will be able to sell its excess power to other states. There will be a huge demand for green power and meanwhile, the project will provide construction jobs for Pacific County."
"If people want green power and non-polluting energy and hydro doesn't qualify they can't say 'not in my backyard.' They can't have it both ways."
But, Swanson said, if the proposed Radar Ridge Habitat Conservation Plan and incidental take permit isn't approved by USFWS, the local PUDs and Energy Northwest will be out the $2.2 million already spent on the studies.
The wind project is a customer-owned project, Dave Kobus, project manager for Energy Northwest, said at the scoping meeting last week. He said the site, at about 1,800 feet, has "better than average wind and is economical because it's easily connected with existing sub-stations and meets the need for west side renewable energy resources. It's accessible by existing roads." Energy Northwest procures a contractor to bring the turbines to the site and erect them, then the PUDs are the owners, he said. Energy Northwest is a state-chartered operating agency representing 28 member public utilities in Washington.
Addressing the three-year study of the murrelet habitat, using the "latest and best technology and science," he said the site is "below the murrelets' path." We look for the most despoiled sites because there's less wildlife impact. All the trees were cut down on the ridge 100 years ago. There is minimal avian collision risk. There's no impact on wildlife, habitat, cultural resources, recreation or viewscape. There is minimal avian collision risk and a low rate of avian and bat activity compared to similar sites in the country." He said during the study period there's a potential for three bat fatalities per turbine per year. "A comparable site on the East Coast has 40 to 50 bat fatalities per turbine per year," he said. "It's a very low activity site for all wildlife, including bats, and it's distinctly undesirable for murrelet activity." He added that new technology has created turbines that will automatically stop if a bird is detected."
Information about the new wind power technology is available on the American Wind Energy Association website at (www.awea.org)
Looking ahead
Kobus said if approved, primary construction will be from March to December 2012 with commercial operation beginning in February 2013. The project construction phase would provide 250 to 300 jobs, he said, with eight or nine permanent employees at the site. He added that the majority of new hires would be young people and that there are two training institutes for wind technicians in the Northwest. Companies who hire institute graduates receive tax credits, he said. The 2009 American Recovery and Reinvestment Act provides measures to sustain and expand wind energy industry growth.
Although there is opposition from Audubon societies, Marcia Thorniley, a member of the local Discovery Coast chapter, says her group is in favor of the project. Saying the chapter has invited members of Seattle-area chapters many times to view the Radar Ridge site, to her knowledge, no one has ever come to the site. "You have to have some common sense," she said. "People don't want to give up their electricity. Wind power is clean energy. We have a beautiful place to live here and we need to support green power to replace the dams. The Audubon Society supports green, clean energy, not just birds. Research proves this is a good site and it should definitely go forward. It's logical to want wind and solar generation, especially after witnessing the impact of fossil extraction when it goes wrong."
Thorniley pointed out that the state has mandated clean energy research and that the existing contract with BPA is coming to an end and will have to be renegotiated.
More information about the DNR findings at the site is available on-line at www.dnr.wa.gov/Publications/lm_mamu_science_panel.pdf - Independent science panel review of potential impacts to marbled murrelets relating to the Radar Ridge Wind Resource Area prepared for Commissioner of Public Lands Peter Goldmark.
Related Pages:
A Murrelet Magician? by Angelo Bruscas, The Daily World, 6/22/10
Officials Point to Gulf as Reason for Wind Power by Angelo Bruscas, The Daily World, 6/17/10
Clallam Among PUDs Reviewing Roles in Costly Wind Project by Rob Ollikainen, Peninsula Daily News, 5/21/10
Grays Harbor PUD Hopes to Sell Interest in Radar Ridge Wind Project by David Haviland, KBKW, 5/19/10
Radar Ridge: PUD Balks by Angelo Bruscas, The Daily World, 5/18/10
Wind Farm Project 'Kind of in Limbo' at Clallam PUD by Rob Ollikainen, Peninsula Daily News, 5/18/10
"Big Question Mark" on Wind Project by Steven Friederich, The Daily World, 5/11/10
PUD Gets Cold Feet Over 82MW Wind Farm in Washington State by James Cartledge, Brighter Energy, 5/13/10
PUDs Worry Bird Will Stop Wind Farm in Tracks by Don Jenkins, The Daily News, 5/13/10
Grays Harbor PUD Uncertain about Wind Farm by Associated Press, Seattle Post-Intelligencer, 5/12/10
Grays Harbor PUD Stalls on Radar Ridge Wind Project Price Increases by David Haviland, KBKW, 5/11/10
Decisions Coming on Wind Farm Project by Mike Marsh, The Daily World, 5/8/10

---
Nancy Butterfield
Threatened Bird Might Blow Down Wind Farmr
Chinook Observer, June 22, 2010
---
See what you can learn
learn more on topics covered in the film
see the video
read the script
learn the songs
discussion forum