---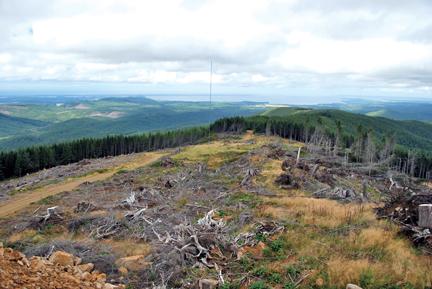 The Grays Harbor PUD will not move forward with the proposed Radar Ridge wind energy project in Pacific County and won't fund additional environmental reviews that could delay or doom the effort, commissioners decided on Monday.
Echoing earlier skepticism that the project's permits will ever be issued, the three PUD commissioners again took no action to authorize an increase of $1.14 million for the utility's share of pre-construction costs. After an executive session, the commissioners announced their position, which effectively takes the PUD out of funding the project and leaves a gaping hole in future support for wind energy production along the coast.
"We're trying to make as wise a public decision as possible," PUD Commissioner Tom Casey said, noting that any money spent comes directly from local ratepayers. "This money belongs to people who worked hard for it."
Grays Harbor, with a 49 percent stake in the investment, is one of four Public Utility Districts participating in the project near Naselle, along with developer, Energy Northwest. Grays Harbor already has spent about $845,000 on preliminary work in the permitting process.
PUD General Manager Rick Lovely told commissioners that the site is proving to be perplexing.
"It has great wind, but it comes with a lot of baggage," Lovely said.
At issue is how the 32 wind turbines could affect the regional populations of marbled murrelets, birds that are listed as threatened under the Endangered Species Act. To be built and fully funded with $122 million in time-sensitive Clean Renewable Energy Bonds, the 82-megawatt wind farm project must have permits by January 2013. About $3 million already has been spent on pre-construction costs, mostly for environmental review and study.
But commissioners fear that Fish & Wildlife officials might require the project to have a full environmental impact statement based on concerns expressed by groups such as the Seattle Audubon Society and Discovery Coast Audubon in Long Beach. That would prove to be more costly and a lengthy process could endanger financing.
"When we made the decision to go forward with the project, it was a good value decision," Lovely said. "It's frustrating getting forced into having to comply with environmental laws, only to risk having the entire project shut down."
Lovely told commissioners that the Audubon Society has "virtually promised legal action."
PUD staff and Casey were to meet directly with Fish & Wildlife in Portland this week, hoping to get assurances that the project could move forward without further environmental review. But that meeting was canceled after the commission meeting on Monday, when the PUD decided it was better to end its participation even if it continues to be a part of the process that has been ongoing for the past three years.
According to the PUD, the participants in the project already have "conducted three years of unprecedented studies" that show it "will not have a significant impact on the marbled murrelet" and have submitted a draft habitat conservation plan for the federal agency to review. Grays Harbor commissioners fear further environmental review could drag the process out to a point at which the project might be in danger of losing its lease and its economic viability.
"We need assurances on a quicker time schedule," Commissioner Truman Seely said.
Casey questioned if the intent was to stretch out the review process "until this goes away?"
"We need to express to Fish & Wildlife an honest expression of the mood we're in," Casey said.
A new estimate projects the pre-construction costs for the wind farm will be around $5.2 million. Mason County PUD No. 3 and Pacific County PUD have authorized the additional spending, but Clallam County PUD has abstained from the current process.
Lovely said Grays Harbor's stake in the project now could be picked up by another utility, but the local district would continue to be a part of the process, even without the additional funding for pre-construction costs.
Energy Northwest officials could not be immediately reached for comment, but it would now be up to the remaining utilities to determine if they will proceed with the project.
A story in The Daily News of Longview on Thursday quoted a Fish & Wildlife official saying he was "sorry that people have gotten the impression" that the agency has "prejudged" the project, even if it will require full environmental review. The federal agency has pledged to have a decision on the project ready by 2011, with no guarantees on what it might or might not require in further study on the marbled murrelet issue.
If the Radar Ridge project fails to ever get permits, Casey predicted it could prove a fatal blow to wind power as a viable and economical enterprise in Western Washington.
"I think it does mean no wind machines on the coast of Washington," Casey said.
---
Angelo Bruscas
Radar Ridge: PUD Balks
The Daily World, May 18, 2010
---
See what you can learn
learn more on topics covered in the film
see the video
read the script
learn the songs
discussion forum