---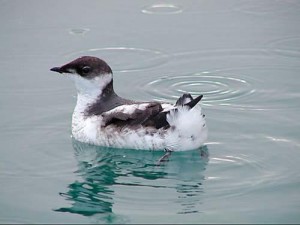 New efforts are under way to try to rescue funding and support for the Radar Ridge wind energy project in Pacific County, but the Seattle Audubon Society still has no intention of softening its opposition based on the potential impact to marbled murrelets, a protected species of seabird.
Matt Mega, the Audubon Society's conservation director, said that even if funding continues and a more extensive environmental impact statement is completed, his organization would still be opposed to the wind project because it is located on public land that is supposed to be used to help grow the population of the birds, not possibly reduce their habitat.
"It is a tough one from our position, because wind is a green energy that is something we need to look at," Mega said. "But as a bird organization, birds and bats get the most impact from wind."
The Audubon Society has been the leading opponent of the project through a permitting process that requires approval by the U.S. Fish & Wildlife Service. The issue came to a head last week when Grays Harbor PUD, one of four public utilities to back the effort with developer Energy Northwest, decided not to spend additional money for further environmental research and pre-construction costs.
State Rep. Brian Blake, D-Aberdeen, said he was disappointed the project now faces possible collapse. He said he will lobby Washington's congressional delegation to see if federal lawmakers can help expedite a favorable decision from Fish & Wildlife on issuing the necessary environmental permits.
But Blake didn't express much hope that could be accomplished.
"I'm not sure there is time now, and frankly I'm a little angry about this whole situation," Blake said. "All the PUDs are asking for is a fair hearing."
State Sen. Brian Hatfield, D-Raymond, whose district stands the most to lose because the project would be developed and located there, said he remains somewhat "hopeful the work that's gone into it won't go for naught."
But Hatfield also said he recognizes the economic realities that the partners in the project now face because of the drawn-out siting and environmental process.
"I certainly can't second-guess the PUD commissioners' decision," he said. "Based on the information on hand now, I can understand their concern."
With a 49 percent stake in the wind farm, Grays Harbor's move effectively put the entire project in limbo when commissioners on May 17 declined an Energy Northwest request to spend another $1.14 million -- after already spending about $848,000 on planning and environmental studies.
A meeting is set for Tuesday in Mason County where the other participants -- Mason County PUD No. 3, Clallam County PUD and Pacific County PUD -- can meet with Energy Northwest officials to determine if there is any possible way to move forward. Grays Harbor PUD spokesman Liz Anderson on Friday said it will be a working session to discuss project status and no final decisions will be made. Despite Grays Harbor's decision to discontinue funding, it still is technically part of the project.
"Grays Harbor PUD remains a participant in the project so we will attend the meeting," Anderson said. "... We have made our position clear regarding additional investments in the project and we don't anticipate any major change as a result of the discussions Tuesday."
The wind project faces several deadlines to qualify for $122 million in federal low-interest clean energy bonds. To be built and fully funded, the 82-megawatt wind farm must have permits by January 2013. The Fish & Wildlife service has promised to reach a decision by 2011, but officials have said they cannot guarantee if they would approve the project based on the current level of information.
Because of the need for further environmental review about the impact on the marbled murrelets, the pre-construction estimates have soared from $3 million to the most recent estimate of $5 million, which now includes plans for a full environmental impact statement.
Even more extensive study on top of the three years worth of studies already completed likely won't change the opposition of the Audubon Society, Mega said.
"That area is supposed to be growing the marbled murrelet population in the future, and it's on (state) Department of Natural Resources land," Mega said. "We have to give it a higher degree of scrutiny when it's on public lands. We're not against the project in general, but we think it's just in the wrong place."
Mega said the 32 wind turbines and towers, which will be about 260 feet high, would create a "doughnut hole" in prime murrelet habitat.
"It's pretty close to the highest concentration of marbled murrelets in the state," he said.
Mega also noted the murrelets feed in the ocean and then nest in old-growth forests like those surrounding the Radar Ridge site near Naselle. Also, the females lay only one egg a year, which makes it a fragile species with a low birth success rate even without wind turbines in the area.
He is, however, somewhat hopeful about a new high-pitched radar system, known as Merlin, which in theory can be employed to ward off birds that might fly into the turbines, similar to systems used at airports to keep birds from flying into planes. Mega said there will be a test of the Merlin system next week at the Radar Ridge site, but added that "we don't yet have a lot to go on there."
"As far as I know, it's never been done before for a fast-moving bird like a murrelet," Mega said. "But I'm hopeful we get to a point where the mitigation measures can work."
Last September, the consortium of PUDs and Energy Northwest submitted a draft conservation plan and independent environmental study to Fish & Wildlife that concluded Radar Ridge as a wind farm would "have minor or insignificant impacts on marbled murrelets and other wildlife populations in the area."
Blake said he believes that report by "the best and brightest murrelet scientists in the country" should have settled the issue and wonders why the Fish & Wildlife service seems to be dragging out the process.
"There's nothing we can do that will turn the Fish & Wildlife service around," he said. "We really have to start reconsidering what they are doing in the name of habitat conservation."
Hatfield tried to sound a more positive note: "We need to continue to press the federal government, asking it to balance out the federal environmental regulations with the need to supply and site clean energy. I do think there is a way forward."
Related Pages:
Clallam Among PUDs Reviewing Roles in Costly Wind Project by Rob Ollikainen, Peninsula Daily News, 5/21/10
Grays Harbor PUD Hopes to Sell Interest in Radar Ridge Wind Project by David Haviland, KBKW, 5/19/10
Radar Ridge: PUD Balks by Angelo Bruscas, The Daily World, 5/18/10
Wind Farm Project 'Kind of in Limbo' at Clallam PUD by Rob Ollikainen, Peninsula Daily News, 5/18/10
"Big Question Mark" on Wind Project by Steven Friederich, The Daily World, 5/11/10
PUD Gets Cold Feet Over 82MW Wind Farm in Washington State by James Cartledge, Brighter Energy, 5/13/10
PUDs Worry Bird Will Stop Wind Farm in Tracks by Don Jenkins, The Daily News, 5/13/10
Grays Harbor PUD Uncertain about Wind Farm by Associated Press, Seattle Post-Intelligencer, 5/12/10
Grays Harbor PUD Stalls on Radar Ridge Wind Project Price Increases by David Haviland, KBKW, 5/11/10
Decisions Coming on Wind Farm Project by Mike Marsh, The Daily World, 5/8/10

---
Angelo Bruscas
Birds Key Roadblock to Wind Farm Plan
The Daily World, May 22, 2010
---
See what you can learn
learn more on topics covered in the film
see the video
read the script
learn the songs
discussion forum