---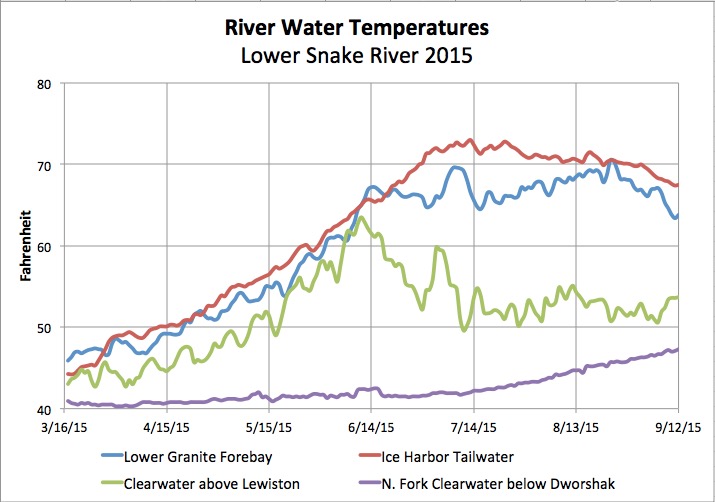 A federal appeals court today rejected the Trump administration's request to reconsider a ruling forcing EPA to set temperature standards for the Columbia River in the Pacific Northwest.
The San Francisco-based 9th U.S. Circuit Court of Appeals last year sided with conservationists who said temperature limits would help the river's struggling salmon runs. It gave EPA 30 days to move ahead with the standards (Greenwire, Dec. 20, 2019).
EPA asked the court to reconsider, requesting a rehearing before a larger panel than the three judges who initially decided the case.
The agency sharply criticized the decision, claiming it would set a dangerous Clean Water Act precedent because it would require EPA to set standards when a state fails to act.
"The plain text of the Act," the administration wrote in a court filing, "imposes no mandatory duty for EPA to respond to a State's failure to submit to EPA water quality standards known as 'total maximum daily loads'" (Greenwire, March 5).
Salmon runs in the Columbia River and, in particular, its largest tributary, the Snake River, have continued to decline. Experts say some are on the verge of extinction (Greenwire, Sept. 25, 2019).
Multiple factors have contributed to that decline, including climate change and agricultural pollution. But a major influence is the series of dams in the basin, which bring flowing water to a standstill and allow temperatures in the impounded reservoirs to rise.
High temperatures can be deadly to the fish, and conservationists say even slightly elevated temperatures can put additional stress on migrating salmon and steelhead.
That led to the current lawsuit, filed in 2017. It took an unusual legal maneuver, seeking to force EPA to set total maximum daily load, or TMDL, standards for temperature.
A federal district court sided with the groups led by Columbia Riverkeeper. The three-judge 9th Circuit panel upheld that ruling in December, noting that EPA, Oregon and Washington had previously stated there was a need for temperature TMDL.
The agency even released a draft in 2003.
"Then," Judge M. Margaret McKeown wrote in the 9th Circuit opinion, "nothing happened."
Legally, the question in the case concerns whether no action by the states amounts to a "constructive submission" under the Clean Water Act that forces EPA to take action.
The 9th Circuit said it does.
Now, the administration could ask the Supreme Court to review that question.
Related Pages:
Court Orders EPA to Write Temperature Control Plans for Columbia, Snake by George Plaven, Capital Press, 12/27/19
Federal Court Ruling Expected to Affect Salmon Conservation by Associated Press, Lewiston Tribune, 12/27/19
Federal Appeals Court Pins EPA with Responsibility for Snake, Columbia River Plan by Eric Barker, Lewiston Tribune, 12/21/19
Federal Appeals Court Orders EPA to Create Plan to Lower Water Temperatures on Columbia River by Evan Bush, Seattle Times, 12/20/19
Court says EPA Must Regulate River Temperatures for Fish by Jeremy P. Jacobs, E&E News, 12/20/19

'It's Just Not Working': Republican Slams Salmon Regime by Jeremy P. Jacobs, E&E News, 3/11/20
Snake River Dam Removal: Idaho Congressman Makes the Case to Save Salmon by Ben Long, Outdoor Life, 4/30/19
An Idaho Republican is Asking the Right Questions About Northwest Salmon by Tom France, Crosscut, 4/29/19
Leaders React to Dam Breaching Comments by Eric Barker, Lewiston Tribune, 4/27/19
Simpson Stops Short of Calling for Dam Removal to Save Salmon. But He Is Asking, 'What If?' by Rocky Barker, Idaho Statesman, 4/25/19
Congressman Mike Simpson says He's Determined to See Fish Runs Recovered in His Lifetime by Eric Barker, Lewiston Tribune, 4/25/19
'I Want Salmon Back in Idaho.' Simpson Seeks Bold Action After $16 Billion Spent on Recovery by Cynthia Sewell, Idaho Statesman, 4/23/19

---
Jeremy P. Jacobs
Court Won't Revisit Ruling on River Temperature Limits
E&E News, March 30, 2020
---
See what you can learn
learn more on topics covered in the film
see the video
read the script
learn the songs
discussion forum