---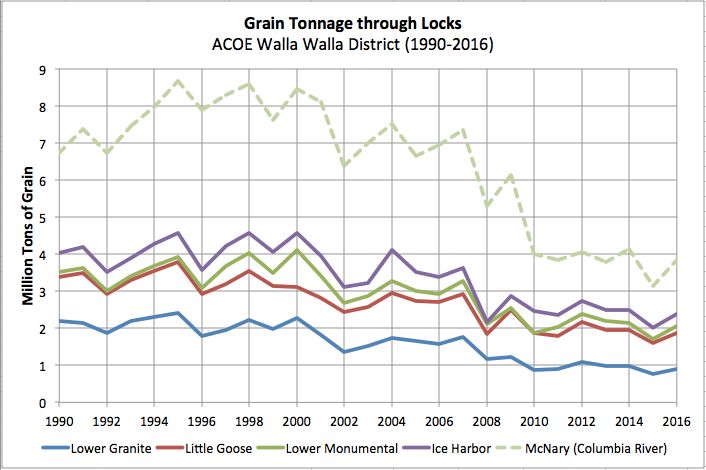 When U.S. Rep. Mike Simpson announced he has been studying ways to recover Snake River salmon and largely viewing the solution through the lens of dam breaching, it overwhelmed other discussions at an Andrus Center conference in Boise this week.
The "Energy, Salmon, Agriculture, and Community: Can We Come Together?" conference at Boise State University Tuesday was billed as a sort of collaborative brainstorming session and discussion on how to recover threatened and endangered Snake River salmon and steelhead populations.
Conference leader John Freemuth, the Cecil D. Andrus Chairman for Environment and Public Lands at the BSU Andrus Center for Public Policy, said the focus of the conference was not dam breaching -- a position supported by many salmon advocates, the Nez Perce Tribe and state of Oregon, but bitterly opposed by grain farmers, ports and power interests.
But after Simpson, a Republican representing Idaho's 2nd Congressional District, said he has been asking "what if" questions framed around the idea of mitigating for the eventual removal of Ice Harbor, Lower Monumental, Little Goose and Lower Granite dams, it was tough to see it otherwise.
Simpson, who did not formally endorse breaching, questioned how to make Lewiston whole if the dams were removed, how to help grain growers get their crops to market and how to replace the 3,000 megawatts of carbon-free electricity the dams are capable of producing.
He also shared some potential answers. What if grain growers who now rely on barge transportation to get their crops to market collectively owned their own railroad? What if small portable nuclear plants were used to replace the lost hydropower? What if Lewis-Clark State College, the University of Idaho and Washington State University joined forces to create a high-tech corridor in the region to foster job growth?
And what if the Northwest Power Act were rewritten to save the financially strapped agency that both markets power produced at federal dams on the Snake and Columbia rivers and funds projects designed to mitigate for the harm those dams cause to fish and wildlife?
"Strangely enough, I think the challenges facing the (Bonneville Power Administration) also creates the opportunity for us to solve the salmon crises. The reality is you cannot write a new BPA act -- a new Northwest Power Planning Act -- without addressing the salmon issue, and you can't address the salmon issue without addressing the dams," Simpson said.
The question is, what happens now? Simpson doesn't have a course of action laid out. His spokeswoman, Nikki Wallace, said in the near-term he plans to continue meeting with stakeholders and talking with other members of Congress representing Idaho, Oregon, Washington and Montana.
"He just wants to talk to people and look at options," Wallace said.
Other Northwest members of Congress gave Simpson's remarks mixed reviews, with some of them outright rejecting his focus on dams and others giving at least tepid support.
In a statement, Sen. Mike Crapo, R-Idaho, said Simpson's desire to engage parties on all sides of the salmon and dams debate is the right course to take.
"The ultimate solution will be the achievement of a regional consensus that will be taken to Congress for enactment and implementation," Crapo said.
When asked if he was concerned that Simpson framed his "what if" questions around mitigating for Snake River dam removal, Crapo's spokesman, Lindsay Nothern, said no.
"Crapo has said everything should be on the table, and he still feels that way," Nothern said.
Sen. Jim Risch, R-Idaho, said through a statement he supports talks aimed at finding a solution to the salmon recovery problem, but only with the dams in place.
Rep. Russ Fulcher, R-Idaho, said he has spoken with Simpson but believes the cost of dam breaching on the 1st Congressional District is too high.
"Since economic indicators and constituent feedback have strongly indicated that dam breaching would not be a viable option for stakeholders in the 1st District, it is even more imperative that alternative solutions receive thorough review," Fulcher said.
Rep. Cathy McMorris Rodgers, R-Wash., who championed unsuccessful legislation last year that would have protected the dams, said she "vehemently" disagrees with anyone who believes the dams should be removed.
One of the most difficult questions Simpson is seeking answers to is how to help farmers in north central Idaho and southeastern Washington get their crops to market without the benefit of barge transportation.
At the conference, Sam White, chief operating officer of the Pacific Northwest Farmers Cooperative, expressed interest in Simpson's train idea but said it might not be enough.
"Our growers, that family of farmers, would look at something if we were made whole, but I don't think one train is going to do that," White said.
In the days since Simpson's speech, barging advocates have issued statements expressing concern.
Nezperce farmer Matt Mosman, president of the Idaho Grain Producers Association, said the Columbia and Snake river system is critical to Idaho grain growers. He called barging a low-cost and environmentally friendly way to move cargo that is critical to Idaho's wheat growers.
"In a world with increased concern over carbon emissions, it makes sense to transport more goods by environmentally friendly methods like barging," Mosman said.
He also highlighted the dams as a source of carbon-free electricity, irrigation and water storage and said any discussions about changes to the system of locks and dams must include ways to ensure farmers and others don't lose out.
"We applaud the commitment from elected officials that changes to the river system would occur only if affected parties are made whole and nobody gets left behind," he said. "Since the Columbia and Snake River System is a major driver to the entire (Pacific Northwest) economy, this standard must not get lost as the discussion moves forward."
Kristin Meira, executive director of the Pacific Northwest Waterways Association, said federal agencies are in the midst of producing an environmental impact statement and associated biological opinion on the effects dams on both rivers have on salmon and steelhead.
"Calls for additional processes and forums that undermine the existing study are counterproductive, not based in science and divert resources from the creation of a credible plan that is best for salmon and the Northwest," Meira said.
Wanda Keefer, manager of the Port of Clarkston, rejected the idea that dam breaching would do much to help Snake River salmon and steelhead and said it would do nothing for listed fish in other Columbia River tributaries.
Keefer cited studies that show juvenile salmon and steelhead survive passing from one side of the dams to the other but don't account for the toll reservoirs take on the fish.
"The four lower Snake River dams have a 95 percent or greater fish survival rate. Removing them will move the needle less than would more robust action against terns, cormorants, pelicans and sea lions," she said. "Removing dams will move the needle less than aggressive cleanup of toxins and garbage in the ocean and reversal of ocean-warming trends, since these fish spend 75 percent of their lives there."
Instead of removing dams and eliminating the carbon-free power they produce, Keefer said the region should tackle climate change.
"Dam removal will exacerbate climate change problems -- the true source of so many challenges the world is facing today and will experience to a higher degree tomorrow."
Related Pages:
Congressman Mike Simpson says He's Determined to See Fish Runs Recovered in His Lifetime by Eric Barker, Lewiston Tribune, 4/25/19
Reasonable Questions at Hydropower Breakout Sessions in Anacortes Swinomish Tribal Lands, Washington, August 2018

---
Eric Barker
Leaders React to Dam Breaching Comments
Lewiston Tribune, April 27, 2019
---
See what you can learn
learn more on topics covered in the film
see the video
read the script
learn the songs
discussion forum