---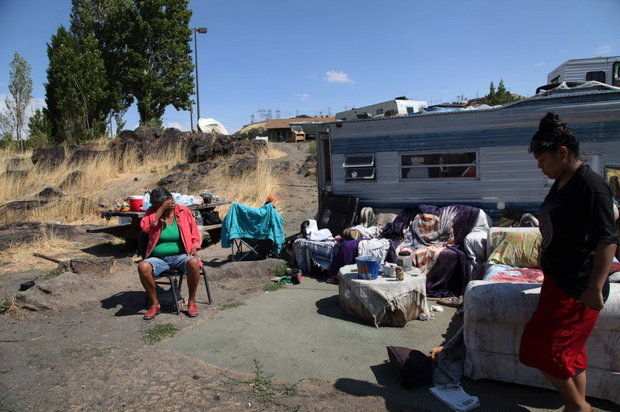 Tribal officials knew the best way to spur action on the dire housing situation at the Lone Pine tribal fishing site in The Dalles: Let those with the power to help simply see the place.
And when they did, some were in tears, a tribal official said. And everybody, from county commissioners to congressmen, who has seen the dilapidated trailers and unsafe and unsanitary living conditions has left pledging to do something.
"They come away very moved and very troubled that these living conditions persist," said Chuck Hudson, intergovernmental affairs director for the Columbia River Inter-Tribal Fish Commission.
Some limited immediate help for Lone Pine -- more bathrooms and a kitchen facility -- may come soon if Congress passes a pair of identical bills now making their way through committees.
But a long-term fix of new housing may be years away, he said.
Tribes have already waited decades for the replacement housing that was promised by the federal government when dams on the Columbia River, some built nearly 80 years ago, flooded Native American villages and fisheries.
Lone Pine, tucked away on nine rocky acres along the Columbia River behind the state offices that front Bret Clodfelter Way, was established in 1953 under 1939 federal legislation. It was built "in lieu" of the traditional fishing grounds that were flooded when dams were constructed.
Lone Pine was meant to serve far fewer people, and not on a year-round basis. Now, an estimated 30-40 people live there year-round in worn, haphazardly parked trailers with tarps flapping from missing windows or skylights. Junked vehicles and boats are scattered about.
The site is speckled with trash because of inadequate garbage service. The community has just six bathrooms and four showers. It has one power outlet and two water spigots. Dishes are washed in the bathroom sinks. There is no laundry facility.
For Lone Pine, the short-term fix bills in Congress would authorize construction of a "kitchen wash center," Hudson said. "It means potable water, places where people can do cooking, cleaning, instead of using the restroom, which are currently being used to wash dishes," he said. "With respect to sanitation, they need a second restroom and shower and that's a function of population at Lone Pine," he said.
While there may be some fire suppression needs there, Lone Pine was not given a priority, he said, because local fire services can be onsite in minutes.
Even so, he said, he's concerned when he sees the makeshift stove pipes in trailers, which have been modified to weather harsh, cold, windy winters along the Columbia.
If Congress approves the bills -- Senate Bill 669 and HR 1630 -- a separate bill providing an estimated $10 million to $15 million in funding would need to pass, he said.
The Bureau of Indian Affairs would be the agency responsible for carrying out the work.
Lone Pine is one of five in-lieu sites built by the U.S. Army Corps of Engineers in the Gorge. Later, through 1988 federal legislation, 26 treaty fishing access sites were built.
The last of those sites were finished just two years ago, Hudson said.
In 2011, the four tribes, Yakama, Warm Springs, Umatilla and Nez Perce, that have treaty fishing rights on the Columbia asked the Corps to use unspent money from the treaty fishing access sites project to study unmet obligations for tribal housing.
The Corps agreed, completing the limited study of federal documentation in 2013. The study showed "irrefutably" that commitments were made but not met, Hudson said.
Eric Stricklin, project manager with the Corps, didn't go that far in his characterization of the study, which has not been released to the public. "That report was a report that said we need to look further into this."
He said it was a cursory look at available documentation that would show if tribal members living by the river were compensated for loss.
"They in general found that yes, there may be some relocation that didn't occur," Stricklin said.
He said, "The same folks that would question why it took so long probably don't realize there's been attempts to perform the relocation and make payments to tribal members in The Dalles." He said Celilo Village "has been partially relocated twice." He said, in 1955, money started going out to make people whole. "That's part of the history you don't hear much about."
In 2013, the tribes took the Northwest Congressional delegation on a tour of in-lieu sites.
Hudson said the tribal officials walk a fine line of bringing repeated tours of officials to the in-lieu sites to show the dire conditions while also respecting "the fact that these are the homes of many, many, many people who have pride in where they live, love living by the river, love living with their families and extended families along the river.
"People adapt. They're resilient. I've never been around a more resilient community than the tribal river people. They will be the first to tell you, they're not leaving. They will survive one way or another."
In 2016 Congress gave the Corps authority to build tribal housing.
The Corps is about a year into the process of siting a new tribal village on the Washington side of the river.
It is looking at three possible sites: Spearfish, Wishram and Columbia Hills State Park.
They are looking for suitable land for a village of yet to be determined size.
The planning process has another year or two to go, Hudson said.
Meanwhile, Hudson's agency, the Inter-tribal Fish Commission, is working with the tribes to create an inter-tribal housing authority.
Each tribe has its own housing authority, but this entity would operate on behalf of all four tribes and would be able to own property and qualify for federal housing monies.
A future inter-tribal housing authority will be tasked with ensuring what is eventually built "is well reconciled with what they lost," Hudson said. "Even though people say, well, that was many decades ago, the consequences of that loss are still being felt as hard today as the day they were lost.
"There were promises to these people, 'Your village, your house will be replaced. Go to this location and wait until we get back to you.' That is literally what some of them heard."
He did not want to estimate what housing needs -- and where -- will be prioritized by the future housing authority.
"Hopefully there'll be easier discussions if there's adequate resources, adequate land."
Land is in short supply in the Gorge.
"From a simple equity perspective, the tribal community has made room for a lot of change in their world," Hudson said.
That stretches back to the canneries of the 1880s to dams, smelters, changes to recreation, and now server farms. "It is high time to make these tribal communities whole again."
Related Pages:
Army Corps Should Keep Its Promises to Native Communities by Editorial Board, Idaho Mountain Express, 6/10/16
Empty Promises to Displaced Tribal Fishermen by Roberta Ulrich, The Oregonian, 11/15/14

---
Neita Cecil
Tribal Housing Efforts Looming
The Dalles Chronicle, October 24, 2017
---
See what you can learn
learn more on topics covered in the film
see the video
read the script
learn the songs
discussion forum