---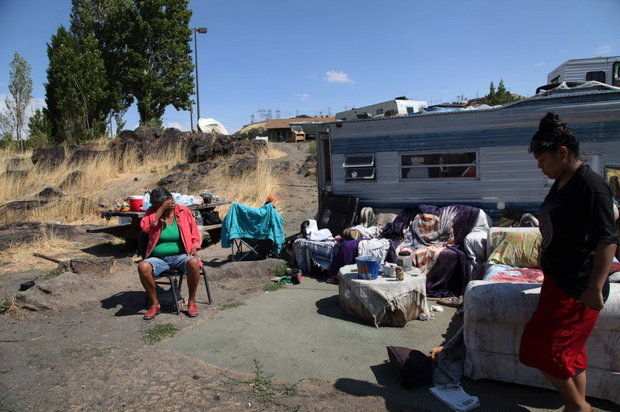 The American government has a long and sorry record of broken promises made to native peoples that is not just the stuff of cowboy movies and high school textbooks. Federal agencies should stop making excuses and make good on the promises they made to the tribes that live along the Columbia River.
During the 20th century, the Army Corps of Engineers and other federal agencies constructed dams on the Columbia. The dams generate sustainable power that has allowed the economy of the West to thrive. They also have disrupted the thriving Native American fishing economy that had existed along the river for thousands of years.
What were once communities on ancestral grounds have become squalid, dangerous, impoverished camps sometimes occupied year-round, according to a recent exposé published by The Oregonian. The deplorable conditions exist on some of the 31 sites that the Corps designated as native fishing sites.
Both Native American and white communities were affected by dam construction. In the 1970s, the Corps began rebuilding towns like North Bonneville in new locations not threatened by the rising waters behind dams. Not surprisingly, none of the native communities have been rebuilt. The Oregonian estimated that the Army Corps spent about 248 times more on white residents than on members of the affected tribes.
In 2013, the Corps admitted it had failed to fulfill its promises. Even designating the first of the fishing spots locations for Native Americans didn't happen for 20 years after the first dam was built.
Plans to address the lack of permanent housing for tribal members are stuck in multiple layers of authority that mark the Corps. "It's a draft report. It doesn't speak to obligations," Army Corps Project Manager Eric Stricklin told the Oregonian.
This is the kind of stalling, hampering and delaying that is part of the anger and frustration breaking out in the nation's current political climate.
The excuses for inaction are not enough. The bureaucracy built the dams and made the rules. It can change them. As a member of the Yakima tribe noted, there is always enough money and adaptable rules for the windsurfers who use the Columbia River.
The Army Corps of Engineers and all the other federal and state agencies involved should stop "trying" to fulfill their promises of permanent housing and reliable infrastructure for the tribes whose culture and communities they destroyed. They should just do it.
Related Pages:
Empty Promises to Displaced Tribal Fishermen by Roberta Ulrich, The Oregonian, 11/15/14

---
Editorial Board
Army Corps Should Keep Its Promises to Native Communities
Idaho Mountain Express, June 10, 2016
---
See what you can learn
learn more on topics covered in the film
see the video
read the script
learn the songs
discussion forum