---
Ecology Department seeks $52 million to boost water supply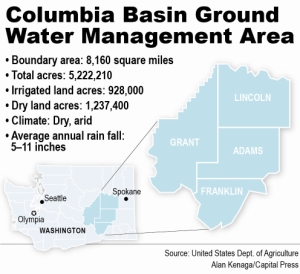 OLYMPIA, Wash. -- The Washington Department of Ecology has requested more than $52 million over two years for projects to increase the water supply in Central Washington.
Much of the money would complete or advance projects begun after the Legislature in 2006 committed $200 million to develop water resources east of the Cascades.
Since then, DOE has pieced together conservation measures, construction projects and deals with the U.S. Bureau of Reclamation. The agency has lined up enough water to irrigate 90,000 acres now served by the rapidly diminishing Odessa Subarea aquifer in south-central Washington.
Most of the water will come by diverting water from two federal reservoirs, Lake Roosevelt and Banks Lake, through a conveyance system that will be within reach of 60,000 acres by next irrigation season.
It will be a milestone for a program that was introduced with much fanfare but has yet to deliver water to fields.
"It's taken us a long time to get to this point," said Office of Columbia River Director Derek Sandison, the DOE official in charge of finding more water.
Lawmakers in 2006 were seeking to squelch wars over the scarce resource by finding more water for farms, ranches, cities and fish.
They were particularly concerned about the Odessa aquifer, the groundwater source for 102,000 irrigated acres.
At the current rate of depletion, water will be unavailable in some places and poor quality elsewhere within a decade, DOE estimates.
Nearly all of the original $200 million to relieve the Odessa aquifer will be gone by mid-2017, but much work will remain. Moving the water from a canal to fields with pumps and pipes will cost millions of dollars more. The expense likely will be borne by farmers who choose to contract with irrigation districts. The alternative may be to gamble with the aquifer.
"Farmers will ultimately decide whether that number (the cost of the water) works for them," said lobbyist Mike Schwisow of the Washington State Water Resources Association, which represents irrigation districts.
Schwisow praised what DOE has accomplished so far in obtaining water and positioning it within reach of irrigation districts.
"We've been successful in spending the $200 million," he said. "We've taken what was a concept, and it's actively on the ground."
Washington Farm Bureau lobbyist Evan Sheffels agreed DOE has done a good job of managing water resources.
"We think it's the way to solve critical water supply problems for agriculture and also solve critical water supplies for fish," Sheffels said.
DOE has set a goal of supplying agriculture with an additional 423,000 acre-feet of water by 2020.
Sandison said the state will get halfway there through conservation projects and by drawing water from Lake Roosevelt and Banks Lake for the Odessa Subarea.
Related Pages:
Retired Economists Find Holes in Odessa Plan by Matthew Weaver, Capital Press, 4/25/14
Related Sites:
Columbia Basin Project
Odessa Sub-area Special Study
---
Don Jenkins
Washington Keeps Up 8-year Pursuit of More Water
Capital Press, October 22, 2014
---
See what you can learn
learn more on topics covered in the film
see the video
read the script
learn the songs
discussion forum