---
OLYMPIA Ð Making what might be her most lasting impression as governor, Christine Gregoire today announced her choice for the design of Washington's commemorative quarter: a leaping salmon with Mount Rainier as a backdrop.
Gregoire went with the same design favored by tens of thousands of residents in a recent online poll sponsored by the state Quarter Advisory Committee.
The design still has to be approved by the U.S. Secretary of the Treasury, which is expected to happen this summer.
The salmon-and-Rainier design was one of three finalists put forward last month by the quarter commission. In the online poll, it narrowly beat out at competing design featuring a salmon, Mount Rainier and an apple within an outline of the state. The other finalist featured a Northwest Native American depiction of an orca whale.
The finalist designs were selected from more than 1,500 ideas submitted last year by people across the state.
Washington's quarter, scheduled for release next year, will be the 42nd in a series commemorating the states.
Five quarters are being released a year, based on the order in which the states entered the union. The program ends in 2008, with quarters released for Alaska and Hawaii.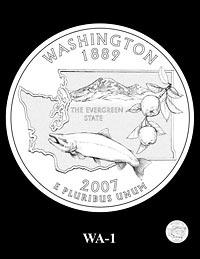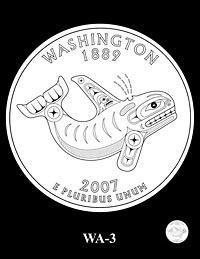 Related Pages:
WA Quarter Poll Resumes after Computer Mischief by Curt Woodward, Seattle Post-Intelligencer, 4/11/6
Finalists Selected for State Quarter Design by Susan Gilmore, Seattle Times, 1/19/6
Wildlife, Apples, Mountains: Finalists for WA Quarter by Curt Woodward, Seattle Post-Intelligencer, 1/19/6
It's the Final Stretch for Idaho's Quarter Design by Tim Woodward, Idaho Statesman, 9/27/5
Governor: Here's what shouldn't be on our quarter by Tim Woodward, Idaho Statesman, 8/4/5

Related Sites:
State quarter: www.governor.wa.gov/quarter
U.S. Mint: www.usmint.gov

---
Ralph Thomas
Gregoire Chooses Salmon and Rainier for New Quarter
Seattle Times, May 4, 2006
---
See what you can learn
learn more on topics covered in the film
see the video
read the script
learn the songs
discussion forum