the film
forum
library
tutorial
contact

Wildlife, Apples, Mountains:
Finalists Chosen for State Quarter

by Curt Woodward, Associated Press
Seattle Post-Intelligencer, January 19, 2006
---
OLYMPIA, Wash. -- Sorry, sasquatch.
The three final design choices for Washington's official state quarter were released Thursday, and the mythical man-ape said to reside in the Pacific Northwest's dense forests was nowhere to be found.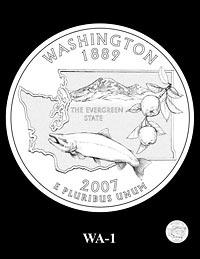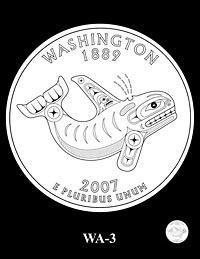 A panel led by honorary chairman and First Gentleman Mike Gregoire chose three designs that will be familiar to Washingtonians. The nominees are:
A leaping salmon breaching the water in front of a conifer-trimmed Mount Rainier.
A stylized American Indian-style drawing of a playful killer whale, spouting water and raising its tail flukes.
A salmon, apples and Mount Rainier within an outline of the state.
The two designs featuring salmon also incorporate "The Evergreen State" as a motto.
The State Quarter Advisory Commission asked the public to suggest designs, and got more than 1,000 responses online. Gregoire said they ranged from the serious to the silly - including bigfoot.
"You're not going to be able to please everybody, but we hope we'll be able to represent the state and have something that people will be proud to have on the back of the quarter," he said.
The final designs, rendered by artists at the U.S. Mint, were chosen from about 20 versions that reflected five general themes.
The quarter committee whittled the options down to three specific designs. The two rejected options were a solitary Mount Rainier image centered on a state silhouette and a single apple plunked in the middle of the state's outline.
State officials plan to post the finalists on the Internet this spring, after the designs are reviewed by the U.S. Mint. An announcement of the winning design is expected soon afterward, and the coins should be available in March 2007.
Washingtonians will be able to lobby for their favorite in an online poll and the commission will settle on a favorite. People from other states should feel free to register their preferences as well, since the shiny new coins will be pocketed by everyone, Gregoire said.
"These quarters are going to be around for a long, long time," he said. "People around the world, really, could be using these."
The final decision rests with Gov. Chris Gregoire.
"She is the governor, after all," said Mike Gerth, a spokesman for the quarter commission.
Related Pages:
It's the Final Stretch for Idaho's Quarter Design by Tim Woodward, Idaho Statesman, 9/27/5
Governor: Here's what shouldn't be on our quarter by Tim Woodward, Idaho Statesman, 8/4/5

Related Sites:
State quarter: www.governor.wa.gov/quarter
U.S. Mint: www.usmint.gov

---
Curt Woodward, Associated Press
Wildlife, Apples, Mountains: Finalists Chosen for State Quarter
Seattle Post-Intelligencer, January 19, 2006
---
See what you can learn
learn more on topics covered in the film
see the video
read the script
learn the songs
discussion forum