the film
forum
library
tutorial
contact

574 Sockeye Make it to Redfish Lake,
Over 1,000 Fish Released into Lakes (Anadromous,Captive)

by Staff
Columbia Basin Bulletin, October 21, 2016
---
Overall, 1,159 adult sockeye were released into Redfish Lake (328 anadromous and 831 from the captive brood stock)
and 100 captives were released into Pettit Lake for what Johnson calls "volitional spawning."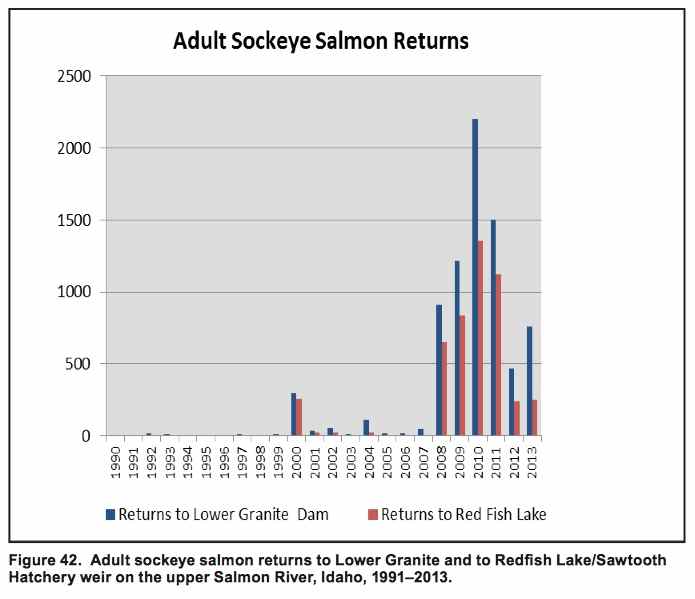 A round-up just downstream from Idaho's Sawtooth Hatchery in late September gathered the last of the endangered sockeye salmon to arrive in the Salmon River near Stanley.
About 25 people -- Idaho Fish and Game personnel and volunteers -- netted the last of the sockeye, about 23, and herded them into transport vehicles.
Every year, some returning sockeye pause downstream rather than returning all the way to the hatchery. They needed a push to cross the finish line on their 900-mile journey from the Pacific Ocean to Idaho's high country at 6,500-feet elevation in the Sawtooth Basin, according to an IDFG news release.
Before the turn of the twentieth century, an estimated 150,000 sockeye returned annually to the Snake River basin. However, from 1985 to 1990 only 58 wild sockeye returned to Idaho leading to a listing of the fish in November 1991 as endangered under the federal Endangered Species Act.
The sockeye in the earlier days ascended the Snake River to the Wallowa River basin in northeastern Oregon and the Payette and Salmon River basins in Idaho to spawn in natural lakes. Within the Salmon River basin, sockeye spawned in Warm Lake in the South Fork Salmon River basin, as well as in the Sawtooth Valley lakes: Stanley, Redfish, Yellowbelly, Pettit and Alturas Lakes. A smaller Sawtooth Valley lake, Hellroaring Lake, may have also supported some sockeye.
Since 1992, when a single fish dubbed Lonesome Larry returned to Redfish Lake, IDFG has run a captive broodstock program with Bonneville Power Administration fish and wildlife funding. The program began with 16 adult sockeye -- 11 males and five females, along with juveniles and residuals captured from Redfish Lake -- taken into captivity from 1991 to 1998.
Through advanced aquaculture techniques, the program has retained about 95 percent of the species' remaining genetic variability, while boosting surviving offspring about 2,000 percent beyond what could be expected in the wild, according to a NOAA Fisheries blog in November 2014 (www.nwfsc.noaa.gov/news/features/idaho_sockeye/index.cfm).
This year's return of 574 fish to Redfish Lake is slightly below the 10-year average of 664 fish, but an improvement over previous decades. As late as 2007, only four sockeye returned.
"It's been an encouraging year," said Dan Baker, Eagle Hatchery Manager. "We're continuing to move in the right direction."
There's enough sockeye this year to let some spawn in the wild, spawn others in hatcheries and release their offspring to migrate to the ocean, and keep others in captivity to provide a genetic bank that safeguards against natural catastrophes, such as lethal river conditions, IDFG said.
IDFG also will collect enough eggs this year to completely fill the Springfield Hatchery for the first time. This will produce approximately one million smolts that will be released and migrate to the ocean in 2018. The hatchery was completed in 2013 and is dedicated solely to raising sockeye.
With this year's returning adults along with the captive adults, the agency has released over 1,000 spawners into Redfish Lake and another 100 into nearby Pettit Lake.
It's a long and perilous journey for the sockeye heading to the Snake River and ultimately to the Sawtooth Basin.
Of all the sockeye that passed Bonneville Dam this year (342,497), just 1,032 were headed to the Snake River, according to Eric Johnson, research fisheries biologist with IDFG. Of those, 717 made it to Lower Granite Dam (10-year average is 983) and 574 made it to Redfish Lake on their own.
The total 2016 run of sockeye -- the biggest portion heads up into upper Columbia River tributaries -- at Bonneville is more than the 10-year average of 285,072, but fewer fish than 2015 when 510,707 passed the dam. Although nearly 4,000 of the 2015 fish were destined for the Snake River, very few made it due to unusually low and warm water conditions. Johnson said that 56 adults were trapped in the Sawtooth Basin and an additional 35 adults were trapped at Lower Granite Dam and transported to Eagle, Idaho last year.
See, CBB, December 4, 2016, "Post-Mortem 2015 Snake River Sockeye Run; 90 Percent Of Fish Dead Before Reaching Ice Harbor Dam"
Adults are collected primarily at two locations: at a fish trap on Redfish Lake Creek about one-quarter mile downstream of the Redfish Lake outlet and at a trap on the Salmon River adjacent to the Sawtooth Fish Hatchery.
"Currently the weir/fish trap on the Salmon River at the Sawtooth Hatchery prevents sockeye from entering Alturas or Pettit lake without first being collected and counted," Johnson said.
"We collect fish for several reasons," he continued. "First, it is our only opportunity to accurately enumerate the run, and second, it provides us with the opportunity to collect a genetic sample from each fish so that we can determine the fish's origin."
It's important to know who the parents are to keep the Sockeye pedigree up to date and also to determine what fish are the most successful.
"We also incorporate some of the anadromous returning fish into the captive broodstock program since they likely have some fitness advantages and we use the genetic information to pair fish that are the least related," Johnson said.
Of the 574 fish that made it to the Redfish Lake trap on their own, IDFG took 246 of those returns and incorporated them into its broodstock program. The remaining 328 were released back to Redfish Lake to spawn naturally.
An additional 831 adults that were raised in captivity (from egg to adult) were released into Redfish Lake and 100 captive adults were released into Pettit Lake. The Pettit Lake releases are part of a reintroduction strategy under the sockeye recovery plan.
Overall, 1,159 adult sockeye were released into Redfish Lake (328 anadromous and 831 from the captive brood stock) and 100 captives were released into Pettit Lake for what Johnson calls "volitional spawning." Anadromous includes all fish that were trapped at Redfish Lake Creek and also at the Sawtooth Hatchery weir. It also includes those fish that were collected in the sockeye round-up.
Snake River sockeye, like most sockeye stocks, are lake shoal spawners and the juveniles grow in the lakes' limnetic zones, Johnson said.
"We do occasionally see sockeye pairing up and building redds in tributaries to Redfish Lake, but are not certain if these individuals are successful," he added.
Related Pages:
NOAA Releases 2015 Sockeye Salmon Passage Report; Council Hears Better News About 2016 Sockeye by Staff, Columbia Basin Bulletin, 9/16/16
With Cooler Weather, Sockeye Showing Decent Numbers Reaching Lower Granite, Sawtooths by Staff, Columbia Basin Bulletin, 8/12/16
Post-Mortem 2015 Snake River Sockeye Run; 90 Percent of Fish Dead Before Reaching Ice Harbor Dam by Staff, Columbia Basin Bulletin, 12/4/15
Snake River Sockeye: Lowest Return Since 2007, Captive Broodstock Program Increases Spawners by Staff, Columbia Basin Bulletin, 9/11/15
Corps Report On 2015 Columbia/Snake Warm Water, Fish Die-Off Will Discuss Actions To Avoid Repeat" by Staff, Columbia Basin Bulletin, April 1, 2016
"Report Analyzes Impacts, Causes Of This Year's Warm Fish-Killing Water In Columbia/Snake" by Staff, Columbia Basin Bulletin, November 6, 2015
Snake River Sockeye: Lowest Return Since 2007, Captive Broodstock Program Increases Spawners" by Staff, Columbia Basin Bulletin, September 11, 2015
Smoke, Lower Air Temperatures Keep Lower Snake Cooler; 33 Sockeye Make It To Redfish Lake Trap" by Staff, Columbia Basin Bulletin, August 28, 2015
Last of Dworshak Water For August? 400 Snake River Sockeye Between Lower Granite, Sawtooth Basin" by Staff, Columbia Basin Bulletin, August 14, 2015

Related Sites:
First Snake River Sockeye Of The Year Makes It To Sawtooth Valley; No Passage Issues At Dams" by Staff, Columbia Basin Bulletin, July 22, 2016
Compared To Last Year, Cooler Temperatures Seem To Be Giving Snake River Sockeye A Break" by Staff, Columbia Basin Bulletin, July 5, 2016
"Steps Taken To Cool Warming Lower Snake, Reduce Thermal Blocks During Large Basin Sockeye Return" by Staff, Columbia Basin Bulletin, July 1, 2016
Columbia Basin Salmon/Hydro Managers Gear Up For Another Hot Summer: Will Sockeye Get Slammed Again?" by Staff, Columbia Basin Bulletin, June 24, 2016
"Post-Mortem 2015 Snake River Sockeye Run; 90 Percent Of Fish Dead Before Reaching Ice Harbor Dam" by Staff, Columbia Basin Bulletin, December 4, 2015
First Snake River Sockeye Reaches Sawtooth Basin; Fish Trapped At Lower Granite Taken to Hatchery" by Staff, Columbia Basin Bulletin, July 31, 2015
"NOAA Fisheries Releases Snake River Sockeye Salmon Recovery Plan: 25 Years Of Actions At $101 Million" by Staff, Columbia Basin Bulletin, June 12, 2015
---
Staff
574 Sockeye Make it to Redfish Lake, Over 1,000 Fish Released into Lakes (Anadromous,Captive)
Columbia Basin Bulletin, October 21, 2016
---
See what you can learn
learn more on topics covered in the film
see the video
read the script
learn the songs
discussion forum