the film
forum
library
tutorial
contact

NOAA Releases 2015 Sockeye Salmon Passage Report;
Council Hears Better News About 2016 Sockeye

by Staff
Columbia Basin Bulletin, September 16, 2016
---
NOAA Fisheries in June 2015 released a recovery plan for Snake River sockeye
that said recoveryof the fish could take 50 to 100 years and cost over $101 million.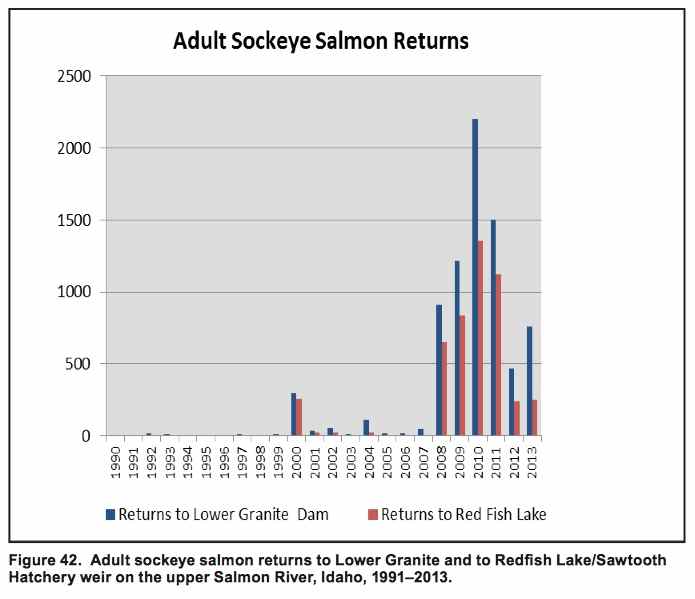 In 2015, low flow conditions, coupled with high air temperatures and warm water in the Snake and Columbia rivers and their tributaries from mid-June to mid-July, resulted in the highest mainstem water temperatures recorded in the Columbia River Basin, making survival of the basin's sockeye salmon a constant source of concern.
Few Snake River sockeye made it to Lower Granite Dam and even fewer found their way to spawning grounds in the Sawtooth Valley last year.
"Both of the unlisted upper Columbia (Lake Wenatchee and Lake Osoyoos) spawning populations and listed Snake River sockeye salmon use the Columbia River as a migration corridor," according to a NOAA fish passage report released this week. "The temperatures they experienced at Bonneville and McNary dams during their June -- July, 2015, upstream migration period were up to 4 degrees C (almost 8 degrees Fahrenheit) warmer than the recent 10-year average."
Upper Columbia River sockeye headed for Lake Osoyoos migrate through the Okanogan River, which reached a temperature of 28 degrees C (82.4 degrees F) at Malott, Washington in early July, the NOAA report says. Snake River sockeye experienced temperatures up to 25 degrees C (77 degrees F) at the White Bird gage on the Salmon River.
Fish heading to McNary Dam from Bonneville Dam did poorly in 2015. Earlier in the season, water temperatures were still less than 18 degrees C (64.4 degrees F) and fish had the highest survival -- 90 percent for upper Columbia River sockeye and 70 percent for Snake River sockeye, the NOAA report says. Survival rates declined rapidly as water temperatures exceeded 20 degrees C (68 degrees F).
Although about 47 percent of the upper Columbia River sockeye survived from Bonneville Dam to Wells Dam, just 6 percent (37,624) passed Zosel Dam on the Okanagan River and about 2 percent survived to Osoyoos Lake just upstream. Survival over the past five years from Bonneville to the spawning grounds has ranged from 25 percent to 50 percent.
See "2015 Adult Salmon Passage Report," NOAA Fisheries.
A contrasting report for 2016, pointing to better river temperatures and far more effective dam operations in the Snake River, was given by fisheries and operations managers at this week's Northwest Power and Conservation Council in Spokane.
2016 passage of sockeye, although a smaller run, has been much more successful, with lower air and water temperatures, and better interagency coordination, according to a presentation at the Council by fisheries experts and the U.S. Army Corps of Engineers.
See the Council information at www.nwcouncil.org/media/7150527/5.pdf
"Sockeye had it particularly hard in 2015, but this year was much more normal," Michael Garrity, Washington Department of Fish and Wildlife, told the Council. "The Snake River had just over 1,000 fish, which is lower than last year, but survival was much better."
He gave much of the credit for a better migration year in the Snake River to fisheries managers and to the Corps who helped to keep the river cooler.
Some 510,694 sockeye crossed Bonneville Dam in 2015, far more fish than the 10-year average of 285,072 fish, but few made it to spawning grounds. This year 342,493 sockeye passed the dam. Some 1,032 were headed to the Snake River and the remainder to the Okanagan Valley.
Of the over 340,000 sockeye that passed the dam this year, 310,000 made it to Rock Island Dam in the upper Columbia River and 814 made it past Lower Granite Dam.
"When sockeye reach Lower Granite Dam, they have traveled just half way to Redfish Lake," said Paul Kline, Idaho Department of Fish and Game. "It's still 460 miles from the dam to the lake." He added that the elevation gain was from 800 feet at the dam to 6,800 feet, and takes the fish up to 37 days to complete.
Although last year's forebay temperature at the dam as the sockeye passed was 72 degrees or more, this year the Corps was able to consistently keep temperatures below the 68 degree threshold called for in NOAA Fisheries 2014 Federal Columbia River Power System biological opinion.
This year, as water temperatures approached 68 degrees in the Lower Granite tailrace, the Corps released 42 to 47 degree water from Dworshak Dam to cool the river. Those releases began June 27.
In addition, the Corps began pumping cold water from deep in the forebays into the fish ladders at both Lower Granite (beginning June 9) and Little Goose (July 1) dams.
"As the water temperature stepped up this summer, the Corps would release water from Dworshak, and as temperatures dropped, the Corps would conserve the water," Kline said. "It would not have turned out as good if the Corps had not been on their A-game. My hats off to the Corps of Engineers."
In 2015, just 60 percent of the Snake River sockeye that had crossed McNary Dam made it to Ice Harbor Dam. Some 41 percent of those fish made it Lower Granite Dam, Kline said.
However, few of the Snake River sockeye in 2015 actually made it to McNary Dam. In fact, only 14 percent of the PIT-tagged population that passed Bonneville Dam in 2015 was detected at McNary, 9 percent at Ice Harbor, and 4 percent at Lower Granite. One percent of the Snake River sockeye salmon detected at Bonneville reached Idaho's Sawtooth Valley, and another 0.5 percent were collected at Lower Granite Dam and transported directly to Eagle Fish Hatchery, NOAA's 2015 report says.
Of the 4,000 that passed Bonneville, one of the highest returns of sockeye in recent years, just 100 made it all the way to the Sawtooth Valley.
"Unfortunately, the highest return coincided with the worst temperature year," Kline said.
2016 was a better story: of the 1,032 Snake River sockeye that passed Bonneville Dam, 862 fish after adjustments made it to Lower Granite Dam, or 83 percent. Breaking the numbers down a bit, 98 percent made it from McNary to Ice Harbor and 95 percent of those made it to Lower Granite. Some 469 fish made it to the Sawtooth Valley, a 44 percent conversion rate from Bonneville to the spawning grounds (conversion rate is the percentage of fish that make it from one dam to another dam).
The 10-year average conversion rate is 97 percent and 91 percent respectively.
Travel time was also different between the two years: in 2015 it took the fish 9.1 days to travel from Ice Harbor to Lower Granite and in 2016 travel time was just 5.5 days. The 10-year average is 4.5 days.
Kline said lessons learned are:
Improved regional coordination;
Improved understanding of decision making framework for implementing emergency actions; and
Corps actions at Dworshak, Lower Granite and Little Goose dams were effective in reducing risk and improving migration conditions.
Trevor Condor of NOAA, speaking to the Council, said that 2016 was an above average year in terms of conversion rates for in-river sockeye. "Those transported as juveniles didn't have that good of conversion through the system."

For example, conversion from Bonneville to McNary this year for in-river fish was 79.6 percent, while fish transported had a conversion rate of 51 percent. For upper Columbia River fish the conversion rate was 81 percent.

According to the NOAA report, "Snake River sockeye salmon that had been transported as juveniles had an impaired homing ability, which delayed their upstream progress and increased their exposure to elevated temperatures."

Related Pages:
With Cooler Weather, Sockeye Showing Decent Numbers Reaching Lower Granite, Sawtooths by Staff, Columbia Basin Bulletin, 8/12/16
Post-Mortem 2015 Snake River Sockeye Run; 90 Percent of Fish Dead Before Reaching Ice Harbor Dam by Staff, Columbia Basin Bulletin, 12/4/15
Snake River Sockeye: Lowest Return Since 2007, Captive Broodstock Program Increases Spawners by Staff, Columbia Basin Bulletin, 9/11/15
Corps Report On 2015 Columbia/Snake Warm Water, Fish Die-Off Will Discuss Actions To Avoid Repeat" by Staff, Columbia Basin Bulletin, April 1, 2016
"Report Analyzes Impacts, Causes Of This Year's Warm Fish-Killing Water In Columbia/Snake" by Staff, Columbia Basin Bulletin, November 6, 2015
Snake River Sockeye: Lowest Return Since 2007, Captive Broodstock Program Increases Spawners" by Staff, Columbia Basin Bulletin, September 11, 2015
Smoke, Lower Air Temperatures Keep Lower Snake Cooler; 33 Sockeye Make It To Redfish Lake Trap" by Staff, Columbia Basin Bulletin, August 28, 2015
Last of Dworshak Water For August? 400 Snake River Sockeye Between Lower Granite, Sawtooth Basin" by Staff, Columbia Basin Bulletin, August 14, 2015


Related Sites:
NOAA Releases 2015 Sockeye Salmon Passage Report; Council Hears Better News About 2016 Sockeye" by Staff, Columbia Basin Bulletin, September 16, 2016
First Snake River Sockeye Of The Year Makes It To Sawtooth Valley; No Passage Issues At Dams" by Staff, Columbia Basin Bulletin, July 22, 2016
Compared To Last Year, Cooler Temperatures Seem To Be Giving Snake River Sockeye A Break" by Staff, Columbia Basin Bulletin, July 5, 2016
"Steps Taken To Cool Warming Lower Snake, Reduce Thermal Blocks During Large Basin Sockeye Return" by Staff, Columbia Basin Bulletin, July 1, 2016
Columbia Basin Salmon/Hydro Managers Gear Up For Another Hot Summer: Will Sockeye Get Slammed Again?" by Staff, Columbia Basin Bulletin, June 24, 2016
"Post-Mortem 2015 Snake River Sockeye Run; 90 Percent Of Fish Dead Before Reaching Ice Harbor Dam" by Staff, Columbia Basin Bulletin, December 4, 2015
First Snake River Sockeye Reaches Sawtooth Basin; Fish Trapped At Lower Granite Taken to Hatchery" by Staff, Columbia Basin Bulletin, July 31, 2015
"NOAA Fisheries Releases Snake River Sockeye Salmon Recovery Plan: 25 Years Of Actions At $101 Million" by Staff, Columbia Basin Bulletin, June 12, 2015
---
Staff
NOAA Releases 2015 Sockeye Salmon Passage Report; Council Hears Better News About 2016 Sockeye
Columbia Basin Bulletin, September 16, 2016
---
See what you can learn
learn more on topics covered in the film
see the video
read the script
learn the songs
discussion forum