---
Expansion at the port of wilma makes farm supply company bigger, more efficient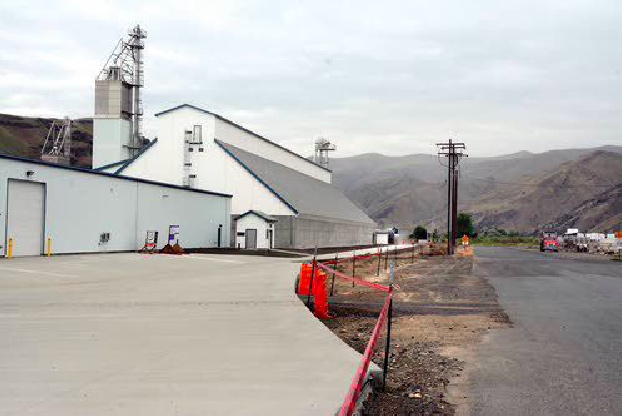 The six storage tanks that recently cropped up on the west end of the Port of Wilma will soon become part of the McGregor Company's fourth and largest storage and distribution center for agricultural nutrients.
The $10-million complex will also feature a new 2,100-foot-long rail spur, a 48,000-square-foot dry storage warehouse, and a four-bay blending and loading facility on 15 acres, said Fred Morscheck, general manager of marketing and logistics for the company based in Colfax. "We're doing this because it's important to our customers."
Three to five new employees will be added to McGregor's staff of 340 as the company's fertilizer storage capacity is doubled. Fertilizer is one of the biggest sectors for McGregor. The business also sells seed, pesticides and farm equipment and provides consulting to farmers.
When the Port of Wilma center is finished this summer, the upgrades will improve McGregor's efficiency, saving money that can be passed on to customers in the form of lower prices, Morscheck said.
Farmers will also benefit because McGregor will be more likely to have what they want on hand when they need it.
"When everyone gets ready to farm, a lot of product moves very quickly," he said.
The location will allow the company to serve farmers in an area that runs west to Walla Walla, north to almost Spokane and south to Grangeville with quick access to east-west and north-south highways.
It is served by a short line rail with connections to the two largest railroads in the country, Union Pacific and Burlington Northern. Plus it has room for upgrades that couldn't go on more cramped sites.
The rail access is one of the most critical pieces of the project since about 90 percent of the product will arrive by rail, not barge.
McGregor will be able to do business with almost all of the major fertilizer producers in the West, Midwest and Canada so it can seek the best deals and carry a broader selection of products, Morscheck said.
Many of those manufacturers are located on tracks that belong to Burlington Northern or Union Pacific.
The two big rail lines charge customers much higher rates for shipments that cross onto their competitors' tracks, something that won't happen at McGregor because of the short line, Morscheck said.
Within the site, upgrades are being built to handle products faster. Dry fertilizer will be dumped from the belly of rail cars onto a conveyer belt that will take it to an elevator and up to the top of the warehouse.
The speed of that process will improve turnaround times for rail cars and prevent McGregor from being charged penalties for having the cars too long, Morscheck said.
It won't just be rail cars that move in and out of the site faster. A state-of-the art piping system will move liquid fertilizer from the tanks to the loading and blending center.
Trucks that deliver fertilizer to farms and McGregor's retail locations will spend less time at the site because it will have four bays and lanes that are easier to maneuver, Morscheck said.
That also means the company will need fewer truck drivers because they may be able to fit three trips into a day instead of two.
The plan for the expansion follows years of fine tuning and saving money, Morscheck said. "It's been good for all of agriculture for six years. The outcome of that is everybody does well. We're going to reinvest."
At the same time, record yields for the area's main crop - wheat - as well as dried peas, lentils and garbanzo beans has created a bigger need for fertilizer to replace soil nutrients being used, Morscheck said.
As massive as the center will be, McGregor has even more ideas for the site after it reaches capacity in 10 to 20 years.
"In the future," Morscheck said, "we could double the capacity of the facility on this site."
Related Pages:
Much More McGregor by Elaine Williams, Lewiston Tribune, 10/6/13

---
Elaine Williams
Much More McGregor
Lewiston Tribune, October 6, 2013
---
See what you can learn
learn more on topics covered in the film
see the video
read the script
learn the songs
discussion forum