---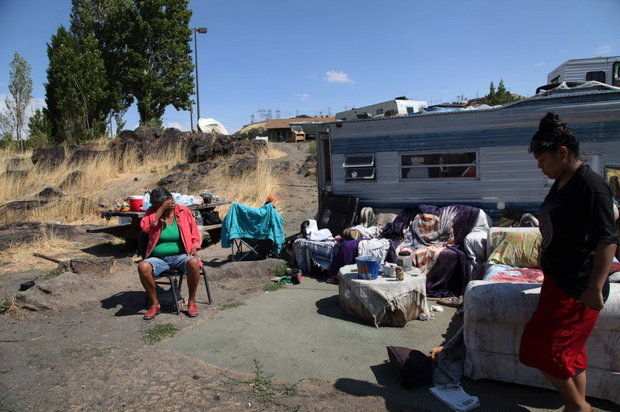 A flood of contributions, dwarfing last year's effort, has come to the Discovery Center for its second annual donation drive to benefit the Lone Pine Native American fishing village.
Susan Buce, Discovery Center marketing director, recently helped take three vehicles full of items to the fishing village, located on the Columbia River near The Dalles bridge, behind state offices on Bret Clodfelter Way.
The collection is still underway through Christmas -- items can be taken to the museum, at 5000 Discovery Drive -- but the needed items aren't the typical holiday requests.
Life at the fishing village is tough, and residents living in often-dilapidated RVs and camp trailers have needs for things like tarps to waterproof trailers, propane for generators that serve as heat sources, and batteries to run lamps.
Heavy blankets, socks and heavy winter coats are also a need, as is food and water.
"This is not clean out your closet time, this is people in dire need with winter conditions."
Fishing was bad this year, which makes matters worse, she said.
"The structures are not sound, they let in water and don't keep in the heat, so they have to put tarps over the top of their trailer to keep the water out and that also keeps out the light, so they need battery-operated lights because they don't have electricity," Buce said.
As she visited one family at Lone Pine recently, she saw a woman cooking with a headlamp on so she could see in the darkness.
"It's winter, we've got children out there that don't have winter coats, we've got families that don't have heat in their home units or enough food to eat. They don't have clean water, this is a human crisis and we as a community need to step up," Buce said.
She credited a recent four-part series in the Chronicle on Lone Pine with sharply boosting donations this year.
"It brought a level of understanding and it really made it easier for people to relate," she said.
Last year, the first year they directed holiday donations to Lone Pine, they only collected two small boxes of items.
A few homes heat with wood, so wood is needed, along with things like propane credit, gas cards, and gift cards. Several women are crafters, and could use donations like seed beads.
There are also needs for Kleenex and cold remedies. She asked that clothing donations be clean, since there are no laundry facilities at Lone Pine.
In addition, there are also typical Christmas requests, for things like tablets for the older kids and Disney and Marvel themed blankets for younger kids. A fuller list of needed items is listed on the Discovery Centers Facebook page, "Columbia Gorge Discovery Center & Museum."
Lone Pine is home to 30-40 permanent residents, many of them children. But the area, developed by the U.S. Army Corps of Engineers over 60 years ago, was never intended for permanent use. Facilities are inadequate, with just four toilets and four showers in a bathroom facility, one power outlet, and two water spigots. It also has two portable toilets seasonally.
A bill just passed the U.S. Senate authorizing the Bureau of Indian Affairs to make improvements, and an identical bill is processing through the House. But authorization is only the first step, since an appropriation of funds to get the work done has to follow.
"I wanted to see us focus our holidays donation drive toward a segment of our community that is oftentimes ignored," Buce said. "People are aware there's the need, but they don't know how to make that connection, so it is something that we are in a position to be able to do."
This year, a number of donors said they were willing to be part of a long-term solution, be it funding, building, plumbing, and the like.
Buce said when she visited Lone Pine last month and was invited into a family's trailer, she was struck by the upbeat posters on the walls. "So even in these dire circumstances there's still a sense of community and a sense of hope."
Buce said the Discovery Center two years ago chose to give its holiday donations to Lone Pine after the center got a grant to do a program called Indigenous Voices. "We felt it would be a good idea to direct our donations to those families in need in the Native American community."
Buce is working with the Columbia River Intertribal Fish Commission (CRITFC), and any donations that aren't used by Lone Pine can be taken to the four other fishing villages in the Columbia River Gorge. For example, she was told by a CRITFC official that a widow in Cook, Wash., had five children, none of whom had winter coats.
Related Pages:
Trump Administration Should Reverse Disgraceful Tribal Housing Decision by Editorial Board, The Oregonian, 11/5/17
Tribal Housing Efforts Looming by Neita Cecil, The Dalles Chronicle, 10/24/17
Tribal Housing Replacement Funded by Jesse Burkhardt, The Dalles Chronicle, 2/24/17


---
Neita Cecil
Lone Pine Donation Drive Underway
The Dalles Chronicle, January 9, 2018
---
See what you can learn
learn more on topics covered in the film
see the video
read the script
learn the songs
discussion forum