the film
forum
library
tutorial
contact

Final 2015 Sea Lion Predation Report: 8,474 Salmonids
Taken Below Bonneville, Twice 10-Year Average

by Staff
Columbia Basin Bulletin, June 19, 2014
---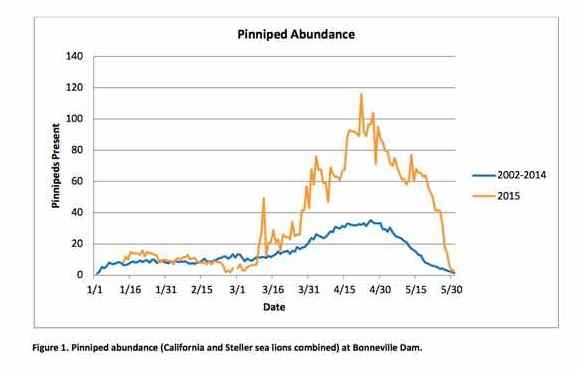 After a record year of devouring nearly 8,500 chinook salmon and steelhead in the Bonneville Dam tailrace, the Steller and California sea lion (pinnipeds) presence is on the decline, reaching a season daily average low May 29, the last day of daylight observations.
The U.S. Army Corps of Engineers, which has reported every two weeks since March 12 sea lion abundance and their predation on salmon and other fish species at the dam, completed its final report of the year, June 9: see the report.
The number of sea lions and the number of salmon they've eaten this year at Bonneville Dam rose to record levels, according to the status report. The daily averages in April rose to more than twice the ten year daily averages in the years 2002-2014.
There was an average of 12 pinnipeds per day in January and eight in February, and the sea lion presence per day rose from there to 22 in March, 78 in April and 56 in May.
The highest per day count was April 22 with 116 pinnipeds in the tailrace, a new record for Bonneville Dam. The former record was in 2010 with 71 pinnipeds. The single day record from 2010 was surpassed on 15 separate days in 2015.
To break that down by sea lion species, the first California sea lions arrived at the dam February 9 and the highest number was 70 on May 13, a new record for Bonneville. The former record of 52 was set in 2007. The single day record from 2007 was exceeded this year 12 times.
Some 190 California sea lions were branded -- 28 were branded in previous years and are returning sea lions. Another 31 were brands on sea lions not previously observed at Bonneville and 131 were trapped and branded at Bonneville this year.
The first Steller sea lions were observed January 13, with the highest daily number of 69 observed on April 22. That's a new Bonneville record. The previous daily record was 53 Steller sea lions in 2010. The single day record from 2010 was exceeded on five days this year.
The Corps documented 54 unique individual Steller sea lions. 33 were repeat sea lions and 21 were unidentified and may be new to the dam. Of the 33 repeat sea lions, 15 were branded.
With so many pinnipeds in the river, predation of adult spring chinook salmon and steelhead by the sea lions was also the highest on record. In total, pinnipeds ate 8,474 salmonids, January 1 through May 31, a number that far exceeds the 10-year average of 3,515 fish. The 8,474 salmonids is an increase over the May 22 report of 7,335 salmonids.
California sea lions consumed the most, eating 6,574 spring chinook and 47 steelhead. Steller sea lions consumed 1,720 chinook and 133 steelhead. Both are expanded numbers, which are estimates that take into account the times when sea lions were not being observed (weekends and nights).
Pinnipeds were also observed to take 23 white sturgeon (favored more by SSLs than CSLs), 107 Pacific lamprey, 38 American shad and 539 other or unknown species. The total observed take is 6,711 fish of all species (this is different from the expanded estimates, which are not available in the report for fish other than salmonids).
White sturgeon predation of 34 fish was low in 2015 compared with the 2006-2014 average of 1,285 sturgeon.
The Corps and other agencies and tribes had taken measures this year to reduce sea lion predation with sea lion exclusion devices installed at fishway entrances and some powerhouses, as well as boat-based harassment by the Columbia River Inter-Tribal Fish Commission that began March 6 and ended May 14. Dam-based harassment began on March 18 by the U.S. Department of Agriculture was conducted seven days a week and ended May 31.
Other management activities by the Oregon and Washington fish and wildlife departments through May 31 permanently removed 32 CSL, euthanized 30 and two were transferred to the Queens Zoo in New York.
A total of 131 CSL have been trapped, branded and released in 2015.
While efforts to manage sea lions in the dam's tailrace continue, the efforts have not been without mishap. Two California sea lions died accidentally in a trap when they were crushed by a much larger sea lion in the crowded trap during the week of April 27 and one Steller sea lion died when it was accidentally caught May 4 between two traps and drowned.
Observed fish catches by fish species and pinniped species at Bonneville Dam from January 13 to May 29, 2015.

| Prey | California Sea Lion | Stellar Sea Lion | Total |
| --- | --- | --- | --- |
| Chinook Salmon | 4676 | 1207 | 5883 |
| Steelhead | 31 | 90 | 121 |
| Pacific Lamprey | 94 | 13 | 107 |
| American Shad | 33 | 5 | 38 |
| White Sturgeon | 2 | 21 | 23 |
| Other Species | 13 | 9 | 22 |
| Unknown Species | 316 | 201 | 517 |
| Total | 5165 | 1546 | 6711 |
Related Pages:
As Spring Chinook Return Gathers Steam, Sea Lion Numbers In Bonneville Dam Tailrace Above Average by Staff, Columbia Basin Bulletin, 4/17/15
Trap Malfunction Results in Accidental Death of Two California Sea Lions At Bonneville Dam by Staff, Columbia Basin Bulletin, 5/8/15
Pinniped Monitoring At Bonneville Dam This Year Showing Record Numbers Of Sea Lions, Salmon Predation by Staff, Columbia Basin Bulletin, 5/15/15

---
Staff
Final 2015 Sea Lion Predation Report: 8,474 Salmonids Taken Below Bonneville, Twice 10-Year Average
Columbia Basin Bulletin, June 19, 2014
---
See what you can learn
learn more on topics covered in the film
see the video
read the script
learn the songs
discussion forum