the film
forum
library
tutorial
contact

Trap Malfunction Results in Accidental Death of
Two California Sea Lions at Bonneville Dam


by Staff
Columbia Basin Bulletin, May 8, 2015
---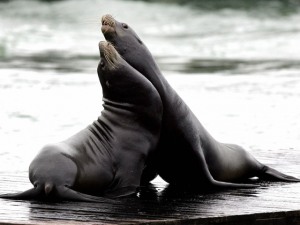 A trap malfunction resulted in the accidental death of two California sea lions at Bonneville Dam last week.
Sometime Tuesday evening or early Wednesday morning a malfunction caused a trap door to close on nine California and Steller sea lions hauled out in the open cage trap. When biologists discovered the malfunction Wednesday morning, they found two of the California sea lions dead.
A postmortem exam conducted by an ODFW veterinarian on the site indicated the animals had been crushed, presumably by a much larger Steller sea lion also in the trap.
Rick Hargrave, ODFW spokesperson, said such accidents do happen in wildlife management operations.
"This was an unfortunate accident. However, any time you handle wild animals there are risks that an animal can be accidentally hurt or killed," he said. He added that ODFW has successfully trapped and released thousands of sea lions in Astoria and at Bonneville Dam over the past decade and a half.
An incident report has been submitted to NOAA Fisheries and the states temporarily suspended trapping operations to allow for consultation with NOAA and the project's Institutional Animal Care and Use Committee. Since 2008, the states of Oregon and Washington have operated a California sea lion trapping and removal program at Bonneville Dam in order to protect threatened and endangered salmon and steelhead populations in the river. The program operates under authority granted by the Marine Mammal Protection Act.
Neither animal accidentally killed in the trap malfunction had yet been added to the list of California sea lions approved for lethal removal under the states' trapping and removal program.
A few days later, a Steller sea lion died when it became entangled between two traps at Bonneville Dam.
There were no witnesses to the incident, which occurred sometime Monday night. Biologists believe the animal hauled out between the two cage traps onto a narrow area where the wooden floors of each trap extended beyond the cages, coming together to create a makeshift platform. It appears that as the animal tried to back out of the narrow area, it became entangled in the tethering cables holding the traps together. Once entangled, it appears the sea lion flipped over to reach the water, but couldn't break free of the cables. A veterinarian on site determined the animal drowned and complete a necropsy on the animal will be performed.
"This is a very unfortunate incident, no one would have predicted this could have happen," said Rick Hargrave, ODFW spokesman. "Our focus now is to prevent this from happening again."
Trapping operations at Bonneville Dam were suspended while ODFW consulted with NOAA.
Related Pages:
Death of Sea Lions in Trap Determined to be Accidental by Pete Springer, Oregon Public Broadcasting, 2/6/9
Sea Lions' Death: Humans in the Clear by Lynda Mapes, Seattle Times, 2/6/9
No Evidence People Shut Trap on Dead Sea Lions by Staff, Seattle Times, 2/5/9
Oregon: Heat Killed Sea Lions by William Yardley, New York Times, 5/16/8
Another Presumption: Sea Lions Died of Overheating by Ted Moore, eNews 2.0, 5/15/8
Heat Killed Six Sea Lions at Bonneville Dam by Michael Milstein, The Oregonian, 5/14/8
Heat Killed 6 Sea Lions Trapped at Bonneville Dam by King5 Staff, NWCN, 5/14/8
Heat may have Killed 6 Caged Sea Lions by Associated Press, Seattle Post-Intelligencer, 5/14/8
U.S. Sea Lions Died of Overheating, Not Gunshots by Teresa Carson, Reuters, 5/14/8
Who Killed the Sea Lions? by Winston Ross, Newsweek, 5/10/8
6 Sea Lions Found Dead in Traps on Columbia by William McCall, Seattle Times, 5/5/8
Sea Lion Dies During Veterinary Exam by UPI, United Press Intl., 4/30/8

---
Staff
Trap Malfunction Results in Accidental Death of Two California Sea Lions at Bonneville Dam
Columbia Basin Bulletin, May 8, 2015
---
See what you can learn
learn more on topics covered in the film
see the video
read the script
learn the songs
discussion forum