---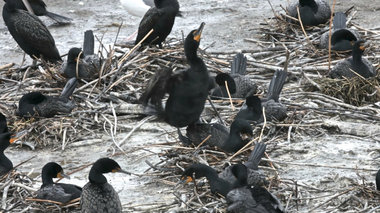 A new report from the region's independent science panel may be bad news for fish advocates who dream of wringing another 2- or 3-million salmon out of the Columbia Basin. That's what it would take to reach the 5-million fish goal in the Northwest Power and Conservation Council's F&W program, more than twice the number that returned in banner year 2014.
The Independent Science Advisory Board's report keys in on a phenomenon that NOAA Fisheries scientists have observed after years of trying to improve survival of ESA-listed wild salmon runs. In many cases, as fish numbers (abundance) have increased, actual productivity of some stocks (recruits per spawner) has decreased. The density dependence issue was discussed in last fall's annual BiOp implementation report by Action Agencies, and mentioned in a 2014 summary review of lower Snake hatcheries by the Independent Scientific Review Panel, which said there was "clear evidence" that density dependence has shown up in spring Chinook supplemented populations because limited habitat and competition for food was putting a damper on increasing numbers.
The issue of density dependence has also drawn recent criticism from plaintiffs in the ongoing litigation over federal hydro operations. In a recent declaration filed in the case, a Canadian biologist said the lower productivity from increasingly abundant returns might be caused by the failure of returning fish to utilize all available spawning and rearing habitat.
The ISAB report says old estimates of the carrying capacity of the Columbia Basin may have been too optimistic in the first place, and that Council estimates of the Basin's pre-development fish numbers may have been far too high. Instead of 7.5-million to 16-million salmonids returning annually to the basin in pre-development times, a more realistic range may have been between 5-million to 9-million fish, says the ISAB.
The Feb. 25 report also says the region may be smothered in smolts (both hatchery and wild) compared to the good old days, (except for summer Chinook and chum), and "The implication of these approximate comparisons is that current production from natural spawners and hatchery fish may be exceeding the current capacity of the Columbia Basin and estuary to support anadromous salmonids (ISAB 2011-1, Naiman et al. 2012). This hypothesis is especially relevant given the major alteration of the Columbia Basin ecosystem that has reduced the capacity and productivity of the Basin to support salmonid populations."
"Evidence for strong density dependence at current abundance suggests that habitat capacity has been greatly diminished," says the ISAB report. "Roughly one-third of the Basin is no longer accessible to anadromous salmon, and continuing changes to environmental conditions stemming from climate change, chemicals, and intensified land use appear to have further diminished the capacity of habitat that remains accessible."
The ISAB also noted density dependent effects in the "relatively pristine habitats" where wild spring/summer Chinook hatch and rear, principally in Idaho streams. "This finding initially surprised investigators because the density of fish was low during the study period compared with historical estimates and the stream habitats were largely intact," says the report, which cited research that suggested "the need for additional salmon carcasses in pristine areas to rebuild the food web. Experimental investigations to identify the mechanisms of strong density dependence in the relatively pristine habitats are needed."
The report said they found effects of strong density dependent effects in 25 of 27 different spring/summer Chinook populations--"as shown by a steep decline in productivity (adult returns per spawner) at moderate spawning abundances."
The report also saw evidence of density dependent effects in Snake River fall Chinook. It said five of the more recent years in the 1991-2009 time series had spawning escapements (natural origin plus hatchery origin) of more than 10,000 spawners, but "natural production was less than replacement for four of the five brood years."
The report says hatchery releases, which make up a large part of current salmon abundance, may be creating total smolt densities that are higher than any time in the past. Supplementation efforts which use hatchery fish to boost wild populations, may be creating "unintended density effects" and fail to increase natural origin returns, while increasing total spawning abundance.
The ISAB's latest report included a list of recommendations for both anadromous and non-anadromous fish recovery efforts.
For both anadromous and non-anadromous fish

Account for density effects when planning and evaluating habitat restoration actions.
Establish biological spawning escapement objectives that account for density dependence.
Balance hatchery supplementation with the Basin's capacity to support existing natural populations by considering density effects on the abundance and productivity of natural origin salmon.
Improve capabilities to evaluate density dependent growth, dispersal, and survival by addressing primary data gaps.

For non-anadromous salmonids:

Recognize that carrying capacity for non-anadromous salmonids can be increased by restoring in-stream structure and riparian vegetation.
Recognize that carrying capacity for non-anadromous salmonids can be reduced through competitive interactions with stocked hatchery trout or invasive non-native trout.
Consider the probable effects of density on survival, emigration, growth, and size/age at maturity when developing angling regulations to achieve conservation and recreational goals.

Sturgeon

Consider habitat capacity and the probable effects of density on growth and survival when developing stocking programs to conserve white sturgeon.

Lamprey

Initiate studies to gather information about current densities of Pacific lamprey in the Basin and to learn about density dependent processes that might thwart efforts to promote their recovery.
Consider lessons learned about supplementation and density dependence in anadromous salmonids when planning future actions to propagate and translocate (i.e., supplement) lamprey within the Basin.
Related Pages
Independent Science Board: 'Density Dependence,' Diminished Habitat Constraining Salmon Recovery by Staff, Columbia Basin Bulletin, 2/27/15
The Density Dilemma: Limitations on Juvenile Production in Threatened Salmon Populations by Walters, Copeland, Venditti, Ecology of Freshwater Fish, 2/25/13
(ISAB 2015-1)Density Dependence and its Implications for Fish Management and Restoration in the Columbia River Basin by Independent Scientific Advisory Board, Erik Merril 2/25/15
---
Bill Rudolph
Fish Recovery Efforts May Be Limited by Habitat Constraints
NW Fishletter, March 6, 2015
---
See what you can learn
learn more on topics covered in the film
see the video
read the script
learn the songs
discussion forum