the film
forum
library
tutorial
contact

Federal Law Enforcement Officials Investigating
Sea Lion Killings Near Columbia River's Mouth

by Staff
Columbia Basin Bulletin, June 8, 2012
---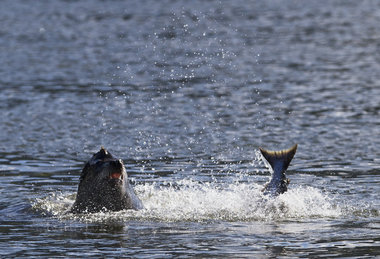 Federal law enforcement officials are leading an investigation into what has been an unusually high number of apparent killings of sea lions this spring along the north Oregon and south Washington coasts.
Newspaper reports quote representatives of the Northern Oregon-Southern Washington Marine Mammal Stranding Network as saying that 20 animals - four times the normal total - have been reported, most appearing to have died from gunshot wounds.
The reports have said that the dead marine mammals included both Steller and California sea lions, most were found within a few miles on either side of the Columbia River.
Stellers are listed as threatened under the Endangered Species Act. Both species are protected under the Marine Mammal Protection Act.
Special agent Sean Stanley of NOAA's Office of Law Enforcement wouldn't give details about the number of animals killed, or whereabouts of the killings. But the events have drawn an investigation that will span both states.
"There has been an unusual amount of sea lions in a compressed amount of time," Stanley said.
Stanley noted that a conviction in the killing of an ESA listed animal could draw up to a year of jail time and up to a $50,000 fine. The MMPA penalties could be up to one year and a $10,000 fine.
Anyone with information about the sea lion deaths is encouraged to call the investigation hotline, 1-800-853-1964.
Clashes between sport and commercial fishers and sea lions have long existed. But Stanley is not ready to point a finger in that or any other direction
"I wouldn't want to speculate on the motivation," he said.
Stanley did say in the past that arrests have been made, and convictions won, in past sea lion killings.
"There have been a few of note" in recent years, he said.
Related Pages:
ecologic / predation / sea lions
---
Staff
Federal Law Enforcement Officials Investigating Sea Lion Killings Near Columbia River's Mouth
Columbia Basin Bulletin, June 8, 2012
---
See what you can learn
learn more on topics covered in the film
see the video
read the script
learn the songs
discussion forum