---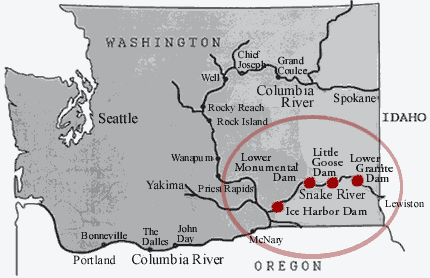 As a faithful reader of Don Brunell's column in The Columbian's Business section, I was surprised that he used 1,070 sockeye and 27,000 fall chinook as an indicator of recovery in his May 8 column, "Removing 4 lower Snake River dams just a bad idea." Brunell writes from an economic-business perspective, as he should. However, The Columbian needs broader perspective.
When the Columbia and Snake river dams went in, no one knew the impact on fish. Now we know.
Efforts to recover salmon runs have been unsuccessful. Lewis and Clark journals describe an unlimited abundance of salmon. Our efforts have only kept the last salmon from dying, we haven't restored salmon to what is possible.
We have destroyed the abundance by overfishing, killing native fish with gill nets, and destroying habitat.
The Kenai River in Alaska has an abundance of salmon. Fishermen from all over the world travel to Alaska for their fishing. The Kenai has no dams and no gill nets. Alaskans are taking care of their river.
We need to take care of our Columbia River. The Corps of Engineers built locks for barges and fish ladders to move the adult salmon upriver. Originally, nothing was provided for smolt to move downriver. We didn't protest because we didn't know what would happen. Now we know.
Related Pages:
Judge Finally Comes Clean on Dam Breaching Walla Walla Union Bulletin, 4/30/12
---
Posted by Greg Zilker, May 26
The Columbia River is the ONLY River in the United States that allows commercial gillnets. The Columbia River also happens to be the river of concern for the endangered salmon. A coincidence?

Posted by Jon Alldritt, Vancouver, Washington, May 27
The things that never get mentioned much in respect to Salmon runs and life cycles are the changes in runs due to natural ocean current temps. Increase of predatory fish numbers due to lower flow rates in the river with the peeks taken out of highs and lows. Bird islands at the lower end of the Columbia created by dredging spoils.

Seals are a problem with a large part of their diet of eating the mainly the egg sack out of the fish and not the rest of it requiring higher kill numbers. They are mentioned but not the whole story. Over fishing is a problem but never dealt with. The dams and flows are a problem dealt with only partly and one that will never be dealt with completely because of the economics of energy and transportation.

It is a complex problem with to many interest groups thinking of only them self.

More comments at original site.
---
Jon C. Anderson, Vancouver
Salmon 'Recovery' Isn't Working
The Columbian, May 26, 2012
---
See what you can learn
learn more on topics covered in the film
see the video
read the script
learn the songs
discussion forum