the film
forum
library
tutorial
contact

Gregoire Endorses People's Choice
for State Quarter Design

by Chris McGann, Capitol Correspondent
Seattle Post-Intelligencer, May 5, 2006
---
OLYMPIA -- Global warming, habitat degradation and overfishing are all putting the hurt on Northwest salmon, but Washington took a step Thursday toward making sure that at least one chinook would still be jumping for decades to come.
Gov. Christine Gregoire unveiled the design for Washington's commemorative quarter Thursday, a king salmon rising against the backdrop of Mount Rainier.
"Washington has a vested interest in the quarter -- all quarters already have one side that honors Washington with a profile of our first president," Gregoire said. "With the minting of our design, these quarters will be 100 percent Washington."
The Washington State Quarter Advisory Commission recommended the design after it won 45 percent approval in an online public vote.
The beleaguered salmon have become a central representation of Northwest culture, which has also nourished the people of this area for thousands of years.
Likewise, the commission, led by Gregoire's husband, Mike, chose a design that incorporated Mount Rainier because it is iconic of Washington and acts as a symbolic bridge between the eastern and western parts of the state.
Chinese President Hu Jintao named it the natural symbol he recognized most on a recent visit, Gregoire said, and a Starbucks she visited during a trip to Japan featured a drink named after the imposing, snowcapped volcanic peak.
Apple industry leaders, however, were not as excited. Their favorite design also featured a salmon, Mount Rainier and the motto, but added a cluster of apples.
That choice earned a close second in the opinion poll, and the country's leading apple growers held out a little hope that Gregoire would go against the tide with her selection.
"We're crying and drowning our sorrows right now, but I guess we'll probably survive," said Dave Carlson, president of the state Apple Commission.
The new quarter still awaits a largely routine approval from the U.S. Mint before it is created. The coins are expected to be in circulation in 2007, the 42nd in a series commemorating the states. The selection process was marred by mischief earlier this year when some online voters used robotic computer programs to cast repeated votes, swelling the tally past 1 million over a single weekend.
Authorities threw out that version of the poll and started anew, eventually collecting more than 134,000 votes.
The leaping-salmon design won the second round of voting with 45 percent of the tally, whereas about 40 percent favored the images of apples, Mount Rainier and a salmon within an outline of the state. The third choice was an Indian-style drawing of a killer whale.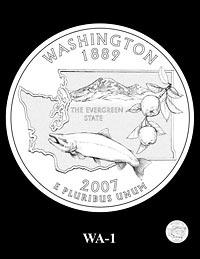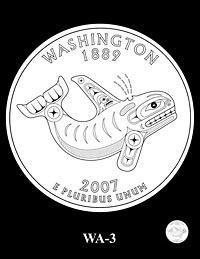 Related Pages:
WA Quarter Poll Resumes after Computer Mischief by Curt Woodward, Seattle Post-Intelligencer, 4/11/6
Finalists Selected for State Quarter Design by Susan Gilmore, Seattle Times, 1/19/6
Wildlife, Apples, Mountains: Finalists for WA Quarter by Curt Woodward, Seattle Post-Intelligencer, 1/19/6
It's the Final Stretch for Idaho's Quarter Design by Tim Woodward, Idaho Statesman, 9/27/5
Governor: Here's what shouldn't be on our quarter by Tim Woodward, Idaho Statesman, 8/4/5

Related Sites:
State quarter: www.governor.wa.gov/quarter
U.S. Mint: www.usmint.gov

---
Chris McGann, Capitol Correspondent
This report includes information from The Associated Press
Gregoire Endorses People's Choice for State Quarter Design
Seattle Post-Intelligencer, May 5, 2006
---
See what you can learn
learn more on topics covered in the film
see the video
read the script
learn the songs
discussion forum