---
The issue of breaching the four Snake River dams has been studied and studied.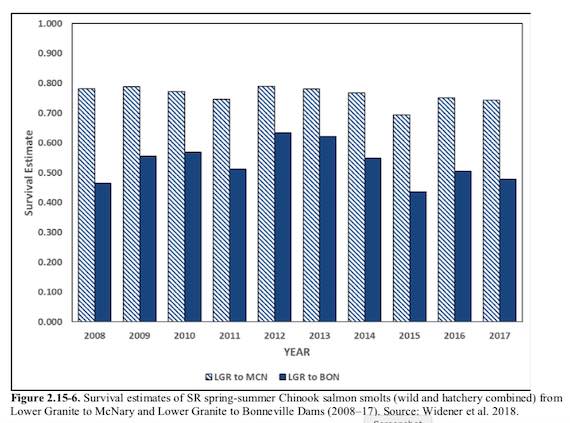 The Washington state Legislature is wasting $750,000 of our tax dollars on weighing the impacts of a breaching of four Lower Snake River dams to aid in salmon recovery.
This issue has been studied and studied. Yet, those who believe that breaching the dams is a panacea for salmon survival -- and as an extension for orcas -- apparently don't like the conclusion of previous studies so they now want to take a different approach.
The legislation approved by the Democrat-controlled House and Senate calls for a "neutral third party" to develop a process for local, state, tribal, federal and other stakeholders to weigh in on the issues in a discussion or forum related to breaching the four federal dams, The Seattle Times reported. This "statewide dialogue" was a recommendation of the task force established by Inslee as a way to recover the dwindling southern resident orcas that frequent Puget Sound. Chinook salmon are prime food for killer whales, which are listed under the federal Endangered Species Act.
Eastern Washington's two representatives in Congress, Rep. Cathy McMorris Rodgers, R-Spokane, and Rep. Dan Newhouse, R-Sunnyside, also see this $750,000 exercise as pointless.
"The governor does not have the authority to breach our federal dams on the Lower Snake River, and allocating state taxpayers' funds to consider breaching them would be wasteful," McMorris Rodgers and Newhouse said in a joint statement. "Congress has the sole authority."
In 2010 the Obama administration demanded a study and the U.S. Army Corps of Engineers followed the orders. The conclusion was similar to a study done in 2001.
(bluefish adds the excerpts below from the reports Executive Summary, page 25)
It seems clear breaching the dams would -- as the 2001 study said -- increase the chances of salmon restoration only slightly, if at all, while significantly hurting the Pacific Northwest's economy. Taking down the dams would change the flow of the river, putting some areas under water. It would force a significant change to irrigation systems, likely putting an end to many agricultural operations.
In addition, crops and other goods could no longer be barged down the river, forcing the products to be hauled by trucks on the roadways. Boosting the truck traffic would be environmentally irresponsible.
The loss of hydropower would also be a blow to the environment as well as the economy. The water that flows through the turbines at the dams creates electricity that can't be produced as cleanly or cheaply any other way.
While this study was done nearly two decades ago, it still holds true today.
Dam breaching isn't the answer.
But that doesn't change the fact that boosting salmon survival is critical to a healthy environment. It would have been far more productive to spend the $750,000 on that effort rather than waste it on an unnecessary a study or a discussion by stakeholders.
---
FINAL -- Lower Snake River Juvenile Salmon Migration Feasibility Report/Environmental Impact Statement
Executive Summary page 25

Both CRI and PATH analyses relied on many assumptions for their predictions. Lack of specific values for many components in both lifecycle analyses generated outcomes with a high degree of uncertainty. Overall, PATH results indicate that the chance of meeting NMFS survival and recovery criteria for the four listed species under Alternative 1 (Doing noting!) would likely be the same or slightly better than Alternatives 2 and 3. Alternative 4 (Dam Breaching) provides the highest probability of meeting the survival and recovery criteria under the PATH analysis. Both the CRI and PATH analyses indicate that further improvements in the hydrosystem passage system are unlikely to recover listed Snake River stocks unless there is an improvement in juvenile fish survival downstream of Bonneville Dam, either through such factors as improved fish conditions or improved timing of entry into the ocean. However, PATH does not address whether it is necessary to breach the dams. NMFS 2000 Biological Opinion on Federal Columbia River Power System operations indicated the need for improvements in all areas of impact: harvest, hatcheries, habitat, and hydrosystem. The Biological Opinion states:

"Although breaching is not essential to implementation of the initial actions called for in the Reasonable and Prudent Alternative (RPA) which constitute a non-breach approach, the RPA requires that the Action Agencies prepare for the possibility that breaching or other hydropower actions could become necessary."
Related Pages:
Governor Inslee's Orca Task Force posed these Reasonable Questions at Hydropower Breakout Sessions Swinomish Tribal Lands, Washington, August 2018
Another Dam Story: A Reservoir in Four Parts Compiled by bluefish, Swinomish Tribal Lands, Washington, August 28, 2018

---
Editorial Board The board is composed of Brian Hunt, Rick Eskil, James Blethen and Alasdair Stewart
Dam Removal Forum is a Waste of State Tax Dollars
Walla Walla Union-Bulletin, May 3, 2019
---
See what you can learn
learn more on topics covered in the film
see the video
read the script
learn the songs
discussion forum