---
The pace of solar development has slowed to a crawl, with a number of companies going out of business and major projects canceled.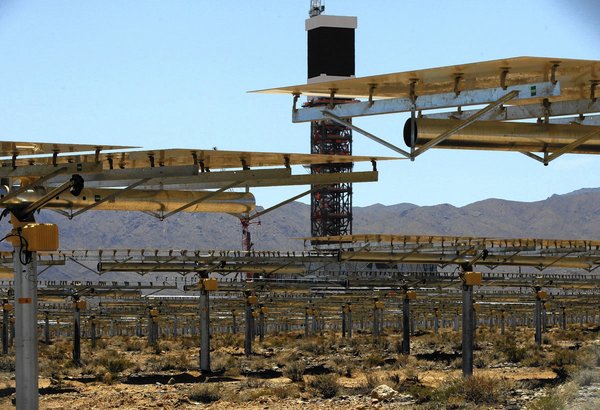 Five years after the Obama administration's renewable energy initiative touched off a building boom of large-scale solar power plants across the desert Southwest, the pace of development has slowed to a crawl, with a number of companies going out of business and major projects canceled for lack of financing.
Of the 365 federal solar applications since 2009, just 20 plants are on track to be built. Only three large-scale solar facilities have gone online, two in California and one in Nevada. The first auction of public land for solar developers, an event once highly anticipated by federal planners, failed to draw a single bid last fall.
Several factors are responsible, industry analysts say. The tight economy has made financing difficult to obtain, and the federal government has not said whether it will continue to offer tax credits of the size that brought a rush of interest in large-scale solar five years ago.
"I would say we are in an assessment period," said Amit Ronen, director of the George Washington University Solar Institute. "Nobody's going to break ground on any big new solar projects right now -- utilities want to see how farms coming online this year fit into the grid, and developers are waiting for more certainty about state policies and federal tax credits."
Another, somewhat unexpected issue is the difficulty solar developers are having negotiating agreements to sell their power to large utilities. The agreements reached to date guarantee solar providers higher rates than utilities pay for power from traditional energy sources.
Utilities had been willing to pay more because many states, including California, require them to derive a significant percentage of their power from renewable energy sources. But now utilities in many states are on track to meet those requirements, giving them less incentive to buy higher-priced solar energy --especially as a steep decline in natural gas prices has cut the cost of power from gas-fired generators.
In California, utilities are saying they have enough projects under contract to meet the state's 33% standard for power from renewable sources, said Jerry R. Bloom, chairman of the energy practice at Winstong and Strawn, an L.A.-based firm that arranges financing for large renewable energy projects.
"Until you know that you are going to build the plant and be able to sell the power, no one is going to get money to build," Bloom said. "No bank would fund it."
The slowdown is sobering for a high-flying industry that a few years ago attracted investments from Goldman Sachs, Google and energy giants BP and Shell. Generous federal and state incentives and federally guaranteed loans provided investor returns of 15% to 20%, said Ed Sappin, chief executive of New York-based Sappin Global Strategies, which advises renewable energy developers.
But those days are gone. "It's not as attractive to private equity players now," he said.
Sappin called the investment tax credit the cornerstone of modern solar development, one of a list of government subsidies long available to the fossil fuel industry.
That credit is scheduled to drop from 30% to 10% at the end of 2016. Congress could elect to extend the larger tax break, but with continued uncertainty, new solar projects are unlikely in the near future, Sappin said.
"If I'm a developer looking at new projects, the latest I would consider entering any new utility projects would be at the end of this year," he said.
Some power from the three new operating plants has hit the grid, but as of 2012, solar's contribution to the total national power supply was less than one-half of 1%.
The scrutiny of big solar has been unrelenting, with every hiccup parsed for insight into solar market trends. In California the industry has weathered projects that have been put on hold (Blythe Solar), withdrawn (Rio Mesa), suspended (Hidden Hills) or failed outright (Carrizo, Calico, Beacon Solar and Imperial Valley Solar).
Some moribund projects have been the victim of the delays and cumbersome requirements involved with siting massive power plants on public lands and dealing with environmental and cultural sensitivities.
Even so, solar backers see progress. "Considering that we did almost nothing in the way of large-scale solar for almost 20 years, this represents a substantial step forward," said V. John White, executive director of the Sacramento-based Center for Energy Efficiency and Renewable Technologies. White is optimistic that projects that have signed power purchase agreements will be built.
The Obama administration has placed great emphasis on renewable energy, making nearly 20 million acres of federal land in the West available to developers. The initiative was rolled out in a series of sweeping pronouncements, with government and industry leaders envisioning the use of public lands as a springboard for renewables.
But that scenario has not played out. The gavel rose on the first solar auction of federal land last October: 3,700 acres in Colorado's San Luis Valley. There were no takers.
"To be blunt, I was a little surprised we didn't have some bids," Colorado Gov. John Hickenlooper said in a recent interview.
The slowdown has taken officials by surprise. Ray Brady, who oversees the renewables program for the federal Bureau of Land Management, called the build-out of utility-scale plants "a little bit slower than we have hoped for or anticipated."
U.S. Interior Secretary Sally Jewell has pledged to continue working toward the goal of 20,000 megawatts of renewable energy production on public lands by 2020. By way of comparison, the three projects nearing completion are among the largest in the world and would, together, produce 870 megawatts.
In contrast to large-scale projects, mid-sized and rooftop solar power is burgeoning and eventually could curtail demand for major solar plants, analysts say. With businesses and homeowners increasingly generating solar power on their premises, the so-called distributed generation model could usurp the need for larger players.
"It's pretty simple," said Bloom of Winstong and Strawn. "If they aren't getting power purchase agreements from utilities to build utility-scale solar, you are going to shift to distributed generation. It's going to be the next wave."
Related Pages:
Energy Northwest Tests Wind Power Storage System by Shannon Dininny, Business Week, July 1, 2013
---
Julie Cart
After a Building Boom, Solar Energy's Prospects Now Aren't as Sunny
Los Angeles Times, January 7, 2014
---
See what you can learn
learn more on topics covered in the film
see the video
read the script
learn the songs
discussion forum