---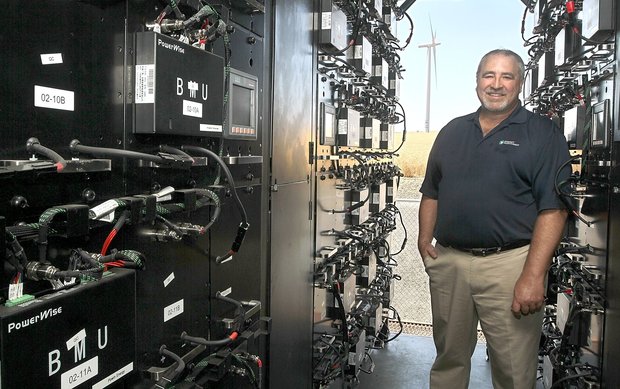 YAKIMA, Wash. -- Researchers in the Pacific Northwest are testing and evaluating a new power storage system that could help store excess electricity generated by the region's many wind farms.
The system announced Monday at south-central Washington's Nine Canyon Wind Project includes lithium-ion batteries that can store 500 kilowatt-hours of power -- enough energy to meet the demand of about a dozen homes for at least half a day.
That's a relatively small amount of power compared with the large amount of electricity produced by the region's growing number of wind turbines. But supporters say it's a first step toward being able to store renewable energy that is produced when demand is low -- say, at night, when most people are sleeping -- to be used where it's most needed during the daytime.
"Everyone agrees that energy storage is a potentially valuable thing to have available -- cost-effective, efficient energy storage. What we don't know, as an industry, is just how valuable it is," said John Steigers, project developer for Energy Northwest, the public-power consortium that operates the wind farm and is a partner in the pilot project.
The electric industry has found it very difficult to make electric storage pencil out financially, he said, largely because utilities don't need it all the time and only use it for limited amounts of time.
"The rest of the time it's an expensive asset earning very little for you," he said.
The current project is small and will probably capture just a small portion of the power from one turbine in about 15 minutes, Steigers said.
But it's unique, he said, because these smaller, mobile systems could be placed directly on site at power projects, such as a wind farm or collection of solar panels, or at businesses and still could be remotely coordinated as one unit if necessary.
State requirements for utilities to boost the amount of electricity they produce from renewable energy sources, along with federal incentives, nurtured the region's growing wind power industry.
Hydropower dams generate more than half of the electricity in the Pacific Northwest. Production is at its highest when rivers are awash with snowmelt and heavy rains each spring, which is also when wind power is strong.
In the past, the oversupply of power has prompted the Bonneville Power Administration, a federal agency that both markets hydropower and controls a large share of the region's transmission lines, to order wind farms to shut down operations.
The goal of the project is to develop a system to store that energy effectively, store enough of it to be able to feed it back to the electric grid when it's most needed, and to do it "over and over and over," said John Mangan, spokesman for Powin Corp. of Tualatin, Ore., whose Powin Energy subsidiary developed the system.
"The battery pack is robust enough that it's not going to wear out or be a one-time deal, and it stores quite a bit of power," he said.
The company has invested hundreds of thousands of dollars, he said, but hopes to recoup that investment once the system is proven to be effective, efficient and commercially viable.
BPA already tested the system, and the Pacific Northwest National Laboratory will conduct additional tests going foward. Under the pilot project, Energy Northwest will operate the system at its Nine Canyon Wind Project near Kennewick through the fall, when it will move to a city of Richland substation.
---
Shannon Dininny, Associated Press
Energy Northwest Tests Wind Power Storage System
Business Week, July 1, 2013
---
See what you can learn
learn more on topics covered in the film
see the video
read the script
learn the songs
discussion forum