---
But bass fishermen are not happy.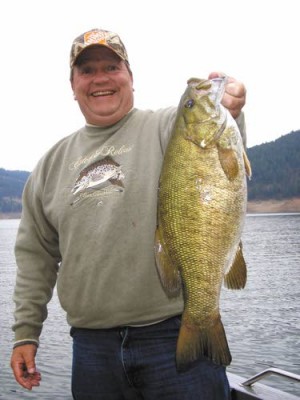 The state of Washington has proposed to remove daily catch limits for channel catfish, bass and walleye in some sections of the Columbia and Snake rivers, to reduce predation on ESA-listed juvenile salmon and steelhead. The proposal would also remove size limits for bass and walleye. Another option would also remove existing daily limits for those fish, but restrict anglers to three bass larger than 15 inches long, and one walleye longer than 24 inches long.
An additional proposal would increase catch limits for walleye on Lake Roosevelt and the Spokane Arm of the lake, where there is an overabundance of the species, according to WDFW. The proposed change would allow other fish species to boost numbers.
A potential rule change would also affect white sturgeon in Washington's waters. Possible options include changes in areas and/or seasons; allowing only catch and release fishing; modifying size limits; reducing the annual limit; and restricting terminal gear.
In September, 2008, a BPA-sponsored workshop brought together researchers involved in the issue. They reported that smaller smallmouth bass were most predaceous and grew large enough to eat salmon by age 2. It's thought that older bass concentrate on other prey than salmon. The bass also tended to focus on the smaller naturally produced fall Chinook instead of the larger hatchery-produced yearlings.
Studies from the 1980s that looked at predation in the Snake River, noted that 60 percent of species in the Snake were non-native, and biologists were amazed to discover that channel catfish were the "surprising predators" in the early study of Lower Granite Reservoir.
Other studies from the 1990s showed that up to 7 percent of the naturally produced subyearling fall Chinook were consumed by smallmouth bass in Lower Granite Reservoir in low-flow years, but predation was considerably less when flows were higher. Smallmouth bass and pikeminnow were found to be "sight feeders," and that increased turbidity from higher flows would likely reduce their success.
The 2008 BiOp called for studying the issue and in 2010 the Northwest Power and Conservation Council approved funding for a study of predation on salmon smolts by smallmouth bass at several federal dams on the Columbia River. The report will also look into the role of shad in the food chain of reservoir-dwelling fishes. Shad, probably the most famous non-native fish in the Northwest, return to the Columbia by the millions, yet scientists have never understood just how they fit into the river's ecosystem. Smallmouth bass are also an introduced species, but classed as a game fish by WDFW. The study, led by researchers from the U.S. Geological Survey is still in progress, but it was reported that researchers will present their findings to date later this spring.
Meanwhile, WDFW has collected hundreds of comments both for and against the new proposals. Even NMFS' Science Center in Seattle weighed in. "We commend WDFW for opening this discussion and considering how altered fishing regulations may benefit threatened and endangered salmonids. Recent peer-reviewed science in the Columbia River Basin indicates the potential for significant impacts, both direct and indirect, of these non-native predators on ESA listed salmonids. In light of such results, reducing the number of reproductive adults (Option 1) has great potential to reduce predator population sizes and reduce the risk to ESA-listed salmon and steelhead. In either case (Option 1 or Option 2), taking an 'adaptive' approach that includes monitoring how fish populations and anglers respond to regulation changes is appropriate."
But bass fishermen are not happy. As one disgruntled sportie put it, "As it is currently written, I believe this proposed rule change contradicts the WDFW's definition of conservation. I also believe it may put recreational warm water fishermen at odds with cold water fishermen. Many bass fishermen have a long tradition of catch and release. I catch and release about 200 smallmouth bass a year. This proposed regulation is an assault on a vibrant fishery. I acknowledge that there are huge challenges facing the restoration of anadromous fish runs, foremost, dams, forest and agricultural practices, water withdrawals and overharvesting. If the WDFW has compelling scientific justification to support this regulation change, it is my opinion that they have done a poor job in educating the public on the reason behind this decision."
Related Pages:
Columbia River Ranks as a Top Bass Fisheries by Eric Barker, Lewiston Tribune, 4/30/12
Columbia River, Dworshak Reservoir Included in List of Nation's Top Bass Fishing Spots by Staff, Columbia Basin Bulletin, 5/4/12
Columbia River Ranks as a Top Bass Fisheries by Eric Barker, Lewiston Tribune, 4/30/12

---
Bill Rudolph
Washington May End Bass, Walleye, Catfish Catch Limits to Save Salmon
NW Fishletter, February 12, 2013
---
See what you can learn
learn more on topics covered in the film
see the video
read the script
learn the songs
discussion forum