---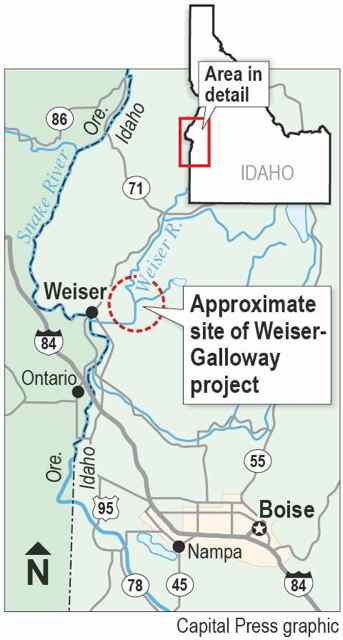 WEISER, Idaho -- State lawmakers will be asked next year to provide additional money to continue studies of a proposed new dam in south-western Idaho that would hold 900,000 acre-feet of water.
"It's definitely something that will be talked about in the legislature (next) year," said Twin falls Canal Co. General Manager Brian Olmstead.
If build, water from the dam could be used to meet flow augmentation requirements for fish recovery and free up water in the upper Snake River system, which supplies water for tens of thousands of farmers.
"It . . . could solve some of those shortages we already have on the upper Snake," Olmstead said.
The proposed dam, officially known as the Weiser-Galloway Project, would be built on the Weiser River near its confluence with the Snake River, about 13 miles from the city of Weiser.
Water storage possibilities at the site have been studied since 1954.
The idea was revived when the 2008 Idaho Legislature directed the Idaho Water Resources Board to investigate storage projects statewide, including the Weiser-Galloway Project.
The water board in 2011 authorized $2 million to conduct core drilling samples to determine the safety of geologic structures at the proposed dam and to study how the project would interact with the Snake River system.
Environmental studies and an analysis of land acquisition requirements still need to be completed and that will take more money, said IWRB Planning Bureau Chief Brian Patton.
"We will ask the legislature next year for that money . . . so those studies can go forward," he said.
The dam would provide water for local irrigation districts, power generation and recreation but farmers and people involved with water delivery are most excited about its potential to satisfy Idaho's flow augmentation requirements for fish recovery.
The Boise, Payette and upper Snake rivers are required to release 40,000, 160,000, and 200,000 acre-feet of water respectively to meet fish flow requirements. Water from the Galloway dam could be used to meet those requirements instead, freeing up a lot more water in those other systems, said Idaho Water Users Association Executive Director Norm Semanko.
"It could certainly be a big deal if it allows for flexibility of the use of storage water further up the system," he said.
Related Pages:
Potential Seen for (Weiser-Galloway) Reservoir by John O'Connell, Capital Press, 6/21/13
---
Sean Ellis
Proposed Dam Would Aid Upper-Snake Irrigators
Capital Press, November 8, 2013
---
See what you can learn
learn more on topics covered in the film
see the video
read the script
learn the songs
discussion forum