---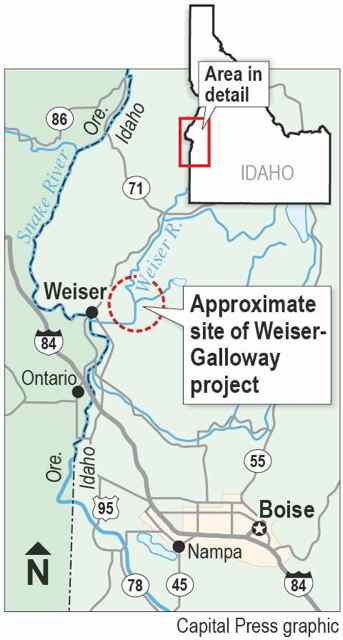 Preliminary analysis of core samples drilled to determine the feasibility of a proposed Weiser River reservoir shows the site has a solid basalt foundation, but stabilizing weaker rock higher up could increase costs of constructing abutments.
Cynthia Bridge Clark, Idaho Department of Water Resources staff engineer, said material that would comprise abutments of the Weiser-Galloway Dam doesn't maintain strength when wet and would have to be coated with a layer of grout.
"The general consensus is the core shows there is a reasonable foundation," Clark said of the $1.3 million geologic investigation, involving six cores totaling 1,537 feet. "There are some materials you would need to accommodate for in construction and design, but you could construct a dam at that site."
It would be a rock-fill embankment structure of up to 300 feet high, inundating 6,918 acres located 13.5 miles east of Weiser, upstream from the Snake River confluence. Clark said design changes may reduce the planned 900,000-acre-foot storage capacity.
The cost of the project is now estimated at roughly $500 million. IDWR plans to update its cost estimate in September, when it releases a final report on the core samples and preliminary project designs.
Clark said the geologic investigation was encouraging enough to go ahead with the next phase of the project -- a $700,000 operations analysis and modeling study to predict how a Weiser dam could affect existing operations.
The operations analysis is now underway, and the results, scheduled for release next spring, will help IDWR determine if further studies are warranted.
The dam would have direct storage benefits and aid in flood control, but planners see the greatest opportunity in its potential to provide an alternate source for the 427,000 acre feet of Snake River flows the state and Bureau of Reclamation are obligated to provide for Columbia Basin salmon recovery. Clark said water in the main Snake would be freed for irrigation, aquifer recharge or to switch irrigators from ground water to surface water to stabilize aquifer volumes. Idaho Power, which could see reduced flows to its power turbines if salmon flows originate lower in the system, is participating in the operations analysis.
The project, first studied in the 1980s, is the furthest along of a group of possibilities under review to increase Idaho's storage capacity, though Clark said it may still be a couple of decades from fruition. The intent is for the Weiser-Galloway project to be state or privately owned.
In the Snake River's Henry's Fork, the Bureau of Reclamation is conducting a separate analysis to identify potential locations of storage projects, including on-stream and off-stream reservoirs. Among the most affordable Henry's Fork options is raising the Island Park Dam to create 20,000 acre feet of additional storage, Clark said. She said Henry's Fork projects will be ranked and prioritized in December.
Alan Hansten, manager of Northside Canal Co., supports studying new storage but has concerns that filling new reservoirs in dry years could come at the expense of existing water rights. He believes new technology, such as his company's recently completed automated system to reduce incidental spillage, holds the most immediate promise for water conservation.
---
John O'Connell
Potential Seen for Reservoir
Capital Press, June 21, 2013
---
See what you can learn
learn more on topics covered in the film
see the video
read the script
learn the songs
discussion forum