---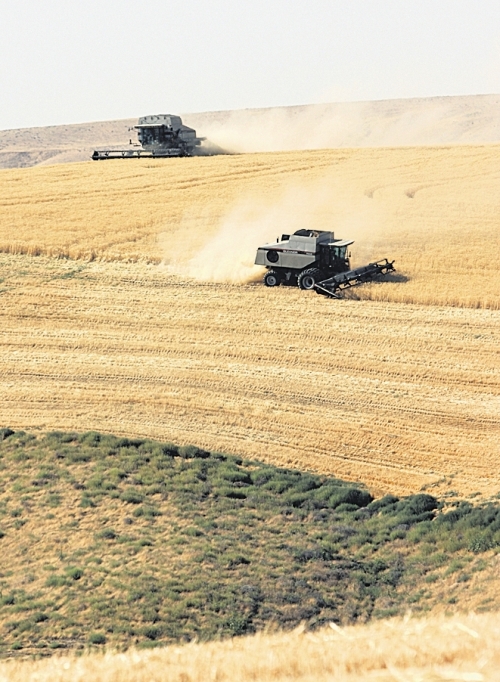 Phillip Gross knew he had a pretty good yield this year.
But he wasn't expecting to win the National Association of Wheat Growers yield contest.
"I definitely thought there would be some other growers knocking on the door of 200 bushels," Gross said.
Gross topped the award with 192.85 bushels per acre for irrigated wheat, 216 percent above the county average, according to NAWG.
Gross planted WestBred Keldin, a hard red winter wheat variety he's raised for several years. Gross said that's an unusual yield size. He credited a significant boost provided by cooler flowering weather than normal.
"This is the biggest yield we've had on record," he said.
One entire field averaged 192 bushels. Gross suspects some parts of that field had even higher yields, but didn't have it staked out or tested for yields.
Gross farms with the Warden Hutterian Brethren Farms near Warden, Wash. The community raises about 9,000 acres of irrigated wheat and 2,000 acres of dryland wheat.
"A lot of our yields are dependent upon water availability," he said.
When the weather is warm, wheat takes a backseat to such as potatoes, peas or corn, Gross said.
"Wheat is a lot more flexible in that way-- it allows you to use water elsewhere, and when you have some available later on, move it back again," he said.
The majority of the farm's acres are irrigated by the Odessa Subarea aquifer, which is declining. The farm is currently to install a pumping station south of its home base to replace aquifer water with water from the Columbia River.
"It definitely needs to happen," Gross said. "It's unsustainable, pulling the amount of water from the aquifer and expecting it to be there year after year."
With river water, Gross expects to be able to draw bigger yields with better water that's not so high in sodium,
Falling number affected some of the soft white wheat varieties the community grew, falling down to roughly 230 in the falling number test. Farmers are docked at elevators for wheat below 300. Some hard red winter wheat escaped unscathed, Gross said.
Stripe rust also affected some "gold standard" varieties that never had the problem before, Gross said.
"So the rust strains are mutating," he said.
The price received varied throughout the farm, Gross said.
"This is another reason we've got to push our yields, to get above the break-even point," he said.
NAWG will hold the yield contest again in 2017, the organization announced. Registration for fall wheat ends May 1 and spring wheat ends Aug. 1.
U.S. wheat yields averaged 52.6 bushels per acre, according to the USDA.
According to NAWG, the 14 national winners -- in winter wheat dryland and irrigated and spring wheat dryland and irrigated categories -- averaged a yield of 135 bushels per acre.
Gross plans to enter the yield contest again and push the threshold of all crops the community raises.
"First and foremost, you have to have a fundamental understanding of the crops you're producing," he said. "How the plant responds to different inputs and how to go about addressing issues on an as-needed basis as soon as you catch them."
Related Sites:
Wheat Facts by Washington Grain Commission, 2015 / 2016

---
There is more land planted to wheat in the world than any other crop.
It provides 20 percent of the world's caloric consumption.

Wheat Facts
by Washington Grain Commission, 2015 / 2016

Pacific Northwest All Wheat Production

| | | |
| --- | --- | --- |
| Washinton | 111.5 million bushels | 3.3 million tons |
| Idaho | 87.1 million bushels | 2.6 million tons |
| Oregon | 39.2 million bushels | 1.2 million tons |
| Total | 237.8 million bushels | 7.1 million tons |

A River of Wheat

Farmers in wheat growing areas of the country served only by the railroad are called "captive shippers" because they have no other way to get their wheat to market and transportation prices are correspondingly high. Washington farmers aren't captive because of the 360-mile long Snake/Columbia River system between Lewistion, Idaho and Portland Oregon. Barge traffic on the river is the most efficient - and cleanest -- frmm of transportation available. A tug pushing barges can haul a ton of wheat 576 miles on a single gallon of guel, compared to 413 miles by rail and 155 miles by truck. And tugs have one-third the emissions of rail and one-twentieth the emissions of truck, per ton-mile. An average of 60 percent of Washington wheat moves by barge to Portland. Two companies, Tidewater and Shaver, compete for farmers' barging business.

(bluefish notes: the US taxpayer pays for lock repairs and BPA electric rate payers lose energy when locks flush water otherwise used for power production. To say that barging is "most efficient" leaves out a substantial piece of the conversation.)

---

Top Ten Wheat Producing States

State
Production
million bushels
Production
million tons
Average Yield
bushels/acre
North Dakota
370.0
11.1
46.7
Kansas
321.9
9.6
37.0
Montana
185.4
5.6
35.2
Washington
111.1
3.3
50.4
Texas
106.5
3.2
30.0
South Dakota
103.4
3.1
46.2
Oklahoma
98.8
2.9
26.0
Minnesota
88.3
2.6
59.9
Idaho
87.9
2.6
77.4
Colorado
79.6
2.4
37.1
Total
1553
million bushels
46.6
million tons
41.2
average yield

Conversion Factors: (from U.S. Grains Council)
60 pounds per bushel

Wheat that makes waves

In 2014/2015 the United States exported nearly 835 million bushels of wheat to 68 countries around the world. That's almost 50 percent of the wheat produced in America. About 49 percent of U.S. wheat is exported from seven ports located in Washington and Oregon. Cargo ships known as bulk freighters transport 2.4 million bushels of wheat at a time to quality conscious customers in Asia, Latin America and North Africa. Smaller shipments of wheat leave the country in containers, those steel boxes used to transport goods around the world. Although a container only holds about 750 bushels of wheat, some buyers prefer smaller quantities of the highest quality wheat for specialized uses. Other millers in remote locations use containers because they also serve as convenient storage facilities.

White Wheat
Top Markets from USA

| Country | thousand metric tons | thousand tons | million bushels |
| --- | --- | --- | --- |
| Japan | 893.2 | 984.6 | 32.8 |
| Phillipines | 873.5 | 962.9 | 32.1 |
| South Korea | 523.8 | 577.4 | 19.2 |
| Yemen | 320.9 | 353.7 | 11.8 |
| Indonesia | 175.1 | 193.0 | 6.4 |
| Thailand | 171.4 | 188.7 | 6.3 |
| Guatemala | 141.3 | 155.8 | 5.2 |
| Taiwan | 120.1 | 132.4 | 4.4 |
| Sri Lanka | 109.4 | 120.6 | 4.0 |
| Chile | 80.9 | 89.2 | 3.0 |

Bells, Whistles and Wheat

BNSF, which dominates the rail shipping needs of Washington wheat farmers, has turned to shuttle train loading facilities as a more efficient method to move grain as inexpensively as possible. These facilities are set up to load 110 cars in 15 hours or less, and they move to market as a unit. Washington has four shuttle loading facilities. BNSF boasts a network of 233 shuttle loaders across the U.S., a 200 percent increase since 2000. Union Pacific, the other Class I railroad operating in Washington, does not have access to a shuttle train loading facility.
---
Matthew Weaver
Washington Farmer Wins National Wheat Yield Contest
Capital Press, December 2, 2016
---
See what you can learn
learn more on topics covered in the film
see the video
read the script
learn the songs
discussion forum