---
Tech could help fix a broken grid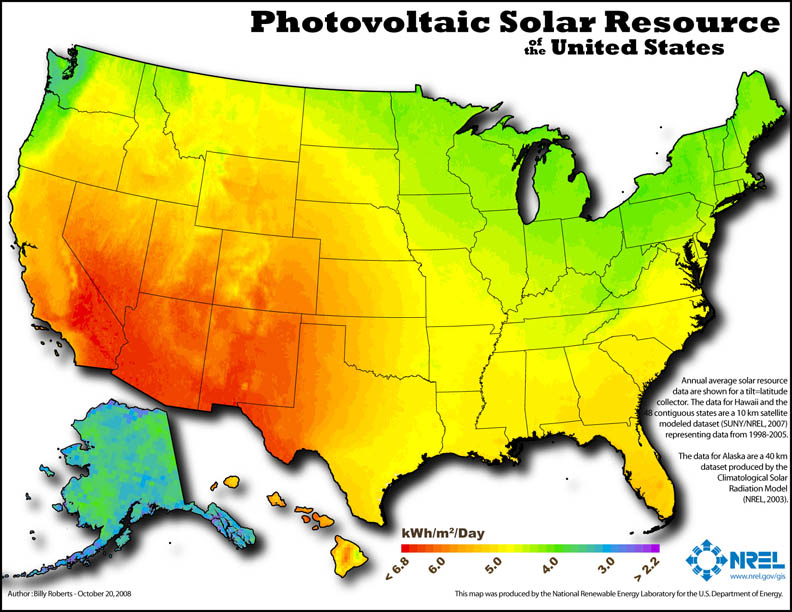 FOLSOM, Calif. -- In a suburb of Sacramento, on the edge of a row of beige houses, a giant transmission tower shoots up into the blue summer sky.
Jon Marmillo is looking up at a box sitting about 20 feet up the tower, full of laser sensors. He says he spends too much time staring up at transmission lines -- including when he's driving. That's because he thinks that if more power lines could integrate technologies like the box of lasers, that could help the country reach its climate goals cheaper and faster.
"I'm like, we have the answer!" Marmillo says, "We could be putting more renewables on the grid."
The climate crisis demands replacing fossil fuels with green energy quickly, but thousands of wind and solar projects are looking at several-year wait times to get connected to transmission lines. To reach the country's goals to sharply cut planet-warming pollution, the U.S. needs to expand transmission capacity by 43% by 2035, according to the REPEAT Project led by Princeton University. But building those new transmission lines will take time, and billions of dollars.
That's where the laser sensors come in, says Marmillo, co-founder of LineVision, the company that makes them. Sensors can help utilities get real-time data on their power lines, which can allow them to send more renewable electricity through the wires. This tech is part of a suite of innovations that could help the U.S. increase its grid capacity faster and cheaper than building new transmission lines.
States and the federal government are eyeing new incentives and possible mandates for these technologies, says Allison Clements, a commissioner on the Federal Energy Regulatory Commission, or FERC, which regulates the interstate transmission of electricity. "This is a really great opportunity -- you can squeeze more juice out of our existing transmission system at lower costs and way more quickly," she says.
Clements calls some of the tech a "no brainer." But experts worry that monopoly utilities will drag their feet because of the way they're incentivized to make money, says Rob Gramlich, president of Grid Strategies, a consulting firm.
"Sometimes it's the case that the cheaper the technology, the harder it is to get utilities to deploy them -- which is upside down," Gramlich says.
Tech could help fix a broken grid
The country's electricity system still mostly runs on fossil fuels. Thousands of solar and wind projects are ready to come online, but the country's aging transmission system isn't big enough or robust enough to connect them all. As the country turns to things like electric cars and heat pumps to replace combustion cars and gas boilers, that increased electricity demand will further push the limits of existing infrastructure.
Building new transmission lines will be necessary, says Mathias Einberger, a manager for the carbon-free electricity program at the energy research organization RMI. But he notes that building them can take years, sometimes a decade or more, and they are often slowed by permitting difficulties and community opposition.
Experts say innovations called "grid enhancing technologies" or "advanced transmission technologies" can help speed up the renewable transition by making the existing grid and new transmission lines work more efficiently.
"They are quick to deploy. They are cheap to deploy," Einberger says. "They can get us a long way and they're going to be super critical."
These innovations include wires that carry more electricity, software and hardware that can help utilities avoid congestion on lines, and laser sensors, like the ones in Folsom.
At any given moment, utilities typically know how much power is going through their lines. But they aren't required to know the real time conditions of those lines, like the wind speed or how hot the line is. Without that data, utilities have to use conservative standards for how much power can safely flow, says Jake Gentle, senior program manager for infrastructure security at Idaho National Laboratory.
But when sensors gather information from the wires - about wind, temperature, and wire sag - that data allows utilities to go beyond their conservative standards and safely put more electricity through the wires. Wind on the line, for example, is vital information, Marmillo says. "That nice cool breeze," he says, "it's going to cool down the power line, allowing the utility to put more power through it safely."
With this tech, called "dynamic line rating", utilities are able to increase the efficiency of their lines -- sometimes as much as 40%, says Gentle. The utility that serves Folsom, the Sacramento Municipal Utility District, said that the sensors are part of a pilot program, and they haven't evaluated the data yet. But a Pittsburgh company using the same laser technology, Duquesne Light Company, said in an email that since the utility installed it two years ago "we found an average of 25% additional available capacity on transmission lines that were equipped with the sensors."
In Denmark, the national transmission operator, Energinet, found that using a combination of measurements and algorithms, they can increase line capacity by up to 30%, especially in the windy spring and fall, says Jakob Nørskov, electrical engineer for Energinet.
Ultimately, these advanced grid technologies are a lot quicker to deploy than building out new transmission lines, says Jason Huang, chief executive of TS Conductor, which makes new wires that can move more electricity. Because the climate crisis is here, getting renewables online with speed is critical, Huang says.
"We don't have unlimited time," Huang says, "We have to act, we have to act fast."
A century-old utility incentive structure threatens these technologies
Grid experts worry that some U.S. utilities might resist deploying these technologies, and that comes down to how monopoly utilities make money. The profit structures for these companies were designed more than a century ago, when their regulators wanted to get them to build lots of big infrastructure. In most states it's still the case that the more these utilities spend building things, the more money their regulators allow them to make from customers.
That means big expensive projects like new transmission towers are enticing for a utility's balance sheet-- and its shareholders. Lower cost technologies - like sensors or rewiring an existing line - don't seem as appealing in comparison, says Marissa Gillett, chair of Connecticut's Public Utilities Regulatory Authority.
"If I'm a utility, I'm not going to be all that excited about that because, all else being equal, I have less of a money-making opportunity," Gillett says.
Huang says it sometimes can be difficult to sell utilities his lower-cost super-efficient wires, technology called "reconductoring", for this reason. "If you look at reconductoring versus new lines, reconductoring is not necessarily that attractive," Huang says.
But Scott Aaronson, senior vice president of security and preparedness at the Edison Electric Institute (EEI), the leading trade group for investor-owned utilities, disagrees with the idea that utilities aren't incentivized to adopt these cheaper technologies. He argues there are lots of electric companies making upgrades and becoming more efficient so they don't need to build new infrastructure. And he says utilities are already jumping onto these innovations, including tech like laser sensors.
"I can say safely that dozens of companies are exploring the value of [dynamic line rating] across their infrastructure," Aaronson says.
But Gillett says as these lower cost grid innovations get rolled out, utility regulators across the country need to recognize the inherent conflict of interest between how these companies make money and what addresses climate change faster and cheaper.
"It would be doing everyone a disservice to claim that that bias doesn't exist because, at some point, we're just talking straight-up economics 101," Gillett says. "There's an imperative that we address the mismatched incentives."
The federal government's role
The federal government could speed up the adoption of these grid innovations, mostly through FERC, the commission that regulates interstate electricity transmission. The commission is looking at a number of proposals that would make these technologies more widespread.
In one proposal, if a utility or a grid operator proposes new transmission lines, FERC may require the utility to consider these cheaper grid enhancing technologies first to save money. The commission is also considering whether to make "dynamic line rating" a mandatory practice.
In late July FERC passed a new rule to deal with the vast backlog of wind, solar and battery projects waiting to connect to the grid. FERC Chairman Willie Phillips says the new rule requires utilities and grid operators to evaluate the use of many of these technologies, including new wires that carry more electricity.
During the meeting about the new rule, commissioner Clements said while it's a "great start" for these technologies, she added, "I think the rule sets a pretty low bar - it's 'evaluation' of these technologies."
Phillips says in the coming months, the federal commission will issue rulings that may actually require utilities to deploy some of these technologies, including dynamic line ratings.
"When you talk about requiring utilities to do something different than what they normally do, these are actions that take time and we have to get them right," Phillips says. "And so this is a first step."

---
Julia Simon
Why Lasers Could Help Make the Electric Grid Greener
National Public Radio, August 13, 2023
---
See what you can learn
learn more on topics covered in the film
see the video
read the script
learn the songs
discussion forum