---
Because it's an election year, the federal government
could step in and buy 10 million bushels to donate in food aid.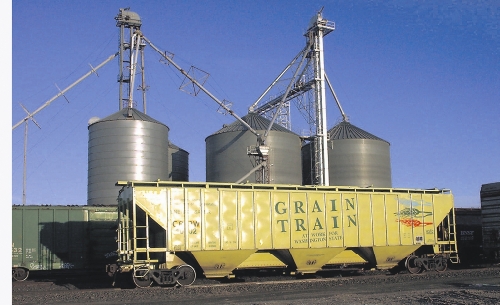 Wheat prices have dropped to the level they were before the Russia-Ukraine war began, market analysts say, citing a lack of demand.
Soft white wheat is $9 per bushel on the Portland market, down from $11 to $11.50 per bushel a month ago.
"A drop going into Northern Hemisphere harvest isn't super surprising," said Byron Behne, senior merchant at Northwest Grain Growers in Walla Walla, Wash. "Getting below the price of wheat prior to the start of the war while the war's still going on is pretty surprising, though."
"We've had a major correction," said Dan Steiner, grains merchant at Morrow County Grain Growers in Oregon. "I think this market has got to go down to find some demand."
Last week, the U.S. exported 18,000 bushels of soft white wheat. The industry needs to ship roughly 3 million bushels per week, Steiner said.
"We've got a crop coming off, and it's going to be a crop -- I'm not going to say a bumper crop, but it's going to be nice -- and we don't really have any sales to put it against," he said.
In a normal year, 25% of the newest crop would already be marketed by July 1, but Steiner said this year it's about 15% marketed. That's roughly 22 million bushels, 10% of an average crop, that needs to hit the cash market in the next month and a half, he said.
"Number one, we had tight supplies; number two, we had high-priced supplies," said Darin Newsom, a market analyst in Omaha, Neb. "Now we've just got supplies with nowhere to go."
Because it's an election year, the federal government could step in and buy 10 million bushels to donate in food aid. That would provide a shock to the market, Steiner said.
"That kind of thing -- totally plausible, could happen -- would turn this thing right around," he said. "We have to find some demand. We have to."
He points to the high price of freight for U.S. wheat compared to competing countries, and a strong U.S. dollar.
"We now have some of the cheapest wheat in the world, but you have to put a big fat asterisk next to that," Steiner said. "The exchange rate is backwards for exports right now. If that trend continues or stays in place, it's going to make it that much harder."
Steiner said prices could continue to drop, particularly in the next six weeks.
Behne's been expecting a rebound at some point, but said prices dropped by another dollar while he anticipated a bounce.
Newsom doesn't see prices dropping much farther, but said they could go about $1.50 per bushel lower.
"That seems an extreme, but it's certainly a possibility," he said. "If we see that demand develop ... there's a chance we could go up. We're not going to get back to where we were a couple months ago. That's just not going to happen. Or, it shouldn't happen."
"Wheat is grown for only one reason, and that's to turn it into cash," Steiner said. "We've got to find somebody who's got money who wants to pay for it."

---
Matthew Weaver
Wheat Prices Fall to Pre-War Levels
Capital Press, July 6, 2022
---
See what you can learn
learn more on topics covered in the film
see the video
read the script
learn the songs
discussion forum