---
Pacific Northwest wheat leaders says they are optimistic. Early reports indicate
average yields or higher and slightly higher prices compared to last year.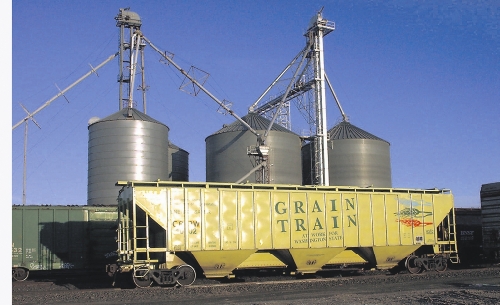 Wheat harvest has begun in the Pacific Northwest, and industry leaders report high yields and good crop conditions.
"Statewide, the crop is looking superb," said Blaine Jacobson, executive director of the Idaho Wheat Commission. "We're keeping our fingers crossed that we have a good four or five weeks of ideal harvest weather."
The leaders of the region's other grain and wheat commissions echoed his optimism.
Harvest has begun in three-quarters of Idaho, particularly lower-elevation and high-temperature regions, he said. Farmers are in their fields in North Idaho, Southwest Idaho and South Central Idaho.
Some parts of the state won't begin harvest until August, at which point it should be in full swing everywhere, he said.
Some hail storms have occurred, but not enough to impact quality, he said.
Yields in general are up, with no low falling number test results indicating starch damage, Jacobson said.
"There's the typical issues, but I wouldn't say there's anything that's extraordinary," he said. "The weather was cooperative this year."
Temperatures mostly ranged in the 80s and 90s, topping 100 in only a few areas, he said.
Oregon wheat harvest kicked off the week of July 9, said Blake Rowe, Oregon Wheat CEO, and will ramp up in the coming weeks.
Rowe cited average to above-average yields on soft white wheat with low protein, good moisture and test weights above 60 pounds.
"Prices are a little better than last year at this time," Rowe said.
Soft white wheat sells for $5.80 to $5.90 per bushel on the Portland market. Hard red winter wheat ranges from $5.81 to $6.56 per bushel, depending on protein content. Dark northern spring wheat ranges from $5.88 to $6.76 per bushel, depending on protein percentage.
That's above the cost of production for some farmers, but certainly not all, Rowe said.
Rowe has heard a few reports of lower protein levels in hard red winter wheat, but said there weren't enough to say much of anything yet.
Higher protein is desired in the red wheats, which is used for bread and rolls, and lower protein is desired in soft white wheat, which is used for sponge cakes and crackers.
Dark northern spring wheat in Washington is averaging a little higher than 14 percent protein, hard red winter wheat 12 percent protein and soft white wheat about 10 percent protein.
"It's early," Glen Squires, CEO of the Washington Grain Commission. "Everything's getting started."
USDA is projecting a winter wheat yield of 76 bushels per acre in Washington. If that materializes, it would be the second-highest yield for the state, and a slight drop from 78 bushels per acre last year, Squires said.
USDA projects 45 bushels per acre for spring wheat, a mid-way point for the state.
"There have been a bunch lower and a bunch higher," Squires said.
Squires expects some pockets of low falling number, the starch damage problem that affects the wheat's baking and noodle quality. The industry is aware and prepared, he said, and will keep wheat with extremely low falling numbers separate from wheat with a higher falling number.
Washington is estimated to produce 146 million bushels, the fourth-highest yield for the state since 2010.
"And it could go higher," Squires said. "But it could go lower. I think it might go higher."
Related Sites:
Count the Fish by Government Accounting Office, Salmon and Steelhead Recovery Efforts

---
Matthew Weaver
As Harvest Gets Underway, Northwest Wheat Crop Looks 'Superb'
Capital Press, July 18, 2018
---
See what you can learn
learn more on topics covered in the film
see the video
read the script
learn the songs
discussion forum