the film
forum
library
tutorial
contact

Light Headed: In Parts of the Northwest, Roll Open
a Head of Wheat and There's Not Much in It

by Anna King
Oregon Public Broadcasting, July 16, 2023
---
A fresh U.S. Department of Agriculture report says winter wheat crops are
forecast to be down this year, stressing farmers through the Northwest.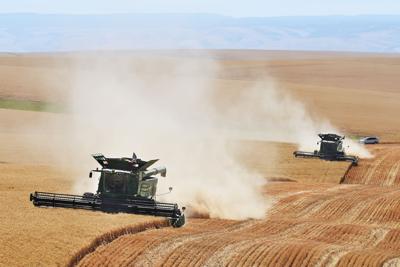 Golden slopes full of soft white wheat roll and then dive into the snaky, Snake River -- just out of Windust, Washington.
A farmer rolls a head of his wheat between dirt-stained palms, counting the grains.
Just 14 weazened kernels are there after the chaff is carefully removed. There should be around three times that many kernels in this head of wheat.
Across the Northwest, farmers have been seeing oceans of dryland wheat that should be curled now, heavy with grain -- instead standing straight up because they are too light. That could mean disappointing yields. The wheat has been stressed from searing spring temperatures and too-little rain.
Crop report
The U.S. Department of Agriculture said in a report this past week that Washington and Oregon's winter wheat crops are expected to be light. Washington is down 11 bushels per acre from last year. Eleven bushels looks like about two, 55-gallon drums full.
Oregon is down 12 bushels per acre. However, across the nation, the overall wheat crop is up 9% from last year.
"Winter wheat yields across the region are down from the previous year and the five and ten year averages, which is not surprising, given the crop conditions that have been observed throughout the growing season," said Dennis Koong, regional director of the USDA's National Agricultural Statistics Service Northwest Regional Field Office.
The wheat heads are few, as well. In Washington, the USDA reports there are just 31.7 heads per square foot, the 5-year average is 37.9 and the 10-year average is 36.3.
There aren't similar numbers for Oregon as the USDA only collects field measurements from the top 10 wheat-producing states.
"Certainly the dry conditions don't give a whole lot of optimism when you come into this point of the year," said Amanda Hoey, the CEO of Oregon Wheat Commission based in Portland. "We celebrate the good years and it's a challenging one when we don't have the same outcome. The dry conditions, there will be producers that are significantly down from their averages -- and that will be tough to see."
The report shows that early July conditions this year were 51% "good to excellent" in Washington compared to 70% at this time last year. Conditions were considered good to excellent in just 21% of the crop in Oregon while last year it was near 80%.
Dreaded gluten
Farmers also fret that the stressed wheat will create higher-protein grain and with it, more dreaded gluten. That's bad for north Asian and southeast Asian bakers who take most of the Northwest crop. They want fluffy cakes and crumbly cookies or crackers.
"The main factor for us is to maintain consistency in the protein level to then be able to transfer that consistency to our customers and flour millers," Hoey said.
Too late now
Although conditions in fields will vary across the Northwest, the USDA report generally means the crop is lighter and sparser than Washington and Oregon farmers had hoped.
Back outside of Windust, a large dead black beetle lays on wet soil between the dry wheat. A July thunderstorm passed through moments earlier. Precious drops too late now, to do much good.

---
Anna King
Light Headed: In Parts of the Northwest, Roll Open a Head of Wheat and There's Not Much in It
Oregon Public Broadcasting, July 16, 2023
---
See what you can learn
learn more on topics covered in the film
see the video
read the script
learn the songs
discussion forum