---
Everyone benefits from our dams, and I will continue to
do my part in Congress to make sure they are supported.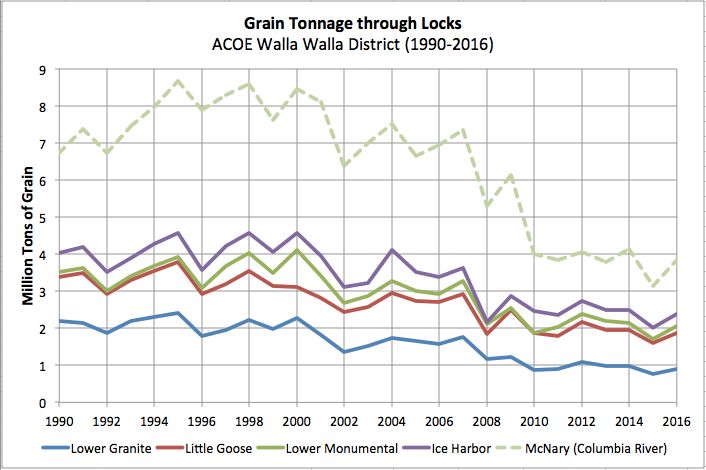 BOISE -- Breaching four dams on the lower Snake River would cause significant harm to the Pacific Northwest agricultural industry, Idaho wheat industry leaders said Nov. 29 during a public meeting.
The meeting is one of 15 being held around the region by federal agencies to get input on the operation of the hydropower dams on the Columbia-Snake River system, a process initiated by a federal judge handling a lawsuit brought by dam removal supporters.
It's critical that agriculture, especially the wheat industry, makes its concerns known during the public comment period, said Idaho Wheat Commission Executive Director Blaine Jacobson.
"The dams are absolutely crucial to the health of the Idaho wheat industry," he said. "Wheat is a global market and it's a very competitive market and if we have to rail it to Portland, it would make a number of the growers uncompetitive on the world market."
The U.S. district court judge earlier this year ordered the federal agencies that operate the Columbia-Snake River hydropower system to review all reasonable options for operating it in order to minimize the impact on endangered salmon.
That decision came in response to a lawsuit by conservation groups in favor of breaching the dams to improve salmon runs. They challenged the biological opinion for operating the system and the judge required the agencies to update the environmental impact statement on how the system is operated.
The agencies are holding scoping meetings around the Pacific Northwest to gather public comment and a draft environmental impact statement on the system's operation is expected to be published for public comment in 2020.
Breaching those dams would make the rivers unnavigable for barges that move wheat and other products to port for export.
According to the Port of Lewiston and Northwest River Partners, about 10 percent of all U.S. wheat exports move through the lower Snake River dams and more than 50 percent of Idaho's wheat is exported through the Columbia-Snake River system.
In addition, more than 42 million tons of commercial cargo valued at more than $20 billion moves through the system each year and 60 percent of the energy produced in Idaho, Oregon, Montana and Washington is generated by the rivers' dams.
Jacobson said it's almost inconceivable that the dams would be removed but a vocal minority that supports that is making their voices heard and it's important the agricultural industry also weigh in on the issue.
"I think the facts are on the side of keeping the (system) the way it is," he said. "But if the silent majority doesn't turn out and lets the vocal minority rule the day, then it will be bad for the entire PNW."
North Idaho farmer Eric Hasselstrom said that without the ability to use the river system to transport wheat to port, his transportation costs would likely double.
"If we lost the dams, I don't think we'd be competitive and in business any more," he said. "We have to have our voices heard because there are going to be a lot of comments against (the dams)."
Comments must be received by Jan. 17 and can be submitted by email to: comment@crso.info
Related Pages:
Our Dams Support Us; It's Time to Support Them by Cathy McMorris Rodgers, Capital Press, 12/1/16
Breaching Snake River Dams Would 'Devastate' Wheat Industry, Growers Say by Matthew Weaver, Capital Press, 11/20/16

---
There is more land planted to wheat in the world than any other crop.
It provides 20 percent of the world's caloric consumption.

A River of Wheat

Farmers in wheat growing areas of the country served only by the railroad are called "captive shippers" because they have no other way to get their wheat to market and transportation prices are correspondingly high. Washington farmers aren't captive because of the 360-mile long Snake/Columbia River system between Lewistion, Idaho and Portland Oregon. Barge traffic on the river is the most efficient - and cleanest -- frmm of transportation available. A tug pushing barges can haul a ton of wheat 576 miles on a single gallon of guel, compared to 413 miles by rail and 155 miles by truck. And tugs have one-third the emissions of rail and one-twentieth the emissions of truck, per ton-mile. An average of 60 percent of Washington wheat moves by barge to Portland. Two companies, Tidewater and Shaver, compete for farmers' barging business.

(bluefish notes: the US taxpayer pays for lock repairs and BPA electric rate payers lose energy when locks flush water otherwise used for power production. To say that barging is "most efficient" leaves out a substantial piece of the conversation.)

Wheat that makes waves

In 2014/2015 the United States exported nearly 835 million bushels of wheat to 68 countries around the world. That's almost 50 percent of the wheat produced in America. About 49 percent of U.S. wheat is exported from seven ports located in Washington and Oregon. Cargo ships known as bulk freighters transport 2.4 million bushels of wheat at a time to quality conscious customers in Asia, Latin America and North Africa. Smaller shipments of wheat leave the country in containers, those steel boxes used to transport goods around the world. Although a container only holds about 750 bushels of wheat, some buyers prefer smaller quantities of the highest quality wheat for specialized uses. Other millers in remote locations use containers because they also serve as convenient storage facilities.

White Wheat
Top Markets from USA

| Country | thousand metric tons | thousand tons | million bushels |
| --- | --- | --- | --- |
| Japan | 893.2 | 984.6 | 32.8 |
| Phillipines | 873.5 | 962.9 | 32.1 |
| South Korea | 523.8 | 577.4 | 19.2 |
| Yemen | 320.9 | 353.7 | 11.8 |
| Indonesia | 175.1 | 193.0 | 6.4 |
| Thailand | 171.4 | 188.7 | 6.3 |
| Guatemala | 141.3 | 155.8 | 5.2 |
| Taiwan | 120.1 | 132.4 | 4.4 |
| Sri Lanka | 109.4 | 120.6 | 4.0 |
| Chile | 80.9 | 89.2 | 3.0 |

Bells, Whistles and Wheat

BNSF, which dominates the rail shipping needs of Washington wheat farmers, has turned to shuttle train loading facilities as a more efficient method to move grain as inexpensively as possible. These facilities are set up to load 110 cars in 15 hours or less, and they move to market as a unit. Washington has four shuttle loading facilities. BNSF boasts a network of 233 shuttle loaders across the U.S., a 200 percent increase since 2000. Union Pacific, the other Class I railroad operating in Washington, does not have access to a shuttle train loading facility.
---
Sean Ellis
Wheat Growers Oppose Dam Breaching During Public Scoping Meeting
Capital Press, December 1, 2016
---
See what you can learn
learn more on topics covered in the film
see the video
read the script
learn the songs
discussion forum