---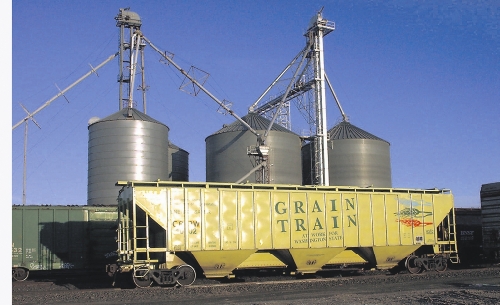 PORTLAND -- Wheat prices topped $11 per bushel recently on the Portland market, and experts say they don't see much likelihood of them going down anytime soon.
Soft white wheat ranged from $10.75 to $11.50 per bushel in Portland the week of Nov. 15.
Customers in Japan bought more than 1 million bushels of soft white wheat two weeks in a row, the most they've bought in a two-week window in some time, said Byron Behne, senior grains merchandiser at Northwest Grain Growers in Walla Walla, Wash.
"Demand-wise, only the people that absolutely have to have soft white are paying these prices to get it," he said. "We're going to figure out how much inelastic demand there actually is for white wheat this year."
Buyers in Taiwan, Vietnam and the Philippines have also recently made purchases.
"If they're smart, export buyers will be looking at this and going, 'There's a half-decent chance that white wheat supplies are going to run out this year,' especially for lower protein levels," Behne said.
The Asian market generally prefers soft white wheat with less than 10.5% protein. Most customers there have switched to buying 11% protein wheat, but there's only so much of it on hand, Behne said.
"Maybe these guys are going to come in and say, 'I don't like these prices, they're too high, but I better buy something because I don't want to be sitting there wishing I would have bought something and now I just can't get an offer at all.'"
The futures market is bullish on all wheat classes for the 2021-2022 marketing year into 2022-2023, said Darin Newsom, a market analyst in Omaha, Neb.
He points to weather that "pummeled" the spring wheat crop in the U.S., and similar drops in the production of competitors in Canada and Russia.
"It's not that we're running out of wheat, it's just that wheat is tighter than it's been and demand still remains strong," Newsom said. "I think you're still seeing the global market move wheat, they're just trying to find where the supplies are right now."
A strong U.S. dollar hasn't impacted the demand. The U.S. dollar is at its highest value since July 2020. One dollar is equal to 114.26 Japanese yen, up from 103.89 yen a year ago. One dollar equals 0.88 euros, up from 0.84 euros a year ago.
"It's not something we usually see -- wheat and the dollar firming at the same time," Newsom said. "It just tells us how strong domestic demand is, that we're able to do this while we're not really selling anything into the world."
Dan Steiner, grain merchandiser at Morrow County Grain Growers in Boardman, Ore., said he doesn't expect a severe price downside, at least through February or March.
A lot of investment money is coming into commodities, Steiner said.
"Owning the physical commodity is probably about the best hedge against inflation you can have," he said. "Of course, inflation (is at) 30-year highs. Who knows how much higher it's going to go?"
Steiner suggests farmers with wheat to sell consider timing more than prices and what happens in December and January, looking at opportunities for the next crop.
"Right now, the hard part is, growers don't know what their inputs are going to cost next spring," he said.
Newsom said he would never tell a farmer not to sell at a profit.
"If you don't necessarily have to, sit back, let's see what this market wants to do," he said. "I think we can give it some room, give it some space."
When buyers have purchased enough wheat to cover them from old crop into new crop, prices could decline then, Behne said.
"Stocks wise, we should be as low as we've ever been going into next year's harvest," he said.
Behne doesn't foresee prices reaching 2008 levels, when wheat was $15 per bushel, but "it's not outside the realm of possibilities."

---
Matthew Weaver
Analysts: As Wheat Tops $11 a Bushel, No Drop in Sight
Capital Press, November 18, 2021
---
See what you can learn
learn more on topics covered in the film
see the video
read the script
learn the songs
discussion forum